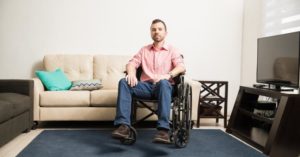 Improve the Well-Being of Patients with Multiple Sclerosis with Mindfulness
By John M. de Castro, Ph.D.
"Studies in MS have shown that mindfulness can improve quality of life and help people cope better with their MS. Various studies found that mindfulness decreased pain, stress, anxiety and depression. People undergoing mindfulness training also reported better sleep." – MS Trust
Multiple Sclerosis (MS) is a progressive demyelinating disease which attacks the coating on the neural axons which send messages throughout the body and nervous system. It affects about 2 million people worldwide and about 400,000 in the U.S. It is most commonly diagnosed in people between the ages of 20 and 50 years.  Unfortunately, there is no cure for multiple sclerosis. There are a number of approved medications that are used to treat MS but are designed to lessen frequency of relapses and slow the progression of the disease, but they don't address individual symptoms.
Although there is a progressive deterioration, MS is not fatal with MS patients having about the same life expectancy as the general population. Hence, most MS sufferers have to live with the disease for many years. Mindfulness practices have been shown to improve the symptoms of multiple sclerosis. But mindfulness training is complex as there are a wide variety of different programs and practices and it is not known how long the effects of mindfulness training last with MS patients.
In today's Research News article "Longitudinal associations between mindfulness and well-being in people with multiple sclerosis." (See summary below or view the full text of the study at: https://www.ncbi.nlm.nih.gov/pmc/articles/PMC6300715/ ), Pagnini and colleagues recruited adult patients with Multiple Sclerosis (MS) that had been stable for at least 3 months and randomly assigned them to receive an 8-week program of either Mindfulness-Based Stress Reduction (MBSR) or psychoeducation. MBSR consisted of once a week trainings of 2.5 hours, including meditation, body scan, and yoga practices and discussion and home practice. Psychoeducation consisted of "online videos and home exercises that dealt with stress management, relaxation training, sleep hygiene, fatigue, and social relationships." The participants were measured before and after training and 6 months later for mindfulness, Multiple Sclerosis quality of life, anxiety, depression, fatigue, and sleep quality.
They found that MBSR produced significantly higher quality of life at the end of treatment but this was not maintained 6 months later. They did not find any further significant differences between groups but found overall and 6 months after treatment that the higher the patients' levels of mindfulness the lower the levels of depression, anxiety, fatigue, and sleep problems and the higher the quality of life.
The fact that MBSR did not produce superior benefits to psychoeducation is disappointing as previous studies have shown that mindfulness training is effective in relieving the symptoms of Multiple Sclerosis. It has been previously shown with a variety of healthy and ill individuals that mindfulness can improve depression, anxiety, fatigue, and sleep quality. So, the present findings further extend these findings to patients with MS.
Living with Multiple Sclerosis can produce lower levels of well-being and quality of life. Since these patients will be spending the rest of their lives with the disease it is important to implement treatments that can improve their well-being and quality of life. Mindfulness appears to be just such treatment.
So, improve the well-being of patients with Multiple Sclerosis with mindfulness.
"I think it's important that one of the underpinning attitudes of being more mindful is that of non-striving, which is sometimes described as "trying less and being more"; this notion of acceptance can be a useful message for anyone with MS. This disease brings about some inevitable changes to how we live our lives, how we work, how we parent and so on. This particular aspect of mindfulness can help us to reclaim our lives by responding to the here-and-now present moment." – MS Trust
CMCS – Center for Mindfulness and Contemplative Studies
This and other Contemplative Studies posts are also available on Google+ https://plus.google.com/106784388191201299496/posts and on Twitter @MindfulResearch
Study Summary
Pagnini, F., Cavalera, C., Rovaris, M., Mendozzi, L., Molinari, E., Phillips, D., & Langer, E. (2018). Longitudinal associations between mindfulness and well-being in people with multiple sclerosis. International journal of clinical and health psychology : IJCHP, 19(1), 22-30.
Abstract
Background/Objective: Depression, anxiety, fatigue, and sleep problems are typical conditions reported in people with multiple sclerosis (MS), often resulting in a reduction of their quality of life (QOL) and well-being. Mindfulness is a multifaceted and complex construct that has been increasingly explored for its correlated to well-being. Despite preliminary evidence, longitudinal data about the impact of mindfulness on QOL in MS remain limited. In addition, Langerian mindfulness, one of the prominent approaches to mindfulness, is yet unexplored in this field. The study aims to examine the longitudinal relationships between two forms of mindfulness (Langerian and contemplative) and QOL, anxiety, depression, fatigue, and sleep. Method: Within a larger randomized controlled trial of an online mindfulness-based stress reduction intervention, a cohort of 156 people with MS was recruited and assessed for both mindfulness constructs, QOL, anxiety, depression, fatigue, and sleep problems. Assessments were repeated after 2 and after another 6 months. Results: Both mindfulness constructs were highly correlated with all investigated outcomes. Both Langerian and contemplative mindfulness predicted higher QOL, lower anxiety, depression, fatigue, and sleep, over time. Conclusions: In both approaches dispositional mindfulness is a protective factor against depression, anxiety, fatigue, and sleep in people with MS.
https://www.ncbi.nlm.nih.gov/pmc/articles/PMC6300715/