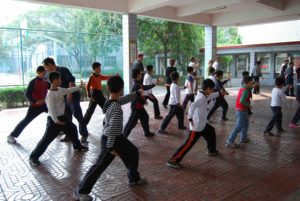 Improve Asthma in Children with Tai Chi
By John M. de Castro, Ph.D.
"Tai Chi/Qigong is eminently suitable and beneficial for asthma sufferers. As well as being non-exertive their practice teaches correct breathing and posture, which can help eliminate or decrease the severity of attacks. Benefits of Tai Chi for Asthmatics" – Living Chi
Asthma is a chronic disease of the lungs that involves a persistent inflammation of the airways. When the inflammation worsens, it makes it more difficult for air to move in and out of the lungs provoking coughing, wheezing, shortness of breath and chest tightness. It is estimated that 300 million people worldwide and 30 million people in the U.S. suffer from asthma and the incidence appears to be growing. In the U.S.it is estimated to cost $60 billion per year in healthcare costs and lost productivity. Asthma is the most common chronic disease in the world among children with about 10% of children suffering from asthma.
Asthma is not fatal and those with moderate asthma have an equivalent life expectancy to those that don't. There is no cure for asthma. So, it is a chronic disease that must be coped with throughout the lifetime. Treatments are aimed at symptomatic relief. Most frequently drugs, anti-inflammatory hormones, and inhalers are used to help control the inflammation. Exercise can be difficult with asthma and may actually precipitate an attack. This can be a problem as maintaining fitness with asthma can be difficult. A gentle form of exercise, Tai Chi, does not require heavy breathing and thus does not provoke asthma. In addition, breathing exercises like those incorporated into Tai Chi practice are known to help control asthma. This suggests that Tai Chi may be a helpful exercise for people with asthma.
In today's Research News article "." See summary below or view the full text of the study at:
https://www.ncbi.nlm.nih.gov/pmc/articles/PMC5406730/, Lin and colleagues recruited children with and without a diagnosis of mild, intermittent asthma (average age of 10.5). The children were instructed in Tai Chi for 60 minutes, once a week, for 12 weeks and were requested to practice every day at home assisted by supplied videos. They were measured before and after training for lung function, fractional exhaled nitric oxide (an indicator of airway inflammation), and asthma quality of life. They were compared to a group of similar children who did not practice Tai Chi.
They found that the groups that performed Tai Chi showed significant improvements in lung function and decreases in lung inflammation. In addition, the children with asthma showed significant improvements in asthma quality of life, including asthma symptoms, limitations on activity, and emotional function. It should be mentioned that the control children did not engage in any form of exercise, so, it is not clear that Tai Chi has any greater benefits than other exercises. It remains for future research to clarify this issue.
It is clear, however, that the gentle exercise of Tai Chi combined with its breathing exercises is of great benefit to children with asthma, improving breathing and their quality of life. The study only investigated children with mild and intermittent asthma. So, it remains for future research to demonstrate if Tai Chi practice is similarly beneficial for more severe cases of asthma. But these results are very encouraging as Tai Chi is gentle, safe, does not provoke asthmatic attacks, is inexpensive to teach, practice can be conveniently maintained at home, and it includes beneficial breathing exercises.
So, improve asthma in children with Tai Chi.
"Breathing, relaxation and exercise programs, have for many years, been a useful tool in asthma management. The problem is that breathing; relaxation and exercise are often practiced separately, making them a relatively disjointed and limited part of asthma management." – Living Chi
CMCS – Center for Mindfulness and Contemplative Studies
This and other Contemplative Studies posts are also available on Google+ https://plus.google.com/106784388191201299496/posts and on Twitter @MindfulResearch
Study Summary
Lin, H.-C., Lin, H.-P., Yu, H.-H., Wang, L.-C., Lee, J.-H., Lin, Y.-T., … Chiang, B.-L. (2017). Tai-Chi-Chuan Exercise Improves Pulmonary Function and Decreases Exhaled Nitric Oxide Level in Both Asthmatic and Nonasthmatic Children and Improves Quality of Life in Children with Asthma. Evidence-Based Complementary and Alternative Medicine : eCAM, 2017, 6287642. http://doi.org/10.1155/2017/6287642
Abstract
Tai-Chi-Chuan (TCC) is an exercise of low-to-moderate intensity which is suitable for asthmatic patients. The aim of our study is to investigate improvements of the lung function, airway inflammation, and quality of life of asthmatic children after TCC. Participants included sixty-one elementary school students and they were divided into asthmatic (n = 29) and nonasthmatic (n = 32) groups by the International Study of Asthma and Allergies in Childhood (ISAAC) questionnaire. Among them, 20 asthmatic and 18 nonasthmatic children volunteered to participate in a 60-minute TCC exercise weekly for 12 weeks. Baseline and postintervention assessments included forced expiratory volume in one second (FEV1), forced vital capacity (FVC), peak expiratory flow rate (PEFR), fractional exhaled nitric oxide (FeNO) level, and Standardised Pediatric Asthma Quality of Life Questionnaire (PAQLQ(S)). After intervention, the level of FeNO decreased significantly; PEFR and the FEV1/FVC also improved significantly in both asthmatic group and nonasthmatic group after TCC. The asthmatic children also had improved quality of life after TCC. The results indicated that TCC could improve the pulmonary function and decrease airway inflammation in both children with mild asthma and those without asthma. It also improves quality of life in mild asthmatic children. Nevertheless, further studies are required to determine the effect of TCC on children with moderate-to-severe asthma.