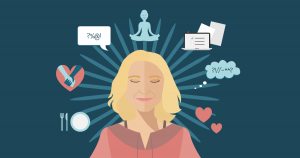 Change Behavior for the Better with Mindfulness
By John M. de Castro, Ph.D.
"mindfulness practice supports and facilitates behavior change through training attention, emotion, and self-awareness." – Yi-Yuan Tang
We tend to think that illness is produced by physical causes, disease, injury, viruses, bacteria, etc. But many health problems are behavioral problems or have their origins in maladaptive behavior. This is evident in car accident injuries that are frequently due to behaviors, such as texting while driving, driving too fast or aggressively, or driving drunk. Other problematic behaviors are cigarette smoking, alcoholism, drug use, or unprotected sex.
Problems can also be produced by lack of appropriate behavior such as sedentary lifestyle, not eating a healthy diet, not getting sufficient sleep or rest, or failing to take medications according to the physician's orders. Additionally, behavioral issues can be subtle contributors to disease such as denying a problem and failing to see a physician timely or not washing hands. In fact, many modern health issues, costing the individual or society billions of dollars each year, and reducing longevity, are largely preventable.
Hence, promoting healthy behaviors and eliminating unhealthy ones has the potential to markedly improve health. Mindfulness training has been shown to promote health and improve illness. It is well established that mindfulness can improve healthy behaviors. The research has been accumulating. So, it is reasonable to stop and summarize what has been learned. In today's Research News article "Mindfulness and Behavior Change." (See summary below or view the full text of the study at: https://www.ncbi.nlm.nih.gov/pmc/articles/PMC7647439/ )  Schuman-Olivier and colleagues review and summarize the published research on the ability of mindfulness training to promote healthy behaviors.
They report that the published studies found that mindfulness training reduces cravings and produces improvements in alcohol and substance abuse disorders, binge eating disorder, obesity, improves smoking cessation, reduces emotional eating and eating when not hungry and produces weight reduction. Mindfulness training has been shown to improve self-management of chronic diseases, including hypertension, COPD, and diabetes and results in improvements in quality of life and reductions in anxiety and depression. Mindfulness training also reduces impulsive behavior, risky sexual behavior, aggression, and violent behaviors. It also reduces self-injury, suicidal thinking, and suicidal behavior.
The authors go on to produce and discuss a model of how mindfulness training may be improving troubling behaviors. They speculate that mindfulness training produces a general improvement in self-regulation which results in improved control of behavior. This self-regulation is produced by improvements in attention and cognitive control, emotion regulation, and self-related processes, as well as motivation and learning ability. Regardless, it is clear that mindfulness training improves behaviors that can lead to or exacerbate illness. It's actually amazing that such simple practices can have such profound and widespread effects in promoting health and well-being and treating diseases.
So, change behavior for the better with mindfulness.
"On your path to create change invite compassion and embrace and accept where you are. Only from a place of compassion will your efforts move into fruition. What is the next compassionate step you can make towards this change today?" – Carley Hauck
CMCS – Center for Mindfulness and Contemplative Studies
This and other Contemplative Studies posts are also available on Google+ https://plus.google.com/106784388191201299496/posts and on Twitter @MindfulResearch
Study Summary
Schuman-Olivier, Z., Trombka, M., Lovas, D. A., Brewer, J. A., Vago, D. R., Gawande, R., Dunne, J. P., Lazar, S. W., Loucks, E. B., & Fulwiler, C. (2020). Mindfulness and Behavior Change. Harvard review of psychiatry, 28(6), 371–394. https://doi.org/10.1097/HRP.0000000000000277
Abstract
Initiating and maintaining behavior change is key to the prevention and treatment of most preventable chronic medical and psychiatric illnesses. The cultivation of mindfulness, involving acceptance and nonjudgment of present-moment experience, often results in transformative health behavior change. Neural systems involved in motivation and learning have an important role to play. A theoretical model of mindfulness that integrates these mechanisms with the cognitive, emotional, and self-related processes commonly described, while applying an integrated model to health behavior change, is needed. This integrative review (1) defines mindfulness and describes the mindfulness-based intervention movement, (2) synthesizes the neuroscience of mindfulness and integrates motivation and learning mechanisms within a mindful self-regulation model for understanding the complex effects of mindfulness on behavior change, and (3) synthesizes current clinical research evaluating the effects of mindfulness-based interventions targeting health behaviors relevant to psychiatric care. The review provides insight into the limitations of current research and proposes potential mechanisms to be tested in future research and targeted in clinical practice to enhance the impact of mindfulness on behavior change.
CONCLUSION
A growing evidence base supports the benefits of mindfulness for behavior change. A mindful self-regulation model based on an integration of neuroscientific findings describes the complex and synergistic effects of attention/cognitive control, emotion regulation, and self-related processes, as well as motivation and learning mechanisms that may provide a unique pathway toward sustainable behavior change. While evidence supports the impact of mindfulness on behavior change for key health behaviors related to psychiatric practice, more high-quality research is needed, especially with objective measures, larger samples, replication studies, active controls, and formal monitoring of adverse events.474 The field will also benefit from additional research on the impact of integrating compassion practices and from a focus on trauma-sensitive adaptations for diverse populations.
https://www.ncbi.nlm.nih.gov/pmc/articles/PMC7647439/