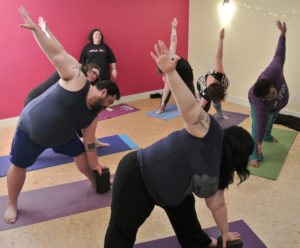 Reduce Obesity with Yoga
By John M. de Castro, Ph.D.
"You get to thinking that yoga and its health benefits, such as stress reduction and improved fitness, are best for thin people, and not so much for the 36 percent of U.S. adults who are obese. Not true. Yoga is for all types of shapes and sizes if you just know how to start." – Laura McMullen
Obesity is a serious health problem. In the U.S. the incidence of obesity has more than doubled over the last 35 years to currently around 35% of the population. Obesity has been found to shorten life expectancy by eight years and extreme obesity by 14 years. This occurs because obesity is associated with cardiovascular problems such as coronary heart disease and hypertension, stroke, metabolic syndrome, diabetes, cancer, arthritis, and others.
Obviously, there is a need for effective treatments to prevent or treat obesity. But, despite copious research and a myriad of dietary and exercise programs, there still is no safe and effective treatment. Mindfulness is known to be associated with lower risk for obesity, alter eating behavior and improve health in obesity. This suggests that mindfulness training may be an effective treatment for overeating and obesity alone or in combination with other therapies. Yoga practice has been shown to have a myriad of physical and psychological benefits. These include significant loss in weight and body mass index (BMI), resting metabolism, and body fat in obese women with Type 2 diabetes and improve health in the obese. Hence, it would seem reasonable to investigate the benefits of yoga therapy on the weight and body composition of the obese.
In today's Research News article "Sleep quality and body composition variations in obese male adults after 14 weeks of yoga intervention: A randomized controlled trial." See summary below or view the full text of the study at: http://www.ijoy.org.in/article.asp?issn=0973-6131;year=2017;volume=10;issue=3;spage=128;epage=137;aulast=Rshikesan, Rshikesan and colleagues recruited obese adult male participants and randomly assigned them to receive either no treatment or integrated yoga therapy for 1½ h for 5 days in a week, for 14 weeks. Yoga therapy includes relaxation, postures, breathing practice, and meditation. They were measured before and after treatment for body composition and sleep quality.
They found that the yoga therapy group had statistically significant reductions in obesity, including body weight, body mass index, and mineral content and increases in sleep quality and efficiency. In addition, there were no adverse events produced by the yoga practice. Hence, they found integrated yoga therapy to be a safe and effective treatment for obesity in adult males.
The benefits of yoga practice, though, appear to be small. The yoga group on average only lost about 2 pounds of body weight despite intensive treatment over 14 weeks. So, it doesn't appear from this study that integrated yoga therapy is a cost-effective treatment. But, yoga practice is known to produce many improvements in the physiology that were not measured in the present study. These include improvements in cardiovascular symptoms, joint problems, and diabetes. These benefits would tend to counteract the negative health consequences of obesity.
So, although there are suggestions here that integrated yoga therapy may be useful in the treatment of obesity it's cost-effectiveness is still questionable.
"Yoga is designed to help practitioner reduce body fat, increase flexibility and increase strength. The benefits of yoga to obese people also include increased blood flow, reduced pain and increased respiratory function." – Hannah Wahlig
CMCS – Center for Mindfulness and Contemplative Studies
This and other Contemplative Studies posts are available at the Contemplative Studies Blog http://contemplative-studies.org/wp/
They are also available on Google+ https://plus.google.com/106784388191201299496/posts and on Twitter @MindfulResearch
Study Summary
Rshikesan P B, Subramanya P, Singh D. Sleep quality and body composition variations in obese male adults after 14 weeks of yoga intervention: A randomized controlled trial. Int J Yoga 2017;10:128-37
Background: Obesity is a big challenge all over the world. It is associated with many noncommunicable diseases. Yoga known to be add-on treatment may be effective for obesity control. Aim: To assess the effect of integrated approach of yoga therapy (IAYT) for body composition and quality of sleep in adult obese male. Subjects and Methods: A randomized controlled trial was conducted for 14 weeks on obese male of urban setting. Eighty individuals were randomly divided into two groups, i.e., yoga group (n = 40; age; 40.03 ± 8.74 years, body mass index [BMI] 28.7 ± 2.35 kg/m2) and control group (age; 42.20 ± 12.06 years, BMI 27.70 ± 2.05 kg/m2). The IAYT was imparted to yoga group for 1½ hour for 5 days in a week for 14 weeks. The control group continued their regular activities. The body composition by InBody R20 and sleep quality by Pittsburgh Sleep Quality Index (PSQI) were assessed. Statistical analysis was done for within and between groups using SPSS version 21. The correlation analysis was done on the difference in pre-post values. Results: The results showed that weight (P = 0.004), BMI (P = 0.008), bone mass (P = 0.017), obesity degree (P = 0.005), and mineral mass (P = 0.046) were improved in yoga group and no change in control group (P > 0.05). The global score of PSQI improved (P = 0.017) in yoga group alone. Conclusion: The results indicate the beneficial effects of IAYT on body composition and sleep quality in obese males. The yoga practice may reduce obesity with the improvement in quality of life.
http://www.ijoy.org.in/article.asp?issn=0973-6131;year=2017;volume=10;issue=3;spage=128;epage=137;aulast=Rshikesan