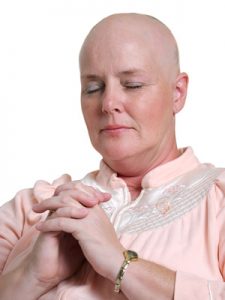 Improve Cancer Patients Physical and Psychological Health with Spiritual Care
By John M. de Castro, Ph.D.
"Spirituality and religion can be important to the well-being of people who have cancer, enabling them to better cope with the disease. Spirituality and religion may help patients and families find deeper meaning and experience a sense of personal growth during cancer treatment, while living with cancer, and as a cancer survivor." – National Comprehensive Cancer Network
Receiving a diagnosis of cancer has a huge impact on most people. Feelings of depression, anxiety, and fear are very common and are normal responses to this life-changing and potentially life-ending experience. These feeling can result from changes in body image, changes to family and work roles, feelings of grief at these losses, and physical symptoms such as pain, nausea, or fatigue. People might also fear death, suffering, pain, or all the unknown things that lie ahead. So, coping with the emotions and stress of a cancer diagnosis is a challenge and there are no simple treatments for these psychological sequelae of cancer diagnosis.
Religion and spirituality become much more important to people when they're diagnosed with cancer or when living with cancer and also for their caregivers. It is thought that people take comfort in the spiritual when facing mortality. But, spiritual concerns, such as feelings of being abandoned by god or needing forgiveness for actions in their lives might lead to anxiety and worry rather than comfort and can exacerbate the psychological burdens of cancer or on the quality of life of cancer patients. The research is accumulating. Hence, there is a need to step back and summarize what has been learned regarding the effects of spiritual care on the cancer patient.
In today's Research News article "). Interprofessional spiritual care in oncology: a literature review." (See summary below or view the full text of the study at: https://www.ncbi.nlm.nih.gov/pmc/articles/PMC6435249/), Puchalski and colleagues review and summarize the published research literature on the relationship of spirituality to cancer treatment. They define spirituality as 'Spirituality is a dynamic and intrinsic aspect of humanity through which persons seek ultimate meaning, purpose, and transcendence, and experience relationship to self, family, others, community, society, nature, and the significant or sacred. Spirituality is expressed through beliefs, values, traditions, and practices.'
They report that the published literature finds that spirituality is related to improved psychological and physical well-being of cancer patients across a wide variety of cancers at a wide variety of stages. Greater levels of spirituality are related to greater levels of quality of life during and after cancer treatment. On the other hand, cancer often results in higher levels of spiritual distress, including existential distress, hopelessness, despair and anger at God. Spiritual distress is, in turn, associated with poorer physical, social and emotional distress. Hence, spiritual care is important for the well-being of the cancer patient.
The published research makes a clear case that spirituality is related to better physical and psychological well-being in cancer patients while spiritual distress is related to worse outcomes. This underscores the need for training of healthcare workers in spiritual care. It is also clear that more research is needed to discover best practices for spiritual care for a variety of different patients.
So, improve cancer patients physical and psychological health with spiritual care.
"It is not known for sure how spirituality and religion are related to health. Some studies show that spiritual or religious beliefs and practices create a positive mental attitude that may help a patient feel better and improve the well-being of family caregivers." – National Cancer Institute
CMCS – Center for Mindfulness and Contemplative Studies
This and other Contemplative Studies posts are available on Google+ https://plus.google.com/106784388191201299496/posts and on Twitter @MindfulResearch
Study Summary
Puchalski, C. M., Sbrana, A., Ferrell, B., Jafari, N., King, S., Balboni, T., … Ripamonti, C. I. (2019). Interprofessional spiritual care in oncology: a literature review. ESMO open, 4(1), e000465. doi:10.1136/esmoopen-2018-000465
Abstract
Spiritual care is recognised as an essential element of the care of patients with serious illness such as cancer. Spiritual distress can result in poorer health outcomes including quality of life. The American Society of Clinical Oncology and other organisations recommend addressing spiritual needs in the clinical setting. This paper reviews the literature findings and proposes recommendations for interprofessional spiritual care.
Conclusion
Our literature review demonstrates that spirituality is an important component of health and general well-being of patients with cancer, and that spiritual distress has a negative impact on quality of life of patients with cancer. This makes the implementation of spirituality-based interventions essential in order to support the spiritual well-being of patients with cancer. Spirituality and spiritual well-being have been proven to have a positive effect on patients with cancer. Many national (eg, Great Britain) and international oncology palliative care as well as supportive care societies (ie, MASCC) have already created specific recommendations, guidelines and working groups on this matter, but it is important to widen oncology health professionals' knowledge about spirituality and to implement spirituality as a cornerstone of oncological patients' care. More research is needed to further our understanding of the role of spirituality in different cultural and clinical settings and to develop standardised models and tools for screening and assessment. Findings from this literature review also point to the need for more robust studies to assess the effectiveness of spiritual care interventions in improving patient, family and clinician's outcomes.
https://www.ncbi.nlm.nih.gov/pmc/articles/PMC6435249/