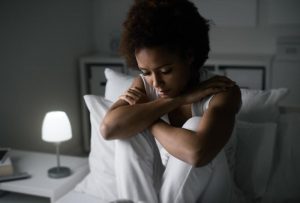 Improve the Symptoms of Lupus with Mindfulness
By John M. de Castro, Ph.D.
"However it strikes, pain is a persistent part of daily life for many people living with lupus. . . mindfulness-based interventions decrease the intensity of pain for people dealing with chronic pain." – Lupus Foundation
Autoimmune diseases occur when the body's systems that are designed to ward off infection attack the individual's own tissues. Lupus is an autoimmune disease that affects a variety of organ systems including kidneys, joints, skin, blood, brain, heart and lungs. Lupus can produce fever, joint pain, stiffness and swelling, butterfly-shaped rash on the face or rashes elsewhere on the body, skin lesions that appear or worsen with sun exposure, fingers and toes that turn white or blue when exposed to cold or during stressful periods, shortness of breath, chest pain, dry eyes, headaches, confusion and memory loss. Lupus strikes between 10 to 25 people per 100,000, or about 322,000 cases in the U.S.
The symptoms of Lupus can look like a number of other diseases, so it is hard to diagnose lupus. It is tipped off in many patients by the distinctive facial rash. There are no known cures for lupus and treatment is targeted at symptom relief. Drug treatments include pain relievers, corticosteroids, immunosuppressants, and even antimalarial drugs. Mindfulness practices have been shown to be effective for a wide variety of illnesses and to improve the immune system. So, it is not surprising that mindfulness training can improve Lupus and its symptoms.
In today's Research News article "Mindfulness-Based Stress Reduction for Systemic Lupus Erythematosus: A Mixed-Methods Pilot Randomized Controlled Trial of an Adapted Protocol." (See summary below or view the full text of the study at: https://www.ncbi.nlm.nih.gov/pmc/articles/PMC8509215/ ) Taub and colleagues recruited adult patients with Systemic Lupus Erythematosus and randomly assigned them to either a wait-list control or to receive 10 weekly 2-hour sessions and a full day retreat of Mindfulness-Based Stress Reduction (MBSR) adapted for Lupus. MBSR consists of practice with meditation, body scan, and yoga, and with group discussions and home practice. They were measured before and after training and 6 months later for lupus activity, health, depression, quality of life, psychological inflexibility to pain, shame, and illness identity. In addition, a sub-sample of patients underwent semi-structured qualitative interviews.
They found that in comparison to baseline and the wait-list control group, immediately after training the group that received Mindfulness-Based Stress Reduction (MBSR) had significantly reduced depression, fusion with pain, shame and illness identity and increases quality of life. At the 6-month follow-up, depression, fusion with pain, shame and illness identity remained significantly reduced. The qualitative interviews revealed 6 distinct themes; changes related to mindfulness; stress reduction; improvement in general physical functioning; changes in illness identity and illness perception; and the group as a mechanism of psychological change.
The interpretation of the findings is limited by the fact that there was a passive (wait-list) control condition. This leaves open a number of potential confounding explanations such as placebo effects, attention effects, experimenter bias, etc. Future research should have an active control condition such as aerobic exercise. Nevertheless, the results are suggestive that Mindfulness-Based Stress Reduction (MBSR) training is effective in producing enduring improvements in the psychological symptoms produced by Systemic Lupus Erythematosus, helping to relieve the patient's suffering.
So, improve the symptoms of Lupus with mindfulness.
"If you have lupus and you feel stressed, or you would like to boost your pain tolerance while reducing sensitivity to pain itself, speak to your doctor about the desirability of meditation. Because this activity has no side effects and is easy and affordable to carry out, your family can join you in sessions, as a way to battle stress." – Jess Walter
CMCS – Center for Mindfulness and Contemplative Studies
This and other Contemplative Studies posts are also available on Google+ https://plus.google.com/106784388191201299496/posts and on Twitter @MindfulResearch
Study Summary
Taub, R., Horesh, D., Rubin, N., Glick, I., Reem, O., Shriqui, G., & Agmon-Levin, N. (2021). Mindfulness-Based Stress Reduction for Systemic Lupus Erythematosus: A Mixed-Methods Pilot Randomized Controlled Trial of an Adapted Protocol. Journal of Clinical Medicine, 10(19), 4450. https://doi.org/10.3390/jcm10194450
Abstract
Background: The psychological effects of systemic lupus erythematosus (SLE) are tremendous. This pilot mixed-methods randomized controlled trial aimed to evaluate the effects of a mindfulness-based stress reduction (MBSR) adapted protocol on psychological distress among SLE patients. Methods: 26 SLE patients were randomly assigned to MBSR group therapy (n = 15) or a waitlist (WL) group (n = 11). An adapted MBSR protocol for SLE was employed. Three measurements were conducted: pre-intervention, post-intervention and 6-months follow up. A sub-sample (n = 12) also underwent qualitative interviews to assess their subjective experience of MBSR. Results: Compared to the WL, the MBSR group showed greater improvements in quality of life, psychological inflexibility in pain and SLE-related shame. Analysis among MBSR participants showed additional improvements in SLE symptoms and illness perception. Improvements in psychological inflexibility in pain and SLE-related shame remained stable over six months, and depression levels declined steadily from pre-treatment to follow-up. Qualitative analysis showed improvements in mindfulness components (e.g., less impulsivity, higher acceptance), as well as reduced stress following MBSR. Conclusions: These results reveal the significant therapeutic potential of MBSR for SLE patients. With its emphasis on acceptance of negative physical and emotional states, mindfulness practice is a promising treatment option for SLE, which needs to be further applied and studied.
https://www.ncbi.nlm.nih.gov/pmc/articles/PMC8509215/