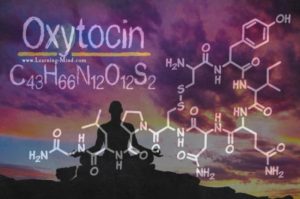 Increase Spirituality and Positive Emotions in Meditation with Oxytocin
By John M. de Castro, Ph.D.
"A meditation practice gives you the benefit of turning inward to your spirituality for answers, instead of looking to others. Meditation can drastically improve the loneliness, or longing you have in your life. Reach a state of interconnectedness with others and with your higher self, improve the joy you feel daily and become a compassionate person, free of fear and anxiety." – EOC Institute
Spirituality is defined as "one's personal affirmation of and relationship to a higher power or to the sacred." Spirituality has been promulgated as a solution to the challenges of life both in a transcendent sense and in a practical sense. The transcendent claims are untestable with the scientific method. But, the practical claims are amenable to scientific analysis. There have been a number of studies of the influence of spirituality on the physical and psychological well-being of practitioners mostly showing positive benefits, with spirituality encouraging personal growth and mental health.
Oxytocin is a hormone and a neuromodulator that affects both the peripheral physiology and the brain. High levels of Oxytocin have been associated with high levels of social bonding and spirituality. But, the fact that the Oxytocin and spirituality are related does not demonstrate that there's a causal connection. To determine if Oxytocin actually produces increased spirituality there is a need to manipulate its levels and observe its effects on spirituality. In today's Research News article "Effects of oxytocin administration on spirituality and emotional responses to meditation." See summary below or view the full text of the study at: https://www.ncbi.nlm.nih.gov/pmc/articles/PMC5040919/, Van Cappellen and colleagues examine the relationship of Oxytocin with spirituality by actively manipulating its levels and observing its effects on spirituality and well-being.
Van Cappellen and colleagues recruited meditation naïve males between the ages of 35 and 65 years and randomly assigned them to either receive Oxytocin or a placebo administered via a nasal spray in a double-blind fashion. Before administration the participants were genotyped for the oxytocin receptor gene. After administration the participants were administered a 20-minute guided meditation and measured for emotions afterward. Both before and after administration and 1 week later the participants completed two measures of spirituality, a measure of positive and negative emotions, and involvement in religious organizations.
They found that after oxytocin administration in comparison to placebo there was a significant, 33%, increase in spirituality, including interconnectedness and meaning and purpose, that were maintained one week later. They also had significantly greater positive emotions during and after meditation that were significantly mediated by the increases in spirituality. That is, oxytocin increased spirituality that, in turn, increased positive emotions associated with meditation. Finally, they found that these effects were modulated by variants of oxytocin receptor genes.
This was an interesting, tightly controlled study that demonstrated that elevated levels of oxytocin cause a lasting increase in spirituality and positive emotions during and after meditation. The fact that these effects are modulated by different variant of receptor genes suggests that different individuals are biologically predisposed to spirituality. So, spirituality is at least in part influenced by the biology and has the effect of improving the individuals' mood.
So, increase spirituality and positive emotions in meditation with oxytocin.
"Awe involves that assimilation — giving up your cognitive structures in order to accommodate [the object of awe]. And mindfulness is a little bit about that too, because you're paying attention and exercising non-conceptual awareness, so you should be more open to the immensity that's there. You step out of the small frame that you have and this small idea of what the world is… You're not stuck in your own story." – Brian Ostafin
CMCS – Center for Mindfulness and Contemplative Studies
"This and other Contemplative Studies posts are also available on Google+ https://plus.google.com/106784388191201299496/posts and on Twitter @MindfulResearch
Study Summary
Van Cappellen, P., Way, B. M., Isgett, S. F., & Fredrickson, B. L. (2016). Effects of oxytocin administration on spirituality and emotional responses to meditation. Social Cognitive and Affective Neuroscience, 11(10), 1579–1587. http://doi.org/10.1093/scan/nsw078
Abstract
The oxytocin (OT) system, critically involved in social bonding, may also impinge on spirituality, which is the belief in a meaningful life imbued with a sense of connection to a Higher Power and/or the world. Midlife male participants (N = 83) were randomly assigned to receive intranasal OT or placebo. In exploratory analyses, participants were also genotyped for polymorphisms in two genes critical for OT signaling, the oxytocin receptor gene (OXTR rs53576) and CD38 (rs6449182 and rs3796863). Results showed that intranasal OT increased self-reported spirituality on two separate measures and this effect remained significant a week later. It also boosted participants' experience of specific positive emotions during meditation, at both explicit and implicit levels. Furthermore, the effect of OT on spirituality was moderated by OT-related genotypes. These results provide the first experimental evidence that spirituality, endorsed by millions worldwide, appears to be supported by OT.