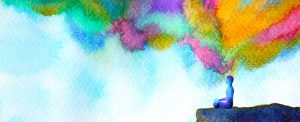 Enhance Creativity and Flow with Mindfulness
By John M. de Castro, Ph.D.
"Flexibility of thought is essential to creativity and studies show that mindfulness practice is positively correlated with cognitive flexibility." – Wendy Ann Greeenhalgh
Creative solutions are unusual but appropriate and useful solutions to a problem. Problem solving most frequently involves logic and reasoning, sometimes along with mathematics. If logic and reason fail, then fanciful and out-of-the box thinking may be needed. In this case mind wandering, taking the thought process away from the failed logical strategy, is superior, often producing a solution in a flash, an "aha" moment.
Creative solutions often occur after an incubation period where the individual gets away from the problem for a while. This tends to break up repetitive and routine thinking that may interfere with finding a creative solution. Mindfulness practices may provide incubation periods that help to spur creative thought. Indeed, mindfulness has been found to increase creativity. Regardless, there is a need to further investigate the effects of mindfulness on creativity
In today's Research News article "The Effect of Animation-Guided Mindfulness Meditation on the Promotion of Creativity, Flow and Affect." (See summary below or view the full text of the study at: https://www.frontiersin.org/articles/10.3389/fpsyg.2022.894337/full?utm_source=F-AAE&utm_medium=EMLF&utm_campaign=MRK_1885330_a0P58000000G0YfEAK_Psycho_20220614_arts_A ) Chen and colleagues recruited psychologically healthy employees engaged in creative activities and provide them with either animation-based of audio guided mindfulness training 3 times per week for 8 weeks. Before and after training they completed measures of creativity (Work Creativity Scale), Mindfulness (Mindful Attention Awareness Scale), flow (Short Dispositional Flow Scale – 2), and emotions (Positive and Negative Affect Scale).
They found that after training there were significant improvements in all measures. The animation group, however, had significantly greater improvements in mindfulness, work creativity, and positive emotions. Path analysis revealed that mindfulness and flow were highly elated and both were associated with higher levels of creativity directly and also indirectly y being positively related to positive emotions which were in turn positively related to creativity.
The results demonstrate the mindfulness training produce increased creativity and well-being regardless of whether training involves animation or audio guided meditation. But animation guided meditation produced superior results. So, improve creativity and flow with mindfulness training.
"mindfulness meditation and other mindfulness practices enhance three essential skills necessary for creative problem solving. First, mindfulness switches on divergent thinking. In other words, meditation opens your mind to new ideas. Second, mindfulness practice improves attention and makes it easier to register the novelty and usefulness of ideas. And finally, mindfulness nurtures courage and resilience in the face of skepticism and setbacks, which is important because failure and setbacks are inextricably linked with any innovation process." – Emma Schootstra
CMCS – Center for Mindfulness and Contemplative Studies
This and other Contemplative Studies posts are also available on Twitter @MindfulResearch
Study Summary
Chen H, Liu C, Zhou F, Chiang C-H, Chen Y-L, Wu K, Huang D-H, Liu C-Y and Chiou W-K (2022) The Effect of Animation-Guided Mindfulness Meditation on the Promotion of Creativity, Flow and Affect. Front. Psychol. 13:894337. doi: 10.3389/fpsyg.2022.894337
Creativity is so important for social and technological development that people are eager to find an easy way to enhance it. Previous studies have shown that mindfulness has significant effects on positive affect (PA), working memory capacity, cognitive flexibility and many other aspects, which are the key to promoting creativity. However, there are few studies on the relationship between mindfulness and creativity. The mechanism between mindfulness and creativity is still uncertain. Meditation is an important method of mindfulness training, but for most people who do not have the basic training, it's difficult to master how to get into a state of mindfulness. Animation has been shown by many studies to help improve cognition and is often used as a guiding tool. Using animation as the guiding carrier of meditation is more convenient and easier to accept. Therefore, this study adopted the intervention method of animation-guided meditation, aiming to explore: (1) the effect of animation-guided meditation on enhancing creativity; (2) the role of flow and emotion in the influence of mindfulness on creativity. We advertised recruitment through the internal network of a creative industrial park, and the final 95 eligible participants were divided into two groups: animation (n = 48) and audio (n = 47) guided meditation. The animation group was given an animated meditation intervention, and the audio group was given an audio meditation intervention, both interventions were performed 3 times a week and last for 8 weeks. Results: (1) Animation-guided meditation significantly increased participants' mindfulness and creativity levels; Significantly reduced their cognitive load compared to audio-guided meditation. (2) Mindfulness has a significant direct effect on creativity, and significant indirect effects on creativity; Flow and PA act as the mediating variable. Conclusion: (1) Mindfulness, flow, and PA all helped to improve the subjects' work creativity. In addition to the direct positive impact of mindfulness on creativity, mindfulness can also have an indirect positive impact on creativity through flow and PA. (2) Compared with audio, animation can significantly reduce cognitive load and help improve users' cognitive ability, which is more suitable for the guidance materials of mindfulness meditation to enhance the effect of meditation.
https://www.frontiersin.org/articles/10.3389/fpsyg.2022.894337/full?utm_source=F-AAE&utm_medium=EMLF&utm_campaign=MRK_1885330_a0P58000000G0YfEAK_Psycho_20220614_arts_A