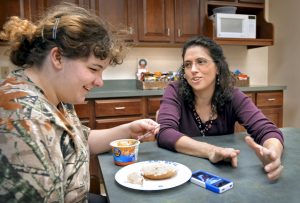 Improve Autism in Adolescents with Mindfulness
By John M. de Castro, Ph.D.
"mindfulness has emerged as a way of treating children and adolescents with conditions ranging from ADHD to anxiety, autism spectrum disorders, depression and stress. And the benefits are proving to be tremendous." Juliann Garey
Autism spectrum disorder (ASD) is a developmental disability that tends to appear during early childhood and affect the individual throughout their lifetime. It affects a person's ability to communicate, and interact with others, delays learning of language, makes eye contact or holding a conversation difficult, impairs reasoning and planning, narrows and intensifies interests, produces poor motor skills and sensory sensitivities, and is frequently associated with sleep and gastrointestinal problems. ASD is a serious disorder that impairs the individual's ability to lead independent lives including complete an education, enter into relationships or find and hold employment. Mindfulness training has been shown to be helpful in treating ASD.
Providing care for an adolescent with autism can be particularly challenging. These children's behavior is characterized, in varying degrees, by difficulties in social interaction, verbal and nonverbal communication and repetitive behaviors. These make it difficult to relate to the child and receive the kind of positive feelings that often help to support caregiving. The challenges of caring for a child with autism require that the parent be able to deal with stress, to regulate their own emotions, and to be sensitive and attentive to their child. These skills are exactly those that are developed in mindfulness training. It improves the psychological and physiological responses to stress. It improves emotion regulation. And it improves the ability to maintain attention and focus in the face of high levels of distraction.
In today's Research News article "MYmind: a Concurrent Group-Based Mindfulness Intervention for Youth with Autism and Their Parents." (See summary below or view the full text of the study at: https://www.ncbi.nlm.nih.gov/pmc/articles/PMC6945985/), Salem-Guirgis and colleagues recruited youths (aged 12-23 years) with autism and their parents. The youths received a mindfulness training program (MYmind) employing elements of cognitive behavioral therapy, meditation, and yoga while the parents received a mindful parenting program. Training occurred in 9 weekly, 1.5 hour, sessions combined with daily home practice. The youths were measured before and after training and 10 weeks later for autism symptoms, mindfulness, emotion regulation, and mental health including adaptive skills, behavioral symptoms index, externalizing problems, and internalizing problems. Parents were measured for mindfulness, depression, anxiety, stress, and mindful parenting.
They found that following the program and at the 10-week follow-up the parents had significant increases in mindfulness and mindful parenting. After the program and at follow-up the parents reported significant improvements in emotion regulation, social motivation, and autism symptoms in the youths, including significant decreases in restrictive and repetitive behaviors. Finally, the youths had significant improvements in emotion regulation, especially the ability to experience positive emotions.
It should be noted that there wasn't a control group. So, conclusions must be tempered with the understanding that there may be confounding factors at work here. Nevertheless, the results suggest that the MYmind program may be effective in improving autism symptoms, behavior, and emotion regulation in autistic youths and improve mindfulness and mindful parenting in their parents. This may be very helpful in improving the youth and the family system needed to deal with autism and markedly improve the lives of the youths and their parents. This justifies performing a large randomized controlled clinical trial in the future.
So, improve autism in adolescents with mindfulness.
"many parents of children with ASD who engage in a mindfulness-based practice see a decrease in their child's aggression and challenging behaviors and an improvement in the child's overall functioning." – Katy Oberle
CMCS – Center for Mindfulness and Contemplative Studies
This and other Contemplative Studies posts are also available on Google+ https://plus.google.com/106784388191201299496/posts and on Twitter @MindfulResearch
Study Summary
Salem-Guirgis, S., Albaum, C., Tablon, P., Riosa, P. B., Nicholas, D. B., Drmic, I. E., & Weiss, J. A. (2019). MYmind: a Concurrent Group-Based Mindfulness Intervention for Youth with Autism and Their Parents. Mindfulness, 10(9), 1730–1743. https://doi.org/10.1007/s12671-019-01107-9
Abstract
Objectives
The current study evaluated the use of MYmind, a concurrent mindfulness program in which youth with autism and their parents simultaneously receive group specific mindfulness training. Youth with autism can experience emotional and behavioral challenges, which are associated with parental stress. Mindfulness-based programs are emerging as a promising support for these challenges, for both children and parents. While two studies have documented the use of concurrent parent-child programs, neither involve control conditions.
Methods
Using a within-subject repeated measures design with a baseline component, 23 parent-child dyads were assessed on mindfulness, mental health, and youth emotion regulation and autism symptoms. Participants also rated their perceived improvement on a social validity questionnaire.
Results
There was improvement in youth autism symptoms, emotion regulation, and adaptive skills, and in parent reports of their own mindfulness following the program. There was also some indication of a waitlist effect for parent mental health, but not for other outcome variables. Participant feedback was mainly positive.
Conclusions
MYmind has the potential to contribute to emotion regulation and adaptability in youth with autism, and mindfulness in parents, though more rigorous controlled trials are needed.
https://www.ncbi.nlm.nih.gov/pmc/articles/PMC6945985/