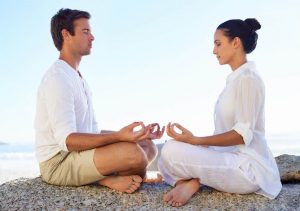 Mindful Sex is Better Sex
By John M. de Castro, Ph.D.
"When you apply mindfulness, meditation and yogic principles to your sex life, things begin to shift in a fantastic way." – Courtney Avery
Relationships can be difficult as two individuals can and do frequently disagree or misunderstand one another. This is amplified in marriage where the couple interacts daily and frequently have to resolve difficult issues. Sex is a very important aspect of relationships. Problems with sex are very common and have negative consequences for relationships. While research suggests that sexual dysfunction is common, it is a topic that many people are hesitant or embarrassed to discuss. Women suffer from sexual dysfunction more than men with 43% of women and 31% of men reporting some degree of difficulty. Hence, sex has major impacts on people's lives and relationships. Greater research attention to sexual and relationship satisfaction is warranted.
Mindfulness trainings have been shown to improve a variety of psychological issues including emotion regulation, stress responses, trauma, fear and worry, anxiety, and depression, and self-esteem. Mindfulness training has also been found to improve relationships and to be useful in treating sexual problems. But there is little empirical research. So, it makes sense to further investigate the relationship of mindfulness with couple's sexual satisfaction.
In today's Research News article "The role of sexual mindfulness in sexual wellbeing, Relational wellbeing, and self-esteem." (See summary below or view the full text of the study at: https://www.ncbi.nlm.nih.gov/pmc/articles/PMC6640099/), Leavitt and colleagues recruited midlife (aged 35-60 years), heterosexual, married, men and women and had them complete a questionnaire measuring mindfulness, sexual mindfulness, including awareness and non-judgement of sexual experience, sexual satisfaction, relationship satisfaction, and self-esteem.
They found that the higher the levels of both the aware and non-judgement facets of sexual mindfulness the higher the levels of trait mindfulness and sexual satisfaction and the higher the levels of trait mindfulness the greater the sexual satisfaction. High levels of relationship satisfaction were associated with high levels of sexual satisfaction and self-esteem. They found that trait mindfulness and sexual mindfulness were additive in their associations with sexual satisfaction. Women but not men who were high in aware sexual mindfulness had greater sexual satisfaction. Finally, they found that high non-judgement sexual mindfulness was associated with higher levels of self-esteem.
These results suggest that mindfulness during sex, being aware of sensations and emotions and not judging the experience, is important for satisfaction with sex, the marital relationship, and self-esteem. In other words, sex is better when experienced mindfully, relationships are better when sex is better, and one feels better about oneself when sex is better. These results are correlational and causation cannot be determined. But the results are interesting and suggest that a randomized controlled trial of the effectiveness of sexual mindfulness training to enhance satisfaction with sex and the relationship is justified.
Sex is fundamental to marital relationships and being mindful of the experience, both in terms of sensations and emotions, appears to be very important for the individual and the couple. Enhancing the sexual experience with mindfulness may well be an important therapeutic technique for enhancing satisfaction with marriage.
So, mindful sex is better sex.
"When people have sexual problems, a lot of the time it's anxiety-related and they're not really in their bodies, or in the moment. Mindfulness brings them back into the moment. When people say they've had the best sex and you ask them what they were thinking about, they can't tell you, because they weren't thinking about anything, they were just enjoying the moment. That's mindfulness." – Kate Moyle
CMCS – Center for Mindfulness and Contemplative Studies
This and other Contemplative Studies posts are also available on Google+ https://plus.google.com/106784388191201299496/posts and on Twitter @MindfulResearch
Study Summary
Leavitt, C. E., Lefkowitz, E. S., & Waterman, E. A. (2019). The role of sexual mindfulness in sexual wellbeing, Relational wellbeing, and self-esteem. Journal of sex & marital therapy, 45(6), 497–509. doi:10.1080/0092623X.2019.1572680
Abstract
In this study we examine the role of sexual mindfulness in individuals' sexual satisfaction, relational satisfaction, and self-esteem. Midlife U.S. men and women (N = 194 married, heterosexual individuals; 50.7% female; 94% Caucasian, age range 35–60 years) completed an online survey. More sexually mindful individuals tended to have better self-esteem, be more satisfied with their relationships and, particularly for women, be more satisfied with their sex lives. Some of these associations occurred even after controlling for trait mindfulness. These findings may also allow researchers and therapists to better address an individual's sexual wellbeing, relational wellbeing, and self-esteem by teaching sexual mindfulness skills.
https://www.ncbi.nlm.nih.gov/pmc/articles/PMC6640099/