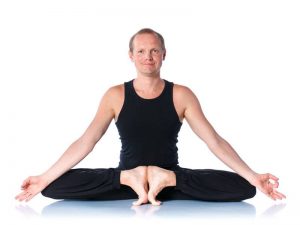 Reduce Premature Ejaculation and Increase Sexual Satisfaction with Yoga
By John M. de Castro, Ph.D.
"Integrating yoga as a non-pharmacological treatment modality into contemporary sex therapy has the potential to offer beneficial effects for different facets of human sexuality." – Anjali Mangesh Joshi
Sexual behavior is a very important aspect of human behavior. In fact, Sigmund Freud made it a centerpiece of his psychodynamic theory. At its best, it is the glue that holds families and relationships together. Problems with sex, though, are very common, but it is rarely discussed and there is little research. While research suggests that sexual dysfunction is common, it is a topic that many people are hesitant or embarrassed to discuss.
Premature ejaculation is a very common sexual dysfunction that affects around 30% of a males. Premature ejaculation can adversely affect the quality of life of the patients and their partners. Yet, it is under-reported and under treated. Three domains which define premature ejaculation include short ejaculatory latency, perceived lack of control of ejaculation, and negative personal consequences and interpersonal issues. Chronic stress can be a contributing factor to premature ejaculation in men.
Premature ejaculation is often treated with drugs such as Paroxetine, a selective serotonin reuptake inhibitor (SSRI). Mindfulness practices, such as yoga practice,,may be effective non-pharmacological treatments for Premature ejaculation. They have been shown to reduce stress and improve sexual function. It is likely, then, that yoga may be helpful in treating premature ejaculation.
In today's Research News article "A Comparative Study of Yoga with Paroxetine for the Treatment of Premature Ejaculation: A Pilot Study." (See summary below or view the full text of the study at: https://www.ncbi.nlm.nih.gov/pmc/articles/PMC7735509/ ) Rohilla and colleagues recruited otherwise healthy adult men diagnosed with premature ejaculation. The participants selected whether they wished to participate in a 12-week program of yoga or to receive drug treatment (Paroxetine). Yoga postures and mudras were practiced 2 to 3 times per day. Before, during and after treatment the participants self-measured their intravaginal ejaculation latency times.
They found that over the 12 weeks of treatments both groups had significant and increasing intravaginal ejaculation latency times and self-reported sexual satisfaction. The effect size for the yoga group was significantly greater than for the Paroxetine group. Only 19% of the patients in the yoga group reported adverse effects and they were very mild. On the other hand, the patients receiving Paroxetine reported more significant adverse effects.
This is a pilot study and did not have randomized assignment of participants to groups or a placebo control group. So, self-selection of treatment and placebo effects may have been significant factors. But the results are clear with both groups significantly improving. Yoga appears to have slightly better outcomes and fewer adverse effects and may be the preferred treatment.
So, reduce premature ejaculation and increase sexual satisfaction with yoga.
"yoga has improved the time taken for ejaculation and satisfaction to female partner." – Kshama Gupta
CMCS – Center for Mindfulness and Contemplative Studies
This and other Contemplative Studies posts are a also available on Google+ https://plus.google.com/106784388191201299496/posts and on Twitter @MindfulResearch
Study Summary
Rohilla, J., Jilowa, C. S., Tak, P., Hasan, S., & Upadhyay, N. (2020). A Comparative Study of Yoga with Paroxetine for the Treatment of Premature Ejaculation: A Pilot Study. International journal of yoga, 13(3), 227–232. https://doi.org/10.4103/ijoy.IJOY_89_19
Abstract
Context:
Premature ejaculation (PME) is a common sexual disorder. Drugs used commonly used for its treatment have various side effects and disadvantages. Yoga is being increasingly studied in a variety of medical disorders with positive results. However, its evidence for patients with PME is very limited.
Aims:
The aims of this study were to investigate the effect of yoga on ejaculation time in patients with PME and to compare it with paroxetine.
Settings and Design:
This was a nonrandomized nonblinded comparative study in a tertiary care center.
Materials and Methods:
Among patients with PME, 40 selected paroxetine and 28 yoga. Intravaginal ejaculation latency time (IELT) was measured in seconds once before and three times after intervention.
Statistical Analysis Used:
Mean, standard deviation, paired and unpaired t-tests, and repeated measures ANOVA were used for statistical analysis.
Results:
IELT was significantly increased in both groups – paroxetine (from 29.85 ± 11.9 to 82.19 ± 32.9) and yoga (from 25.88 ± 16.1 to 88697 + 26.9). Although the effect of yoga was slightly delayed in onset, its effect size (η2 = 0.87, P < 0.05) was more than paroxetine (η2 = 0.73, P < 0.05). One-fifth of the patients in the paroxetine group (19.5%) and 8% in the yoga group continued to have the problem of PME at the end of the trial.
Conclusions:
Yoga caused improvement in both intravaginal ejaculation latency time and subjective sexual experience with minimal side effect. Therefore, yoga could be an easily accessible economical nonpharmacological treatment option for the patient with PME.
https://www.ncbi.nlm.nih.gov/pmc/articles/PMC7735509/