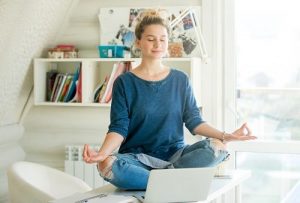 Online Mindfulness Training Improves Clinical Anxiety and Depression
By John M. de Castro, Ph.D.
"adding MMB [mindfulness training] to depression care led to greater reductions in depressive and anxious symptoms, higher rates of remission and higher levels of quality of life compared to patients receiving conventional depression care alone." – Traci Pederson
Mindfulness training has been shown through extensive research to be effective in improving physical and psychological health and particularly with the physical and psychological reactions to stress. They have been shown to be very helpful in treating anxiety and depression. The vast majority of the mindfulness training techniques, however, require a certified trained therapist. This results in costs that many clients can't afford. In addition, the participants must be available to attend multiple sessions at particular scheduled times that may or may not be compatible with their busy schedules and at locations that may not be convenient.
As an alternative, mindfulness training programs have been developed to be implemented over the internet. These have tremendous advantages in decreasing costs, making training schedules much more flexible, and eliminating the need to go repeatedly to specific locations. But, the question arises as to which forms of online mindfulness trainings are most effective for inducing mindfulness and improving the treatment of anxiety and depression.
In today's Research News article "Transdiagnostic internet-delivered CBT and mindfulness-based treatment for depression and anxiety: A randomised controlled trial." (See summary below or view the full text of the study at: https://www.ncbi.nlm.nih.gov/pmc/articles/PMC7044661/), Kladnitski and colleagues recruited online adults with a variety of either depression or anxiety disorders and randomly assigned them to receive either a 17-week internet-based cognitive behavioral therapy, mindfulness enhanced internet-based cognitive behavioral therapy, internet-based mindfulness training, or treatment-as-usual. "The programs consisted of six comic-style, story-based lessons, downloadable lesson summaries, reflective worksheets, and extra support materials including frequently asked questions and troubleshooting of common difficulties." They were measured before, during, and after treatment and 3 months later for psychological illnesses, anxiety, depression, psychological distress, and functional impairment.
They found compared to baseline and the treatment-as-usual control group, there were large and highly significant decreases in anxiety, depression, functional impairment and psychological distress. These improvements were present both at the end of treatment and at the 3-month follow-up. There were no significant differences between the effectiveness of the 3 interventions. There were no adverse events reported. At the 3-month follow-up 60% to 73% of the treated participants improved to the point that they no longer met the criteria for a clinical diagnosis of an anxiety or depressive disorder.
It is interesting that the 3 different treatments did not differ in effectiveness. Each has been previously been demonstrated to be effective in treating anxiety and depressive disorders and it appears that their efficacy is almost equivalent. This suggests that patients can self-select the treatment that most appeals to them, improving completion rates, compliance, and perhaps effectiveness.
These are exciting and important findings. It has been previously demonstrated that mindfulness training can alleviate the symptoms of anxiety and depression. The advance here is in demonstrating that therapy delivered over the internet is safe, effective, and lasting in treating anxiety or depressive disorders. Internet delivery of treatment can be implemented conveniently, at low cost. and over wide areas making the therapy available to large numbers of patients who previously could not access treatment.
So, online mindfulness training improves clinical anxiety and depression.
"Mindfulness and other meditations, particularly combined with cognitive therapy, work just as well for anxiety or depression as the medications do, but they don't have those side effects," – Daniel Goleman
CMCS – Center for Mindfulness and Contemplative Studies
This and other Contemplative Studies posts are also available on Google+ https://plus.google.com/106784388191201299496/posts and on Twitter @MindfulResearch
Study Summary
Kladnitski, N., Smith, J., Uppal, S., James, M. A., Allen, A. R., Andrews, G., & Newby, J. M. (2020). Transdiagnostic internet-delivered CBT and mindfulness-based treatment for depression and anxiety: A randomised controlled trial. Internet Interventions, 20, 100310. https://doi.org/10.1016/j.invent.2020.100310
Abstract
Aim
To examine the efficacy of transdiagnostic internet-delivered cognitive behavioural therapy (iCBT), mindfulness-enhanced iCBT, and stand-alone online mindfulness training compared with a usual care control group (TAU) for clinical anxiety and depression.
Method
Individuals (N = 158) with a DSM-5 diagnosis of a depressive and/or anxiety disorder were randomised to one of the three clinician-guided online interventions, or TAU over a 14-week intervention period. The primary outcomes were self-reported depression (PHQ-9) and anxiety (GAD-7) severity at post-treatment. Secondary outcomes included adherence rates, functional impairment (WHODAS-II), general distress (K−10), and diagnostic status at the 3-month follow-up (intervention groups).
Results
All three programs achieved significant and large reductions in symptoms of depression (g = 0.89–1.53), anxiety (g = 1.04–1.40), and distress (g = 1.25–1.76); and medium to large reductions in functional impairment (g = 0.53–0.98) from baseline to post-treatment and 3-month follow-up. Intention-to-treat linear mixed models showed that all three online programs were superior to usual care at reducing symptoms of depression (g = 0.89–1.18) and anxiety (g = 1.00–1.23).
Conclusion
Transdiagnostic iCBT, mindfulness-enhanced iCBT and online mindfulness training are more efficacious for treating depression and anxiety disorders than usual care, and represent an accessible treatment option for these disorders.
https://www.ncbi.nlm.nih.gov/pmc/articles/PMC7044661/