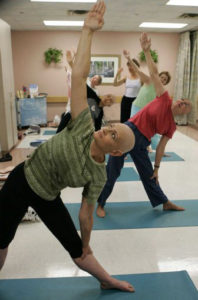 Improve Immune Response and Sleep to Breast Cancer with Yoga
By John M. de Castro, Ph.D.
"I'm convinced that yoga made all the difference in my treatment. The breathing was the thing that always came back for me—keeping the fear and panic down. I was in a PET scan machine for an hour. You just lie there and think terrible thoughts. I found my breathing. That was the most valuable thing." –  Debra Campagna
About 12.5% of women in the U.S. develop invasive breast cancer over their lifetimes and every year about 40,000 women die. Indeed, more women in the U.S. die from breast cancer than from any other cancer, besides lung cancer. Breast cancer diagnosis, however, is not always a death sentence. Death rates have been decreasing for decades from improved detection and treatment of breast cancer. Five-year survival rates are now at around 95%. The improved survival rates mean that more women are now living with cancer.
Surviving cancer, however, carries with it a number of problems. "Physical, emotional, and financial hardships often persist for years after diagnosis and treatment. Cancer survivors are also at greater risk for developing second cancers and other health conditions." (National Cancer Survivors Day). Also, breast cancer survivors can have to deal with a heightened fear of reoccurrence. This is particularly true with metastatic cancer. Additionally, cancer survivors frequently suffer from anxiety, depression, mood disturbance, Post-Traumatic Stress Disorder (PTSD), sleep disturbance, fatigue, sexual dysfunction, loss of personal control, impaired quality of life, an alteration of their body image, and psychiatric symptoms which have been found to persist even ten years after remission. So, safe and effective treatments for the symptoms in breast cancer and the physical and psychological effects of the treatments are needed.
Mindfulness training has been shown to help with general cancer recovery and breast cancer recovery. Mindfulness helps to alleviate many of the residual physical and psychological symptoms, including stress,  sleep disturbance, and anxiety and depression. The mindfulness practice of Yoga has also been shown to be helpful with the residual symptoms and the psychological and physical ability to deal with cancer treatment. So, it's reasonable to further explore the potential benefits of yoga practice for women during and after treatment.
In today's Research News article "Effect of Yoga on Sleep Quality and Neuroendocrine Immune Response in Metastatic Breast Cancer Patients." See summary below or view the full text of the study at: https://www.ncbi.nlm.nih.gov/pmc/articles/PMC5545949/, Rao and colleagues recruited women with advanced metastatic breast cancer. They received treatment as usual and were randomly assigned to receive either education and supportive counseling or an integrated yoga program for 12 weeks consisting of 60-min sessions twice a week combined with home practice of relaxation, breathing exercises, postures, and meditation. They were measured before and after treatment for sleep disturbance, salivary cortisol, and natural killer cells in the blood.
They found that after treatment the yoga practice group had significant improvements in sleep including sleep quality and reductions in insomnia and sleep distress. There was also a decrease in salivary cortisol levels in the morning indicating a less stressful sleep. Importantly, they found that yoga practice produced a significant increase in natural killer cells in the blood. There were no adverse effects observed and adherence to the protocol was high at 80%.
It would have been better if the control group had performed some other form of exercise to determine if it was yoga practice per se or simply exercise was responsible for the results. In addition, since the integrated yoga program contained multiple components it is impossible to differentiate which or which combination of components was effective. Nevertheless, these are impressive and exciting results that integrated yoga practice can have such profound positive effects on women with advanced metastatic breast cancer.
The results suggest that yoga practice improves sleep and the ability of the immune system to fight the cancer. The importance of adequate, high quality sleep for women fighting cancer cannot be overemphasized. High sleep quality is related to reductions in stress and inflammation which in turn is related to improved ability to fight the cancer. The present findings suggest that yoga is a safe and effective practice with clear physical and psychological benefits aiding in the fight against advanced metastatic breast cancer.
So, improve immune response and sleep to breast cancer with yoga.
"For women with breast cancer, research shows those who practice yoga may also have less stress and fatigue, and better quality of life." – American Cancer Society
CMCS – Center for Mindfulness and Contemplative Studies
This and other Contemplative Studies posts are also available on Google+ https://plus.google.com/106784388191201299496/posts and on Twitter @MindfulResearch
Study Summary
Rao, R. M., Vadiraja, H., Nagaratna, R., Gopinath, K. S., Patil, S., Diwakar, R. B., … Nagendra, H. (2017). Effect of Yoga on Sleep Quality and Neuroendocrine Immune Response in Metastatic Breast Cancer Patients. Indian Journal of Palliative Care, 23(3), 253–260. http://doi.org/10.4103/IJPC.IJPC_102_17
Abstract
Background:
Studies have shown that distress and accompanying neuroendocrine stress responses as important predictor of survival in advanced breast cancer patients. Some psychotherapeutic intervention studies have shown have modulation of neuroendocrine-immune responses in advanced breast cancer patients. In this study, we evaluate the effects of yoga on perceived stress, sleep, diurnal cortisol, and natural killer (NK) cell counts in patients with metastatic cancer.
Methods:
In this study, 91 patients with metastatic breast cancer who satisfied selection criteria and consented to participate were recruited and randomized to receive "integrated yoga based stress reduction program" (n = 45) or standard "education and supportive therapy sessions" (n = 46) over a 3 month period. Psychometric assessments for sleep quality were done before and after intervention. Blood draws for NK cell counts were collected before and after the intervention. Saliva samples were collected for three consecutive days before and after intervention. Data were analyzed using the analysis of covariance on postmeasures using respective baseline measure as a covariate.
Results:
There was a significant decrease in scales of symptom distress (P < 0.001), sleep parameters (P = 0.02), and improvement in quality of sleep (P = 0.001) and Insomnia Rating Scale sleep score (P = 0.001) following intervention. There was a decrease in morning waking cortisol in yoga group (P = 0.003) alone following intervention. There was a significant improvement in NK cell percent (P = 0.03) following intervention in yoga group compared to control group.
Conclusion:
The results suggest modulation of neuroendocrine responses and improvement in sleep in patients with advanced breast cancer following yoga intervention.