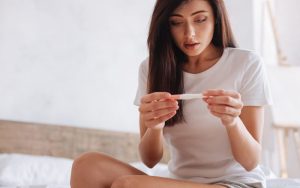 Reduce Depression with Infertility with Mindfulness
By John M. de Castro, Ph.D.
"Studies have shown that women dealing with infertility have anxiety and depression levels equals to women with cancer and HIV." – Beth Heller
Infertility is primarily a medical condition due to physiological problems. It is quite common. It is estimated that in the U.S. 6.7 million women, about 10% of the population of women are infertile. Infertility can be more than just a medical issue. It can be an emotional crisis for many couples, especially for the women. Couples attending a fertility clinic reported that infertility was the most upsetting experience of their lives.
Women with infertility reported feeling as anxious or depressed as those diagnosed with cancer, hypertension, or recovering from a heart attack. In addition, infertility can markedly impact the couple's relationship, straining their emotional connection and interactions and the prescribed treatments can take the spontaneity and joy from lovemaking making it strained and mechanical. The stress of infertility and engaging in infertility treatments may exacerbate the problem. Since mindfulness training has been shown to reduce depression, anxiety, and stress it is reasonable to believe that mindfulness training may be helpful in reducing the distress in women with fertility issues.
In today's Research News article "Mindfulness-Based Group Counseling on Depression in Infertile Women: Randomized Clinical Trial Study." (See summary below or view the full text of the study at:),   https://www.ncbi.nlm.nih.gov/pmc/articles/PMC7139233/  Kalhori and colleagues recruited women aged 25 to 40 years who were diagnosed with infertility and who were undergoing in vitro fertilization. They were randomly assigned to receive treatment as usual or to receive 4 weeks, twice a week for 90 minutes of group mindfulness counseling with home exercises. They were measured before and after the 4-week training period for depression and measures of infertility.
They found that in comparison to baseline and the treatment as usual group, the women who received group mindfulness counseling had significant decreases in depression. It has been well established that mindfulness training reduces depression levels in a wide range of healthy and ill individuals. The present study demonstrates that it can also relieve depression in infertile women undergoing in vitro fertilization. It would be interesting in the future to determine if the improved mood increased the likelihood of successful in vitro fertilization.
So, reduce depression with infertility with mindfulness.
"Through sustained practice, mindfulness becomes a great ally, and combats the myopic thinking often caused by a diagnosis of infertility. Instead of seeing things in such bimodal terms of "all good, or "all bad," we learn to appreciate the space in between by paying attention to whatever emerges moment to moment." – Julie Fraga
CMCS – Center for Mindfulness and Contemplative Studies
This and other Contemplative Studies posts are also available on Google+ https://plus.google.com/106784388191201299496/posts and on Twitter @MindfulResearch
Study Summary
Kalhori, F., Masoumi, S. Z., Shamsaei, F., Mohammadi, Y., & Yavangi, M. (2020). Effect of Mindfulness-Based Group Counseling on Depression in Infertile Women: Randomized Clinical Trial Study. International journal of fertility & sterility, 14(1), 10–16. https://doi.org/10.22074/ijfs.2020.5785
Abstract
Background
Assisted reproductive technologies (ARTs) such as in vitro fertilization (IVF) can lead to depressive symptoms in infertile women due to their low success and high costs. Mindfulness-based group counseling can decrease depressive symptoms by increasing mental concentration. The aim of the present study was to evaluate the effect of mindfulness-based group counseling on depression in infertile women undergoing IVF.
Materials and Methods
The present clinical trial included 90 infertile women undergoing IVF treatment in an infertility center in 2016. Women were divided into two groups, intervention and control. Both groups completed a demographic questionnaire and the Beck depression inventory (BDI). Eight 90-minute sessions (two each week) of mindfulness-based group counseling were held with the intervention group, while the control group received treatment as normal. Following the intervention, the BDI was again completed by both groups. The data were analyzed and independent t tests and, paired t tests conducted at a significance level of P<0.05.
Results
No statistically significant demographic differences were observed between the two groups. Women in the control group had a somewhat lower depressive symptom score than the intervention group before the intervention. However, compared with before, the depressive symptom score among women in the intervention group decreased significantly (48%) (P<0.001) after the intervention. In contrast, the depressive symptom score in control women was higher after the intervention than before.
Conclusion
According to the findings of the present research, mindfulness-based group counseling is able to reduce depressive symptoms in infertile women under IVF treatment. Therefore, group counseling sessions are suggested for all depressed women undergoing infertility treatment (Registration number: IRCT2015082013405N14).
https://www.ncbi.nlm.nih.gov/pmc/articles/PMC7139233/