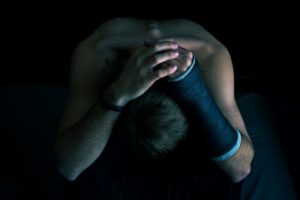 Increase Pain Tolerance and Spirituality with a Brief Meditation
By John M. de Castro, Ph.D.
"Bit by bit, as I sat noticing my breath and body sensations, I began to feel the deep knots of pain in my body start to untie themselves." – Avi Craimer
We all have to deal with pain. It's inevitable, but hopefully it's mild and short lived. For a wide swath of humanity, however, pain is a constant in their lives. At least 100 million adult Americans have chronic pain conditions. The most common treatment for chronic pain is drugs. These include over-the-counter analgesics and opioids. But opioids are dangerous and highly addictive. Prescription opioid overdoses kill more than 14,000 people annually. So, there is a great need to find safe and effective ways to lower the psychological distress and improve the individual's ability to cope with the pain.
Pain involves both physical and psychological issues. The stress, fear, and anxiety produced by pain tends to elicit responses that actually amplify the pain. So, reducing the emotional reactions to pain may be helpful in pain management. There is an accumulating volume of research findings to demonstrate that mind-body therapies have highly beneficial effects on the health and well-being of humans. Mindfulness practices have been shown to improve emotion regulation producing more adaptive and less maladaptive responses to emotions. Indeed, mindfulness practices are effective in treating pain in adults.
In today's Research News article "Spirituality in pain medicine: A randomized experiment of pain perception, heart rate and religious spiritual well-being by using a single session meditation methodology." (See summary below or view the full text of the study at: https://www.ncbi.nlm.nih.gov/pmc/articles/PMC6128533/ ), Sollgruber and colleagues recruited adults and randomly assigned them to receive either a 20-minute guided meditation or a 20-minute relaxation. They were measured before and after the brief meditation or relaxation for symptoms of psychological disorders and spirituality, including hope, immanent, forgiveness, experience of sense and meaning, hope transcendent, general religiosity and connectedness. They were measured for perception of cold and warmth and cold and warmth pain, their threshold for pain, and their heart rate. They were also asked to rate their subjective religious faith, dimension of religious faith, dimension of spirituality and attachment to an ecclesiastical community and also stress, pain, relaxation and spirituality.
They found that the meditation group reported a greater sense of spirituality as a result of the brief meditation while both groups reported increased relaxation. The meditation group in comparison to the relaxation group also showed a greater increase in pain tolerance and intensity of heat pain. and a significant increase in religious spiritual well-being including general religiosity, forgiveness, and connectedness. These effects were of moderate effect sizes.
These are relatively remarkable results that suggest that even a one-time, very brief meditation can significantly improve pain tolerance and increase spirituality. It has been previously demonstrated that much greater amounts of meditation training decrease pain perception and increase spirituality. But, the fact that a single 20-minute meditation is sufficient to produce these changes, at least on the very short-term, is quite impressive.
The results are also impressive as they were demonstrated in comparison to a comparable relaxation control condition which produced equivalent relaxation to meditation. This suggests that it was the meditation and not simple relaxation that was responsible for the effects. Further research is needed to see if these changes endure beyond the immediate aftermath of the meditation and are applicable to patients with chronic pain.
So, increase pain tolerance and spirituality with a brief meditation
"Mindful mediation is an appealing option for treating your pain because it has an unusual benefit; it places you in a position of control. Unlike pain medications or surgical procedures, meditation is not done to you—but rather it is something you do for yourself." – Stephanie Burke
CMCS – Center for Mindfulness and Contemplative Studies
This and other Contemplative Studies posts are also available on Google+ https://plus.google.com/106784388191201299496/posts and on Twitter @MindfulResearch
Study Summary
Sollgruber, A., Bornemann-Cimenti, H., Szilagyi, I. S., & Sandner-Kiesling, A. (2018). Spirituality in pain medicine: A randomized experiment of pain perception, heart rate and religious spiritual well-being by using a single session meditation methodology. PloS one, 13(9), e0203336. doi:10.1371/journal.pone.0203336
Abstract
The aim of this study is to investigate different effects on pain perception among randomly assigned volunteers practicing meditation compared to a relaxation condition. The study examines whether participants of the experimental conditions (meditation versus relaxation) differ in the change of pain perception and heart rate measurement and in religious and spiritual well-being after an intervention. Method: 147 volunteers (long-term practitioners and novices) were randomly assigned to the experimental conditions with a headphone guided 20-minute single session intervention. The change in their pre- and post-intervention pain perception was measured using Quantitative Sensory Testing and Cold Pressor Testing (CPTest), their stress-level was compared by monitoring heart rate, and their religious and spiritual well-being by using the Multidimensional Inventory for Religious/Spiritual Well-Being (MI-RSB48). Additionally, dimensions of the Brief Symptom Inventory (BSI) measured the psychological resilience of the participants; pain and stress experience, and the state of relaxation and spirituality experience were assessed. Five persons were excluded due to failure in measuring the heart rate and 29 participants had to be excluded because of high values on the BSI. Results: The meditation group showed an increase in their pain tolerance on the CPTest and a decrease in their pain intensity for heat after the experimental condition, in contrast to the relaxation group. Futhermore, the meditation group showed a higher level of religious spiritual well-being (MI-RSB48 Total score) as well as in the sub-dimensions General Religiosity, Forgiveness, and Connectedness after the experimental condition, compared to the relaxation group. Our data is consistent with the hypothesis that meditation increases pain tolerance and reduces pain intensity, however, further work is required to determine whether meditation contains similar implications for pain patients.
https://www.ncbi.nlm.nih.gov/pmc/articles/PMC6128533/