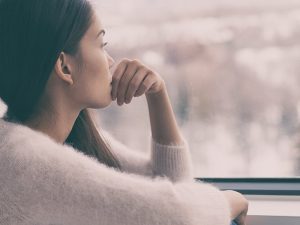 Spirituality is Related to Reduced Depression but Negative Religiosity is Associated with Suicidality
By John M. de Castro, Ph.D.
"The trouble is that just as it is hard to feel connected to other people while depressed, it is difficult to feel connected to God. A leap of trust and faith is frequently needed to be spiritual while depressed." – Healthtalk.org
Depression and other mood disorders are the number-one risk factor for suicide. More than 90% of people who kill themselves have a mental disorder, whether depression, bipolar disorder or some other diagnosis. So, the best way to prevent suicide may be to treat the underlying cause. For many this means treating depression.
Spirituality is defined as "one's personal affirmation of and relationship to a higher power or to the sacred. There have been a number of studies of the influence of spirituality on the physical and psychological well-being of practitioners mostly showing positive benefits, with spirituality encouraging personal growth and mental health. Spirituality may help to provide meaning and prevent suicide. But there is scant research on the relationship of spirituality and religiosity and suicide.
In today's Research News article "Comparison of religiosity and spirituality in patients of depression with and without suicidal attempts." (See summary below or view the full text of the study at: https://www.ncbi.nlm.nih.gov/pmc/articles/PMC8221206/ ) Dua and colleagues
CMCS – Center for Mindfulness and Contemplative Studies recruited 2 groups of patients both with depression and suicidal ideation and one with an additional suicide attempt. They also recruited age and gender matched healthy control participants. They completed measures of the depression, impulsivity, hopelessness, anxiety, irritability, mania, suicide severity, centrality of religion and spiritual attitudes.
They found that the depressed groups did not differ in purpose, hope, and organized, nonorganized religious activities and intrinsic religiosity. On the other hand, patients with suicidal ideation generally had a family history of suicide. Patients who had attempted suicide were significantly higher in hopelessness and suicide ideation and lower on social support than patients who had nor attempted suicide. They also had significantly higher levels of negative religious coping. Compared to the healthy controls the depressed groups were significantly lower in religiosity. They also found that the lower the levels of religiosity the greater the levels of suicidal ideation and the higher the number of suicide attempts. But, in the suicide attempters higher levels of ideological religiosity was associated with greater severity of suicide ideation.
These are interesting but correlative findings and as such causation cannot be determined. Nevertheless, the results suggest that spirituality, although associated with lower depression, is not significantly related to suicide ideation or attempts. On the other hand, negative religious coping, ideological religiosity, and low religiosity were. In other words, being religious, in general is not a problem. But adhering to the ideology or using negative religious coping are associated with suicidality.
Negative religious coping involves struggling with religion, questioning, guilt, and perceived distance from and negative views of god. This type of coping does not provide support in times of psychological distress and in fact may exacerbate feelings of hopelessness. Regardless, it appears that non-spiritual uses and ideas about religion and god my be associated with more thoughts about suicide and an increased likelihood of attempting suicide.
So, spirituality is related to reduced depression but negative religiosity is associated with suicidality.
"Whether your depression manifests itself as a loss of appetite, decreased sense of self-worth, lost productivity, feelings of helplessness, prolonged worry or any other symptom, spirituality can absolutely help an individual along their journey toward purpose." – Pyramid Healthcare
This and other Contemplative Studies posts are also available on Google+ https://plus.google.com/106784388191201299496/posts and on Twitter @MindfulResearch
Study Summary
Dua, D., Padhy, S., & Grover, S. (2021). Comparison of religiosity and spirituality in patients of depression with and without suicidal attempts. Indian journal of psychiatry, 63(3), 258–269. https://doi.org/10.4103/psychiatry.IndianJPsychiatry_246_20
Abstract
Aim:
This study is aimed to compare the religiosity and spirituality of patients with first-episode depression with suicidal ideation and those with recent suicidal attempts. Additional aim was compare the religiosity and spirituality of patients with first-episode depression with healthy controls.
Methods:
Patients of first episode depression with suicidal ideation and healthy controls were assessed by Centrality of Religiosity Scale (CRS), Duke University Religion Index (DUREL), Brief Religious coping scale (R-COPE), and Spiritual Attitude Inventory (SAI).
Results:
Patients with depression were divided into two groups based on the presence (n = 53) or absence (n = 62) of suicidal attempts in the previous 14 days. Both the patients with and without suicide attempts were matched for depression severity. Both the patient groups did not differ in terms of religiosity and spirituality as assessed using CRS and SAI. Both depression groups had lower scores on religiosity as compared to healthy controls as assessed on CRS. The two groups also had a lower score on the "sense of hope" which is a part of SAI, when compared to healthy controls. Compared to patients without suicide attempts (i.e., ideators group) and healthy controls, subjects with suicide attempts more often used negative religious coping. Total numbers of lifetime suicide attempts in the attempt group were associated with the ideology domain of the CRS.
Conclusion:
Compared with healthy controls, patients with depression have lower levels of religiosity and spirituality. In the presence of comparable severity of depression, higher use of negative religious coping is associated with suicide attempts.