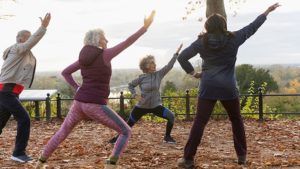 Protect the Brain from Age-Related Atrophy with Tai Chi
By John M. de Castro, Ph.D.
"Tai Chi . . improves brain health and can be an effective solution for simple, age-related decline in brain function." – FAI Education
The aging process involves a systematic progressive decline in every system in the body, the brain included. This includes our mental abilities which decline with age including impairments in memory, attention, and problem-solving ability. It is inevitable and cannot be avoided. Using modern neuroimaging techniques, scientists have been able to view the changes that occur in the nervous system with aging. In addition, they have been able to investigate various techniques that might slow the process of neurodegeneration that accompanies normal aging. They've found that mindfulness practices reduce the deterioration of the brain that occurs with aging restraining the loss of neural tissue. Indeed, the brains of practitioners of meditation and yoga have been found to degenerate less with aging than non-practitioners. Tai Chi and Qigong have also been shown to be beneficial in slowing or delaying physical and mental decline with aging and to increase brain matter in the elderly.
In today's Research News article "Long-Term Tai Chi Experience Promotes Emotional Stability and Slows Gray Matter Atrophy for Elders." (See summary below or view the full text of the study at: https://www.frontiersin.org/articles/10.3389/fpsyg.2019.00091/full?utm_source=F-AAE&utm_medium=EMLF&utm_campaign=MRK_907099_69_Psycho_20190212_arts_A ), Liu and colleagues recruited older (60 to 70 years of age) adults who had been practicing Tai Chi for at least 10 years and control participants who were matched to the Tai Chi group on age, physical activity and gender. They were measured for mindfulness, depression, impulsivity, and personality. They also underwent brain scanning with Magnetic Resonance Imaging (MRI). The participants also completed a computerized risk-taking task which had both positive or negative outcomes. They completed emotion ratings after each outcome.
They found that the experienced Tai Chi practitioners had significantly greater emotional stability and took less risks than the control group. Additionally, the Tai Chi group had significantly stronger emotional reactions to both good and bad outcomes in the risk-taking task. The brain scans revealed that the Tai Chi group had significantly greater grey matter in the areas of the brain known as the hippocampus and the thalamus. They also found that the greater the grey matter in the thalamus the greater the levels of mindfulness and emotional stability while the greater the grey matter in the hippocampus the greater the levels of emotional stability and lower levels of neuroticism and risk taking.
These are interesting results but the study is correlational and cross sectional. So, care must be exercised in interpretation of causation. But the fact that the control group was equally physically active as the Tai Chi group is a strength that suggests that the results were due to Tai Chi practice per se and not just to the physical activity produced by Tai Chi practice. The results suggest that Tai Chi practice may help to protect the brain, particularly the thalamus and hippocampus, from age-related degeneration as has been previously reported, and this protection may be associated with greater emotional stability and lower risk taking.
The findings of less risk taking of the elderly Tai Chi participants may be an important observation. The elderly may be vulnerable to injury and falls that can produce serious injuries in this group. One reason that Tai Chi may produce fewer falls in the elderly is that they are being more careful and taking fewer risks. The elderly are also financially vulnerable and may benefit from less financial risk taking in protecting their available resources.
So, protect the brain from age-related atrophy with Tai Chi.
"regular practice of Tai Chi could play an important role in promoting both brain and muscle health in older adults. Tai Chi is a mind-body exercise worth exploring at any age." – Marilyn Wei
CMCS – Center for Mindfulness and Contemplative Studies
This and other Contemplative Studies posts are available at the Contemplative Studies Blog http://contemplative-studies.org/wp/
They are also available on Google+ https://plus.google.com/106784388191201299496/posts and on Twitter @MindfulResearch
Study Summary
Liu S, Li L, Liu Z and Guo X (2019) Long-Term Tai Chi Experience Promotes Emotional Stability and Slows Gray Matter Atrophy for Elders. Front. Psychol. 10:91. doi: 10.3389/fpsyg.2019.00091
Brain adverse structural changes, especially the atrophy of gray matter, are inevitable in aging. Fortunately, the human brain is plastic throughout its entire life. The current cross-section study aimed to investigate whether long-term Tai Chi exercise could slow gray matter atrophy and explore the possible links among gray matter volume (GMV), long-term Tai Chi experience and emotional stability in a sequential risk-taking task by using voxel-based morphometry. Elders with long-term Tai Chi experience and controls, who were matched to Tai Chi group in age, gender, physical activity level, participated in the study. A T1-weighted multiplanar reconstruction sequence was acquired for each participant. Behaviorally, the Tai Chi group showed higher meditation level, stronger emotional stability and less risk-taking tendency in the sequential risk-taking compared to the control group. Moreover, the results revealed that the GMV of the thalamus and hippocampus were larger in the Tai Chi group compared with the control group. Notably, the GMV of the thalamus was positively correlated with both meditation level and emotional stability. The current study suggested the protective role of long-term Tai Chi exercise at slowing gray matter atrophy, improving the emotional stability and achieving successful aging for elders.
https://www.frontiersin.org/articles/10.3389/fpsyg.2019.00091/full?utm_source=F-AAE&utm_medium=EMLF&utm_campaign=MRK_907099_69_Psycho_20190212_arts_A