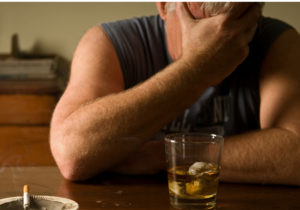 Reduce Drinking Motives and Problematic Drinking with Mindfulness
By John M. de Castro, Ph.D.
"It may not be possible for people to completely escape cravings, but they can learn to live with them. Mindfulness meditation is an excellent tool that allows the individual to have increased control over their mind. There is a saying that, the mind is a wonderful servant but a terrible master." – Alcoholrehab.com
Inappropriate use of alcohol is a major societal problem. In fact, about 25% of US adults have engaged in binge drinking in the last month and 7% have what is termed an alcohol use disorder. Alcohol abuse is very dangerous and frequently fatal. Nearly 88,000 people in the US and 3.3 million globally die from alcohol-related causes annually, making it the third leading preventable cause of death in the United States. Drunk driving accounted for over 10,000 deaths; 31% of all driving fatalities. Excessive alcohol intake has been shown to contribute to over 200 diseases including alcohol dependence, liver cirrhosis, cancers, and injuries. It is estimated that over 5% of the burden of disease and injury worldwide is attributable to alcohol consumption.
Alcohol abuse often develops during adolescence and it on display with college students where about four out of five college students drink alcohol and about half of those consume alcohol through binge drinking. About 25 percent of college students report academic consequences of their drinking including missing class, falling behind, doing poorly on exams or papers, and receiving lower grades overall. More than 150,000 students develop an alcohol-related health problem. This drinking has widespread consequence for not only the students but also the college communities, and families. More than 690,000 students are assaulted by another student who has been drinking. More than 97,000 students are victims of alcohol-related sexual assault or date rape. 599,000 students receive unintentional injuries while under the influence of alcohol. Significantly, 1,825 college students die each year from alcohol-related unintentional injuries and between 1.2 and 1.5 percent of students indicate that they tried to commit suicide within the past year due to drinking or drug use.
These are striking and alarming statistics and indicate that controlling alcohol intake is an important priority for the individual and society. There are a wide range of treatment programs for alcohol abuse, with varying success. Recently, mindfulness training has been successfully applied to treatment. One attractive feature of this training is that it appears to increase the ability of the drinker to control their intake, resulting in less binge drinking and dangerous inebriation. It appears that one way that mindfulness increases the control of intake is by reducing the desire to use alcohol to cope with emotional problems. Since, mindfulness appears to hold promise as a treatment for excessive alcohol intake, there is a need to better understand its mechanisms of action in order to maximize its effectiveness.
In today's Research News article "Drinking Motives Mediate the Relationship between Facets of Mindfulness and Problematic Alcohol Use." See summary below or view the full text of the study at: https://www.ncbi.nlm.nih.gov/pmc/articles/PMC4998974/. Vinci and colleagues recruited college students and had them complete measures of problem drinking, drinking characteristics, including frequency, quantity, and binge drinking, drinking motives including coping, enhancement, social, and conformity, and mindfulness. They performed regression and structural modelling analyses on these data.
They found that the higher the level of the mindfulness facet of acting with awareness that the students had the lower the levels of problem drinking. In addition, the association of acting with awareness with lower problem drinking occurred through two routes, a direct effect of acting with awareness on problem drinking and indirect effects through lower levels of using drinking for coping with negative emotions and lower levels of drinking to conform to the social situation. Hence, mindfulness is directly associated with less problem drinking and with lower levels of susceptibility to use drinking to sooth negative feelings and to conform to the behaviors of others.
Since, problem drinking is such a major societal and individual problem that develops during adolescence, the fact that mindfulness may help to lower problem drinking in college students suggests that mindfulness training may be an important intervention during these formative years. It remains for future research to determine if  active mindfulness training in college students can lead to decreased problem drinking.
So, reduce drinking motives and problematic drinking with mindfulness.
"Mindfulness also helps people learn to relate to discomfort differently. When an uncomfortable feeling like a craving or anxiety arises, people are able to recognize their discomfort, and observe it with presence and compassion, instead of automatically reaching for a drug to make it go away. Awareness of our experience and the ability to relate to our experience with compassion gives us more freedom to choose how we respond to discomfort, rather than defaulting to automatic behaviors." – Sarah Bowen
CMCS – Center for Mindfulness and Contemplative Studies
This and other Contemplative Studies posts are also available on Google+ https://plus.google.com/106784388191201299496/posts and on Twitter @MindfulResearch
Study Summary
Vinci, C., Spears, C. A., Peltier, M. R., & Copeland, A. L. (2016). Drinking Motives Mediate the Relationship between Facets of Mindfulness and Problematic Alcohol Use. Mindfulness, 7(3), 754–763. http://doi.org/10.1007/s12671-016-0515-y
Abstract
Mindfulness is a multi-faceted construct, and research suggests that certain components (e.g., Acting with Awareness, Nonjudging) are associated with less problematic alcohol use. Recent research has examined whether specific drinking motives mediate the relationship between facets of mindfulness and alcohol use. The current study sought to extend this research by examining whether certain drinking motives would mediate the relationship between facets of mindfulness and problematic alcohol use in a sample of 207 college students classified as engaging in problematic drinking. Participants completed the Five Facet Mindfulness Questionnaire (FFMQ), Drinking Motives Questionnaire-Revised (DMQ-R), and Alcohol Use Disorders Identification Test (AUDIT). Results indicated that lower levels of Coping motives significantly mediated the relationship between greater Acting with Awareness and lower AUDIT score and between greater Nonjudging and lower AUDIT score. Lower levels of Conformity motives significantly mediated the relationship between greater Acting with Awareness and lower AUDIT score. These findings offer insight into specific mechanisms through which mindfulness is linked to less problematic drinking, and also highlight associations among mindfulness, drinking motives, and alcohol use among a sample of problematic college student drinkers. Future research should determine whether interventions that emphasize Acting with Awareness and Nonjudging facets of mindfulness and/or target coping and conformity motives could be effective for reducing problematic drinking in college students.