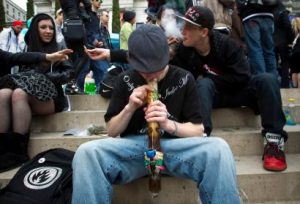 Spirituality Interferes with Successful Treatment of Cannabis Abuse in Adolescents
By John M. de Castro, Ph.D.
"there are three main reasons that cannabis is seen as a spiritual tool. First, "It is a light intoxicant and can therefore be used fairly frequently and without the kinds of impairment associated with major hallucinogens." Second, cannabis is conducive to group social use and fosters conversation about philosophical and theological matters. Finally, cannabis weakens our ability for sustained attention. . . . it's great for aiding in shifts of perspective and giving experiences a more pluralistic character." – Robert Fuller
Drug and alcohol addictions are very difficult to kick and if successful about half the time the individual will relapse. So, there have been developed a number of programs to help the addict recover and prevent relapse. The 12 step programs of Alcoholics Anonymous, Narcotics Anonymous, Cocaine Anonymous, etc. have been as successful as any programs in treating addictions. These programs insist that spirituality is essential to recovery.
"Marijuana use can lead to the development of problem use, known as a marijuana use disorder, which takes the form of addiction in severe cases. Recent data suggest that 30 percent of those who use marijuana may have some degree of marijuana use disorder. People who begin using marijuana before the age of 18 are four to seven times more likely to develop a marijuana use disorder than adults." National Institute of Drug Abuse.
Spirituality is defined as "one's personal affirmation of and relationship to a higher power or to the sacred. There have been a number of studies of the influence of spirituality on the physical and psychological well-being of practitioners mostly showing positive benefits, with spirituality encouraging personal growth and mental health. Spirituality has been shown to assist in addiction recovery. So, it would make sense to investigate the relationship of spirituality with the ability of adolescents to recover from cannabis abuse.
In today's Research News article ""God put weed here for us to smoke": A mixed-methods study of religion and spirituality among adolescents with cannabis use disorders." (See summary below or view the full text of the study at: https://www.ncbi.nlm.nih.gov/pmc/articles/PMC6430642/), Yeterian and colleagues recruited adolescents, aged 14 to 21 years, who were undergoing a 12-step program for the treatment of cannabis abuse. The adolescents were measured before treatment and at 3 and 6-month follow-ups for religiosity, spirituality, and substance abuse. They also underwent interviews about their substance use and the program.
They found at follow-up that the higher the levels of spirituality the greater the increase in the use of cannabis by the adolescents, while the higher the levels of spirituality at baseline, the lower the levels of alcohol consumption. The results of the interviews suggested that the relationship of spirituality with increased cannabis use was due to the adolescents believing that cannabis deepened the sense of their spirituality.
Twelve-step programs emphasize spirituality and the current results suggest that this may be useful in treating alcohol abuse. But it may be counterproductive in treating cannabis abuse, contributing to greater use. The adolescents appear to see cannabis use as enhancing their spirituality and thus spiritual youths are susceptible to continued and increased cannabis use. This suggests that treatment programs for cannabis abuse should not include spirituality as part of the treatment.
So, spirituality interferes with successful treatment of cannabis abuse in adolescents.
"It is important for clinicians to be aware of the dynamics of spirituality and religion in the cause, maintenance, and treatment of substance misuse problems." – John Allen
CMCS – Center for Mindfulness and Contemplative Studies
This and other Contemplative Studies posts are also available on Google+ https://plus.google.com/106784388191201299496/posts and on Twitter @MindfulResearch
Study Summary
Yeterian, J. D., Bursik, K., & Kelly, J. F. (2018). "God put weed here for us to smoke": A mixed-methods study of religion and spirituality among adolescents with cannabis use disorders. Substance abuse, 39(4), 484–492. doi:10.1080/08897077.2018.1449168
Abstract
Background:
A growing literature on adults with substance use disorders (SUD) suggests that religious and spiritual processes can support recovery, such that higher levels of religiosity and/or spirituality predict better substance use outcomes. However, studies of the role of religion and spirituality in adolescent SUD treatment response have produced mixed findings, and religiosity and spirituality have rarely been examined separately.
Methods:
The present study examined religiosity and spirituality as predictors of outcomes in an outpatient treatment adolescent sample (N = 101) in which cannabis was the predominant drug of choice. Qualitative data were used to contextualize the quantitative findings.
Results:
Results showed that higher levels of spirituality at post-treatment predicted increased cannabis use at 6-month follow-up (β = .237, p = .043), whereas higher levels of baseline spirituality predicted a lower likelihood of heavy drinking at post-treatment (OR = .316, p = .040). Religiosity did not predict substance use outcomes at later timepoints. When asked to describe the relation between their religious/spiritual views and their substance use, adolescents described believing that they had a choice about their substance use and were in control of it, feeling more spiritual when under the influence of cannabis, and being helped by substance use.
Conclusions:
Together, findings suggest that for adolescents with SUD, religion and spirituality may not counteract the use of cannabis, which may be explained by adolescents' views of their substance use as being consistent with their spirituality and under their control.
https://www.ncbi.nlm.nih.gov/pmc/articles/PMC6430642/