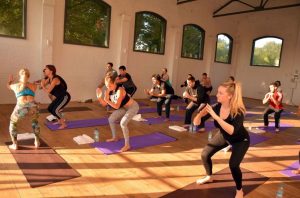 Yoga Practitioners have Better Physical and Psychological Health
By John M. de Castro, Ph.D.
"Multiple studies have confirmed the many mental and physical benefits of yoga. Incorporating it into your routine can help enhance your health, increase strength and flexibility and reduce symptoms of stress, depression and anxiety." – Rachel Link
Yoga practice has been shown to have a myriad of benefits for psychological and physical health, social, and spiritual well-being. It is both an exercise and a mind-body practice that stresses both mental attention to present moment movements, breath control, and flexibility, range of motion, and balance. One way to look at the benefits of yoga practice is to look at the mental and physical health of yoga practitioners.
In today's Research News article "Yoga practice in the UK: a cross-sectional survey of motivation, health benefits and behaviours." (See summary below or view the full text of the study at: https://www.ncbi.nlm.nih.gov/pmc/articles/PMC7044896/ ), Cartwright and colleagues performed an online survey of yoga practitioners in the UK. They were asked to answer questions regarding yoga practice, meditation practice, body size, health, well-being, psychological health, smoking, diet, alcohol intake, fruit/vegetable intake, exercise apart from yoga, satisfaction with life, perceived stress, yoga impacts on health, and yoga related injuries.
They found that in comparison to the norms for the UK the yoga practitioners were higher in overall health, fruit/vegetable intake, exercise apart from yoga, happiness, and satisfaction with life, and lower in body size, smoking, alcohol intake, and perceived stress. The yoga practitioners believed that yoga practice improved their physical and mental health, stress levels, strength, flexibility, and sleep. Correlation analysis revealed that the higher the frequency of yoga practice the higher the levels of well-being, satisfaction with life, and happiness and the lower the levels of perceived stress.
These are interesting results but it should be kept in mind that the findings may represent differences in the people who chose to engage in a yoga practice rather than due to yoga practice itself. Regardless, the survey revealed that yoga practitioners are generally physically and psychologically healthy, engage in healthier behaviors, and believe that yoga practice is responsible for these benefits. Previous controlled studies have revealed that yoga practice improves the physical and psychological health of the participants. So, it is reasonable to conclude that the survey results are due, at least in part, to the beneficial effects of yoga practice.
So, improve physical and psychological health with yoga practice.
"On a physical level, yoga helps improve flexibility, strength, balance, and endurance. And on a psychological level, yoga can help you cultivate mindfulness as you shift your awareness to the sensations, thoughts, and emotions that accompany a given pose or exercise." – Linda Schlamadinger McGrath
CMCS – Center for Mindfulness and Contemplative Studies
This and other Contemplative Studies posts are also available on Google+ https://plus.google.com/106784388191201299496/posts and on Twitter @MindfulResearch
Study Summary
Cartwright, T., Mason, H., Porter, A., & Pilkington, K. (2020). Yoga practice in the UK: a cross-sectional survey of motivation, health benefits and behaviours. BMJ open, 10(1), e031848. https://doi.org/10.1136/bmjopen-2019-031848
Abstract
Objectives
Despite the popularity of yoga and evidence of its positive effects on physical and mental health, little is known about yoga practice in the UK. This study investigated the characteristics of people who practise yoga, reasons for initiating and maintaining practice, and perceived impact of yoga on health and well-being.
Design, setting and participants
A cross-sectional online anonymous survey distributed through UK-based yoga organisations, studios and events, through email invites and flyers. 2434 yoga practitioners completed the survey, including 903 yoga teachers: 87% were women, 91% white and 71% degree educated; mean age was 48.7 years.
Main outcome measures
Perceived impact of yoga on health conditions, health outcomes and injuries. Relationships between yoga practice and measures of health, lifestyle, stress and well-being.
Results
In comparison with national population norms, participants reported significantly higher well-being but also higher anxiety; lower perceived stress, body mass index and incidence of obesity, and higher rates of positive health behaviours. 47% reported changing their motivations to practise yoga, with general wellness and fitness key to initial uptake, and stress management and spirituality important to current practice. 16% of participants reported starting yoga to manage a physical or mental health condition. Respondents reported the value of yoga for a wide range of health conditions, most notably for musculoskeletal and mental health conditions. 20.7% reported at least one yoga-related injury over their lifetime. Controlling for demographic factors, frequency of yoga practice accounted for small but significant variance in health-related regression models (p<0.001).
Conclusion
The findings of this first detailed UK survey were consistent with surveys in other Western countries. Yoga was perceived to have a positive impact on physical and mental health conditions and was linked to positive health behaviours. Further investigation of yoga's role in self-care could inform health-related challenges faced by many countries.
Strengths and limitations of this study:
This is the first comprehensive survey to assess the practice and perceived impact of yoga on health, lifestyle-related behaviours and well-being in the UK.
The survey design captures the significant number of practitioners who take up yoga to manage a physical or mental health condition, and identifies health conditions for which yoga is rated as most helpful in self-management.
Despite the large sample, it was self-selected and unlikely to be representative of all yoga practitioners.
The results relied on retrospective and self-report data which may be subject to memory bias and social desirability.
https://www.ncbi.nlm.nih.gov/pmc/articles/PMC7044896/