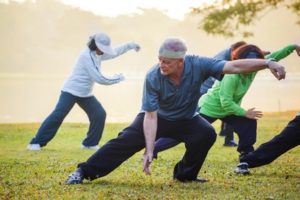 Improve Arthritis with Qigong
By John M. de Castro, Ph.D.
"Qigong techniques are simple and do not need to be carried out precisely to bring about its great benefits. Qigong practice is known for preventing disease, strengthening immunity and producing better health and well-being. However it is under-appreciated, even in China, that Qigong therapy can be effective for relieving pain and treating arthritis." – Kellen Chia
Arthritis is a chronic disease that most commonly affects the joints. There are over 100 different types of arthritis. Depending on the type of arthritis symptoms may include pain, stiffness, swelling, redness, and decreased range of motion. It affects an estimated 52.5 million adults in the United States. It is associated with aging as arthritis occurs in only 7% of adults ages 18–44, while 30% adults ages 45–64 are affected, and 50% of adults ages 65 or older. The pain, stiffness, and lack of mobility associate with arthritis produce fatigue and markedly reduce the quality of life of the sufferers. Arthritis can have very negative psychological effects diminishing the individual's self-image and may lead to depression, isolation, and withdrawal from friends and social activities Arthritis reduces the individual's ability to function at work and may require modifications of work activities which can lead to financial difficulties. It even affects the individual's physical appearance. In addition, due to complications associated with rheumatoid arthritis, particularly cardiovascular disease, the lifespan for people with rheumatoid arthritis may be shortened by 10 years.
It is obvious that there is a need for a safe and effective treatment to help rheumatoid arthritis sufferers cope with the disease and its consequences. Increasing exercise has been shown to increase flexibility and mobility but many form of exercise are difficult for the arthritis sufferer to engage in and many drop out. But all that may be needed is gentle movements of the joints. Qigong or Tai Chi training are designed to enhance and regulate the functional activities of the body through regulated breathing, mindful concentration, and gentle movements. They have been shown to have many physical and psychological benefits, especially for the elderly. Because They are not strenuous, involving slow gentle movements, and are safe, having no appreciable side effects, they are appropriate for an elderly population. So, it would seem that Qigong or Tai Chi practice would be well suited to treat arthritis in seniors.
In today's Research News article "Qigong Exercise and Arthritis." (See summary below or view the full text of the study at: https://www.ncbi.nlm.nih.gov/pmc/articles/PMC5750595/ ), Marks reviewed and summarized the published research on the effectiveness of Qigong practice for the treatment of arthritis. He found that Qigong practice produced significant improvements in the musculoskeletal system including increased strength, joint flexibility, posture, balance motor function, and motor coordination, and improvements in quality of life and cognitive function. In addition, the research reported decreased pain, fatigue, and blood pressure and improved immune function, metabolic function, circulation, aerobic capacity, and reduced falls, improved psychological health, mood, and sleep.
These are impressive results. Scientific research suggests that Qigong practice produces  widespread improvements in mental and physical health in arthritis sufferers. In addition, it is inexpensive, convenient, appropriate for individuals of all ages and health condition and is safe to practice, making it an almost ideal treatment for the symptoms of arthritis.
So, improve arthritis with Qigong.
"Qigong focuses on relaxing the body, which over time, allows the joints and muscles to loosen up, improving the circulation of fluids and blood. The practice focuses on rebuilding overall health and strengthening the spirit, while encouraging one to change the way one looks at life in general, and at the illness affecting you." – 1MD
CMCS – Center for Mindfulness and Contemplative Studies
This and other Contemplative Studies posts are also available on Google+ https://plus.google.com/106784388191201299496/posts and on Twitter @MindfulResearch
Study Summary
Ray Marks. Qigong Exercise and Arthritis. Medicines (Basel) 2017 Dec; 4(4): 71. Published online 2017 Sep 27. doi: 10.3390/medicines4040071
Abstract
Background: Arthritis is a chronic condition resulting in considerable disability, particularly in later life. Aims: The first aim of this review was to summarize and synthesize the research base concerning the use of Qigong exercises as a possible adjunctive strategy for promoting well-being among adults with arthritis. A second was to provide related intervention directives for health professionals working or who are likely to work with this population in the future. Methods: Material specifically focusing on examining the nature of Qigong for minimizing arthritis disability, pain and dependence and for improving life quality was sought. Results: Collectively, despite almost no attention to this topic, available data reveal that while more research is indicated, Qigong exercises—practiced widely in China for many centuries as an exercise form, mind-body and relaxation technique—may be very useful as an intervention strategy for adults with different forms of painful disabling arthritis. Conclusion: Health professionals working with people who have chronic arthritis can safely recommend these exercises to most adults with this condition with the expectation they will heighten the life quality of the individual, while reducing pain and depression in adults with this condition.