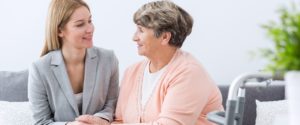 Increase Positive Feelings About Caregiving for Cancer Patients with Mindfulness
By John M. de Castro, Ph.D.
"caregivers of cancer patients face under-recognized health challenges. "Studies have suggested that caregivers are more depressed than patients themselves. There is also a reciprocal relationship between caregivers and patients, so improving quality of life for caregivers could improve patient outcomes." – Sarah Stanley
There is a tremendous demand for caregiving in the U.S. It is estimated that over 65 million (29% of the adult population) provides care to someone who is mentally or physically ill, disabled or aged, averaging 20 hours per week spent caring for their loved ones. This caregiving comes at a cost to the caregiver. It exacts a tremendous toll on caregivers' health and well-being. Caregiving has been associated with increased levels of depression and anxiety as well as higher use of psychoactive medications, poorer self-reported physical health, compromised immune function, and increased mortality.
Family members are an increasingly important source of caregiving. But it comes with a cost to the caregiver. Mindfulness training has been shown to be beneficial for both the caregiver and the patients. So, mindfulness training may be helpful in decreasing the psychological difficulty of caring for a patient with cancer.
In today's Research News article "Mindful Learning Improves Positive Feelings of Cancer Patients' Family Caregivers." (See summary below or view the full text of the study at: https://www.ncbi.nlm.nih.gov/pmc/articles/PMC6352041/ ), Geng and colleagues recruited caregivers for cancer patients and randomly assigned them to receive either 4, 30-minute, mindfulness training sessions or mindlessness training. The mindfulness training involved "innovation classification" in which they were asked to "think and write four answers from different perspectives to a picture-related question." The mindlessness condition involved writing answers to the same pictures but from only one perspective. They were measured before and after training for mindfulness, caregiver reactions, and positive aspects of caregiving.
They found in comparison to baseline and the mindlessness group, that after training the mindfulness group had significantly higher mindfulness and positive feelings toward caregiving. In addition, the higher the levels of mindfulness, the greater the positive feelings toward caregiving.
These results suggest that a simple form of mindfulness training can improve caregiver's mindfulness and feeling about caregiving for cancer patients. It remains for future research to demonstrate if these benefits are lasting and can result in improved care for the patients and less stress and burnout for the caregivers.
So, increase positive feelings about caregiving for cancer patients with mindfulness.
"We are set up for short-term stress, but caregiving is long-term stress. Mindfulness is basically coming back into the present moment, so it works to inhibit the stress response. Most of us run around listening to our thoughts, and this is particularly true of caregivers, who are driven by the to-do list. They are never at rest." – Joan Griffiths Vega
CMCS – Center for Mindfulness and Contemplative Studies
This and other Contemplative Studies posts are also available on Google+ https://plus.google.com/106784388191201299496/posts and on Twitter @MindfulResearch
Study Summary
Geng, L., Wang, J., Cheng, L., Zhang, B., & Shen, H. (2019). Mindful Learning Improves Positive Feelings of Cancer Patients' Family Caregivers. International journal of environmental research and public health, 16(2), 248. doi:10.3390/ijerph16020248
Abstract
Positive feelings are an important health dimension for family caregivers of cancer patients. The aim of this study was to investigate whether Langerian mindfulness is a valid proactive method to increase the positive feelings of family caregivers for cancer patients. Participants were randomly assigned to either a mindfulness group or a mindlessness group and completed the Caregiver Reaction Assessment (CRA) as a measure of caregivers' feelings before the intervention. Subsequently, both groups were given four sessions of mindfulness training using "innovation classification". Finally, participants completed the Langer Mindfulness Scale (LMS) and the Positive Aspects of Caregiving (PAC) scale as post-intervention measures. The results revealed that participants in the mindfulness and mindlessness groups differed significantly in LMS and PAC scores, with the mindfulness group having higher levels of positive feelings than those in the mindlessness group. The results also indicated that mindfulness level significantly predicted positive feelings of caregivers. Thus mindful interventions may play a meaningful role in promoting family caregivers' spirituality and faith, improving the willingness of sharing their thoughts, beliefs, and grief, which could be useful for increasing the positive feelings of caregivers.
https://www.ncbi.nlm.nih.gov/pmc/articles/PMC6352041/