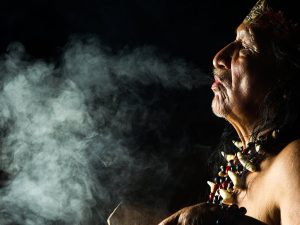 Psychedelic Drugs are Theorized to have Aided in Human Social Evolution
By John M. de Castro, Ph.D.
"psychedelics have profound cognitive, emotional, and social effects that inspired the development of cultures and religions worldwide." – Michael J. Winkelman
Psychedelic substances such as peyote, mescaline, LSD, Bufotoxin, ayahuasca and psilocybin have been used almost since the beginning of recorded history to alter consciousness and produce spiritually meaningful experiences. Psychedelics produce effects that are similar to those that are reported in spiritual awakenings, a positive mood, with renewed energy and enthusiasm. It is easy to see why people find these experiences so pleasant and eye opening. They often report that the experiences changed them forever.
It is not known why the use of psychedelic substances have been so widely used throughout human evolution. Natural selection suggests that the use of these substances must confer some adaptive advantage, or their use would have ceased. What exactly are those advantages is a source of active debate in the scientific community. In today's Research News article "Psychedelics, Sociality, and Human Evolution." (See summary below or view the full text of the study at: https://www.frontiersin.org/articles/10.3389/fpsyg.2021.729425/full?utm_source=F-AAE&utm_medium=EMLF&utm_campaign=MRK_1750137_a0P58000000G0YfEAK_Psycho_20211012_arts_A ) Arce and colleagues provide an evidence backed theoretical argument regarding the role of psychedelic substances in the evolution of humankind.
There is substantial evidence that early hominids routinely ingested fungi including mushroom that contained psychedelic substances. Early recorded history includes description of psychedelic uses in Mesoamerican societies. Indeed, psychedelic use has been recorded in early societies in Africa, Asia, Europe, Middle East, South America, Artic and Subarctic, and Central America. This suggests that there must be some instrumental effect of these substances that enhances the survival of humans.
Psilocybin and related psychedelics do not have physically toxic side effects. So, they can be ingested safely. The only evident problem is a change in cognition that could open "the possibility for errors in judgment, false perceptions, distortions, and illusions that could undermine an individual's capacity for alertness, strategic thinking, and decision-making". But early humans learned to use these substances in particular circumstances, such as rituals,  where the consequences of altered cognition could be minimized.
In their favor, psychedelic substances have been shown to improve coping with stress which was likely high in early hominid development. In addition, psychedelic substances have been used throughout history for the treatment of diseases and in recent years have been found to be effective in promoting recovery from a cancer diagnosis, relieving depression, and even in smoking cessation.
Psychedelic substances have traditionally been used in groups particularly around rituals and religious ceremonies which would improve social bonds, group cohesion, and pro-social behavior. This would facilitate social cooperation that was essential for early hominid group survival. Psychedelic substances have also been shown to enhance creative thinking and problem solving which would be of great use in adapting to changing environments.
These findings and arguments suggest that ingesting psychedelic substances may have been adaptive for humans increasing their chances of survival and procreation. It seems counterintuitive that ingesting substances that for the short term may make the individual less responsive and capable in the environment could actually improve survival. But that is what psychedelic substances appear to do. In this way ingesting psychedelic substances may be adaptive and thus be promoted in evolution.
So, psychedelic drugs are theorized to have aided in human social evolution
"psychedelic drugs. By simulating the effects of religious transcendence, they mimic states of mind that played an evolutionarily valuable role in making human cooperation possible – and with it, greater numbers of surviving descendants." – James Carney
CMCS – Center for Mindfulness and Contemplative Studies
This and other Contemplative Studies posts are also available on Google+ https://plus.google.com/106784388191201299496/posts and on Twitter @MindfulResearch
Study Summary
Rodríguez Arce JM and Winkelman MJ (2021) Psychedelics, Sociality, and Human Evolution. Front. Psychol. 12:729425. doi: 10.3389/fpsyg.2021.729425
Our hominin ancestors inevitably encountered and likely ingested psychedelic mushrooms throughout their evolutionary history. This assertion is supported by current understanding of: early hominins' paleodiet and paleoecology; primate phylogeny of mycophagical and self-medicative behaviors; and the biogeography of psilocybin-containing fungi. These lines of evidence indicate mushrooms (including bioactive species) have been a relevant resource since the Pliocene, when hominins intensified exploitation of forest floor foods. Psilocybin and similar psychedelics that primarily target the serotonin 2A receptor subtype stimulate an active coping strategy response that may provide an enhanced capacity for adaptive changes through a flexible and associative mode of cognition. Such psychedelics also alter emotional processing, self-regulation, and social behavior, often having enduring effects on individual and group well-being and sociality. A homeostatic and drug instrumentalization perspective suggests that incidental inclusion of psychedelics in the diet of hominins, and their eventual addition to rituals and institutions of early humans could have conferred selective advantages. Hominin evolution occurred in an ever-changing, and at times quickly changing, environmental landscape and entailed advancement into a socio-cognitive niche, i.e., the development of a socially interdependent lifeway based on reasoning, cooperative communication, and social learning. In this context, psychedelics' effects in enhancing sociality, imagination, eloquence, and suggestibility may have increased adaptability and fitness. We present interdisciplinary evidence for a model of psychedelic instrumentalization focused on four interrelated instrumentalization goals: management of psychological distress and treatment of health problems; enhanced social interaction and interpersonal relations; facilitation of collective ritual and religious activities; and enhanced group decision-making. The socio-cognitive niche was simultaneously a selection pressure and an adaptive response, and was partially constructed by hominins through their activities and their choices. Therefore, the evolutionary scenario put forward suggests that integration of psilocybin into ancient diet, communal practice, and proto-religious activity may have enhanced hominin response to the socio-cognitive niche, while also aiding in its creation. In particular, the interpersonal and prosocial effects of psilocybin may have mediated the expansion of social bonding mechanisms such as laughter, music, storytelling, and religion, imposing a systematic bias on the selective environment that favored selection for prosociality in our lineage.
https://www.frontiersin.org/articles/10.3389/fpsyg.2021.729425/full?utm_source=F-AAE&utm_medium=EMLF&utm_campaign=MRK_1750137_a0P58000000G0YfEAK_Psycho_20211012_arts_A