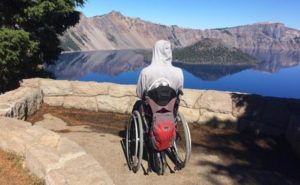 Improve Multiple Sclerosis' Psychological Symptoms with Mindfulness
By John M. de Castro, Ph.D.
"Learning a mind-body technique called "mindfulness meditation" seems to help people with multiple sclerosis cope with the depression, fatigue, and anxiety associated with the disease" – WebMD
Multiple Sclerosis (MS) is a progressive demyelinating disease which attacks the coating on the neural axons which send messages throughout the body and nervous system. It affects about 2 million people worldwide and about 400,000 in the U.S. It is most commonly diagnosed in people between the ages of 20 and 50 years.  Unfortunately, there is no cure for multiple sclerosis. There are a number of approved medications that are used to treat MS but are designed to lessen frequency of relapses and slow the progression of the disease, but they don't address individual symptoms.
Although there is a progressive deterioration, MS is not fatal with MS patients having about the same life expectancy as the general population. Hence, most MS sufferers have to live with the disease for many years. So, quality of life becomes a major issue. Quality of life with MS is affected by fatigue, cognitive decrements, physical impairment, depression, and poor sleep quality. Indeed, clinically significant depression is present in 15% to 47% of MS patients. There is a thus a critical need for safe and effective methods to help relieve the symptoms of MS, reduce depression and improve quality of life. Mindfulness practices have been previously shown to improve depression, sleep quality, cognitive impairments, emotion regulation, and fatigue. It has also been shown to improve the symptoms of multiple sclerosis.  Yoga is a mindfulness practice that has the added feature of exercising and stretching the muscles.
In today's Research News article "The Effectiveness of a Body-Affective Mindfulness Intervention for Multiple Sclerosis Patients with Depressive Symptoms: A Randomized Controlled Clinical Trial." (See summary below or view the full text of the study at: https://www.frontiersin.org/articles/10.3389/fpsyg.2017.02083/full?utm_source=F-AAE&utm_medium=EMLF&utm_campaign=MRK_485496_69_Psycho_20171214_arts_A ), Tesio and colleagues examine the effectiveness of mindfulness training on the symptoms of Multiple Sclerosis (MS).
They recruited MS patients and randomly assigned them to receive either mindfulness training or psychoeducation. Mindfulness training consisted of 8 weekly 2.5-hour sessions of a modified Mindfulness-Based Stress Reduction (MBSR) program that included meditation, body scan, and yoga practices. It was modified with Sensorimotor psychotherapy that "emphasizes the use of somatic resources to attain and sustain a mindful disposition and integrates the concept of a stress response with the concept of a "window of tolerance."  Psychoeducation occurred on a similar schedule and involved education on MS, stretching, and relaxation. Prior to and after the interventions and 6-months later the patients were measured for depression, anxiety, perceived stress, fatigue, illness perception, Functionality with MS, and neuropsychiatric symptoms.
They found that both mindfulness and psychoeducation programs produced significant decreases in depression, anxiety, and perceived stress, but the mindfulness treatment was significantly better at reducing depression (52% vs. 23% reductions in depression respectively). In addition, only mindfulness training produced a significant improvement in quality of life in the patients including improvements in contentment and thinking and fatigue. All of these effects were maintained and still significant at the 6-month follow-up, demonstrating that the interventions produced lasting positive effects.
These are interesting and important results that suggest the mindfulness training is a safe and effective treatment for the psychological suffering accompanying Multiple Sclerosis (MS), reducing anxiety, perceived stress and especially depression and improving the patients' quality of life. Importantly, these effects endured for at least a half a year. The fact that the study contained an active control condition (psychoeducation) further strengthens the conclusions. Mindfulness training has been previously shown to reduce anxiety, perceived stress, and depression in a wide variety of healthy and sick individuals. So, it's effectiveness with MS patients is not a surprise. But, it is important to make sure that any treatment is effective with each specific target group, and this study demonstrates that it is with MS patients.
So, improve multiple sclerosis' psychological symptoms with mindfulness.
"MS is an unpredictable disease, People can go for months feeling great and then have an attack that may reduce their ability to work or take care of their family. Mindfulness training can help those with MS better to cope with these changes. Increased mindfulness in daily life may also contribute to a more realistic sense of control, as well as a greater appreciation of positive experiences that continue be part of life." – Paul Grossman
CMCS – Center for Mindfulness and Contemplative Studies
This and other Contemplative Studies posts are also available on Google+ https://plus.google.com/106784388191201299496/posts and on Twitter @MindfulResearch
Study Summary
Carletto S, Tesio V, Borghi M, Francone D, Scavelli F, Bertino G, Malucchi S, Bertolotto A, Oliva F, Torta R and Ostacoli L (2017) The Effectiveness of a Body-Affective Mindfulness Intervention for Multiple Sclerosis Patients with Depressive Symptoms: A Randomized Controlled Clinical Trial. Front. Psychol. 8:2083. doi: 10.3389/fpsyg.2017.02083
Purpose: Mindfulness interventions have been shown to treat depressive symptoms and improve quality of life in patients with several chronic diseases, including multiple sclerosis, but to date most evaluation of the effectiveness of mindfulness interventions in multiple sclerosis have used patients receiving standard care as the control group. Hence we decided to evaluate the effectiveness of a group-based body-affective mindfulness intervention by comparing it with a psycho-educational intervention, by means of a randomized controlled clinical trial. The outcome variables (i.e., depression, anxiety, perceived stress, illness perception, fatigue and quality of life) were evaluated at the end of the interventions (T1) and after a further 6 months (T2).
Methods: Of 90 multiple sclerosis patients with depressive symptoms (Beck Depression Inventory-II score greater than 13) who were randomized, 71 completed the intervention (mindfulness group n = 36; psycho-educational group n = 35). The data were analyzed with GLM repeated-measures ANOVA followed by pairwise comparisons.
Results: Per-protocol analysis revealed a time by group interaction on Beck Depression Inventory-II score, with the mindfulness intervention producing a greater reduction in score than the psycho-educational intervention, both at T1 and at T2. Furthermore, the mindfulness intervention improved patients' quality of life and illness perception at T1 relative to the baseline and these improvements were maintained at the follow-up assessment (T2). Lastly, both interventions were similarly effective in reducing anxiety and perceived stress; these reductions were maintained at T2. A whole-sample intention-to-treat (ITT) analysis broadly confirmed the effectiveness of the mindfulness intervention.
Conclusion: In conclusion, these results provide methodologically robust evidence that in multiple sclerosis patients with depressive symptoms mindfulness interventions improve symptoms of depression and anxiety and perceived stress, modulate illness representation and enhance quality of life and that the benefits are maintained for at least 6 months.
https://www.frontiersin.org/articles/10.3389/fpsyg.2017.02083/full?utm_source=F-AAE&utm_medium=EMLF&utm_campaign=MRK_485496_69_Psycho_20171214_arts_A