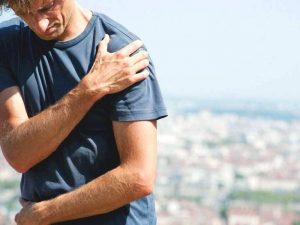 Improve Fibromyalgia Symptoms with Qigong
By John M. de Castro, Ph.D.
"Evidence is growing for the Traditional Chinese practice of qigong as a treatment for fibromyalgia.." – Adrienne Dellwo
Fibromyalgia is a mysterious disorder whose causes are unknown. It is very common affecting over 5 million people in the U.S., about 2% of the population with about 7 times more women affected than men. It is characterized by widespread pain, abnormal pain processing, sleep disturbance, and fatigue that lead to psychological distress. Fibromyalgia may also have morning stiffness, tingling or numbness in hands and feet, headaches, including migraines, irritable bowel syndrome, sleep disturbances, thinking and memory problems, and painful menstrual periods. The symptoms are so severe and debilitating that about half the patients are unable to perform routine daily functions and about a third have to stop work. Although it is not itself fatal, suicide rates are higher in fibromyalgia sufferers. Clearly, fibromyalgia greatly reduces the quality of life of its' sufferers.
There are no completely effective treatments for fibromyalgia. Symptoms are generally treated with pain relievers, antidepressant drugs and exercise. But these only reduce the severity of the symptoms and do not treat the disease directly. Mindfulness practices have also been shown to be effective in reducing pain from fibromyalgia. Qigong is an ancient Chinese practice involving mindfulness and gentle movements. They are easy to learn, safe, and gentle. So, it may be appropriate for patients with fibromyalgia where exercise can produce painful flares. This suggests that Qigong might also be effective. Qigong practice involves body movements and also breathing exercises and meditation. It is not known which of these components are essential to produce benefits,
In today's Research News article "The therapeutic efficacy of Qigong exercise on the main symptoms of fibromyalgia: A pilot randomized clinical trial." (See summary below or view the full text of the study at: https://www.ncbi.nlm.nih.gov/pmc/articles/PMC7235941/), Sarmento and colleagues recruited adult non-obese female patients with fibromyalgia and randomly assigned them to receive either Qigong practice or a sham Qigong control condition. They received 2 weekly 45-minute training sessions followed by 10 weeks of daily practice at home. Qigong practice consisted of "deep diaphragmatic breathing, mild body movements, and meditation, along with uttering six healing sounds."  The sham Qigong practice consisted of the body movements only. They were measured before and after training for self-reported pain levels, pressure pain thresholds, fibromyalgia impact, sleep quality, fatigue, quality of life, depression, and anxiety.
They found that in comparison to baseline and the sham Qigong group the participants that practiced Qigong had significantly lower levels of self-reported pain, fibromyalgia impact, fatigue, depression, and anxiety and significantly higher pressure pain thresholds and levels of sleep quality. These results are very interesting in that they demonstrate that Qigong practice markedly improves the symptoms of fibromyalgia in women.
The results are also interesting in that they demonstrate that the body movements component of Qigong practice is not essential for the benefits. The fact that the exercise is not effective alone is not surprising as it's been reported that exercise can actually increase the likelihood of a fibromyalgia flare. The results suggest that breath control and meditation are essential for Qigong practice to improve the symptoms of fibromyalgia. It would appear that the mindfulness components of Qigong practice are essential. Previous research has shown that mindfulness training can improve the symptoms of fibromyalgia. The present results further confirm the effectiveness of mindfulness in reducing the women's suffering.
Fibromyalgia patients suffer greatly and to bring relief with a simple, gentle, safe practice is very important. Qigong is inexpensive to administer, can be performed in groups or alone, at home or in a facility or even public park, and can be quickly learned. In addition, it can be practiced in social groups without professional supervision. This can make it fun, improving the likelihood of long-term engagement in the practice. Hence, Qigong practice would appear to be a wonderful effective treatment for the relief of the suffering of fibromyalgia patients.
So, improve fibromyalgia symptoms with qigong.
"qigong in fibromyalgia. . . . there are consistent benefits in pain, sleep, impact, and physical and mental function following the regimen, with benefits maintained at 4-6 months." – Jane Sawynok
CMCS – Center for Mindfulness and Contemplative Studies
This and other Contemplative Studies posts are also available on Google+ https://plus.google.com/106784388191201299496/posts and on Twitter @MindfulResearch
Study Summary
Sarmento, C., Moon, S., Pfeifer, T., Smirnova, I. V., Colgrove, Y., Lai, S. M., & Liu, W. (2020). The therapeutic efficacy of Qigong exercise on the main symptoms of fibromyalgia: A pilot randomized clinical trial. Integrative medicine research, 9(4), 100416. https://doi.org/10.1016/j.imr.2020.100416
Abstract
Background
Some of the most debilitating symptoms of fibromyalgia (FM) include widespread chronic pain, sleep disturbances, chronic fatigue, anxiety, and depression. Yet, there is a lack of effective self-management exercise interventions capable of alleviating FM symptoms. The objective of this study is to examine the efficacy of a 10-week daily Qigong, a mind–body intervention program, on FM symptoms.
Methods
20 participants with FM were randomly assigned to Qigong (experimental) or sham-Qigong (control) groups, with participants blinded to the intervention allocation. The Qigong group practiced mild body movements synchronized with deep diaphragmatic breathing and meditation. The sham-Qigong group practiced only mild body movements. Both groups practiced the interventions two times per day at home, plus one weekly group practice session with a Qigong instructor. Primary outcomes were: pain changes measured by the Short-Form McGill Pain Questionnaire, a visual analog scale for pain, pressure pain threshold measured by a dolorimeter. Secondary outcomes were: the Revised Fibromyalgia Impact Questionnaire the Pittsburgh Sleep Quality Index, the Hospital Anxiety and Depression Scale and the Quality of Life Scale.
Results
The experimental group experienced greater clinical improvements when compared to the control group on the mean score differences of pain, sleep quality, chronic fatigue, anxiety, depression, and fibromyalgia impact, all being statistically significant at p < 0.05.
Conclusion
Daily practice of Qigong appears to have a positive impact on the main fibromyalgia symptoms that is beyond group interaction.
https://www.ncbi.nlm.nih.gov/pmc/articles/PMC7235941/