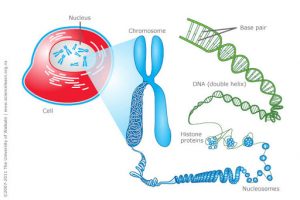 Improve a Biological Marker of Aging, Telomeres, with Meditation
By John M. de Castro, Ph.D.
"While we might expect our bodies and brains to follow a shared trajectory of development and degeneration over time, by actively practicing strategies such as meditation, we might actually preserve and protect our physical body and brain structure to extend our golden years and shine even more brightly in old age." – Sonima Wellness
One of the most exciting findings in molecular biology in recent years was the discovery of the telomere. This is a component of the DNA molecule that is attached to the ends of the strands. Recent genetic research has suggested that the telomere and its regulation is the biological mechanism that produces aging. As we age the tail of the DNA molecule called the telomere shortens. When it gets very short cells have a more and more difficult time reproducing and become more likely to produce defective cells. On a cellular basis, this is what produces aging. As we get older the new cells produced are more and more likely to be defective. The shortening of the telomere occurs each time the cell is replaced. So, slowly as we age it gets shorter and shorter.
Fortunately, there is a mechanism to protect the telomere. There is an enzyme in the body called telomerase that helps to prevent shortening of the telomere. It also promotes cell survival and enhances stress-resistance.  Research suggests that processes that increase telomerase activity tend to slow the aging process by protecting the telomere.  One activity that seems to increase telomerase activity and protect telomere length is mindfulness practice. Hence, engaging in mindfulness practices may protect the telomere and thereby slow the aging process.
In today's Research News article "Telomere length correlates with subtelomeric DNA methylation in long-term mindfulness practitioners." (See summary below or view the full text of the study at: https://www.ncbi.nlm.nih.gov/pmc/articles/PMC7067861/), and Mendioroz colleagues recruited long-term meditators (greater than 10 years of experience) and non-meditators matched for gender, ethnic group, and age. They were measured for mindfulness, anxiety, depression, resilience, happiness, self-compassion, experiential avoidance, and quality of life. They also provided blood samples that were assayed for telomere length and DNA methylation.
They found that the long-term meditators were significantly higher in for mindfulness, resilience, happiness, self-compassion, and quality of life and significantly lower in for anxiety, depression, and experiential avoidance.
They also found that the meditators had significantly longer telomeres than the matched controls. Interestingly, while in the controls the greater the age of the participant the shorter the telomeres, in the long-term meditators, telomere length was the same regardless of age. In addition, they found that in the long-term meditators, telomere length was significantly associated with DNA methylation at specific regions but not for the matched controls.
This study found, as have others, that long-term meditation practice is associated with longer telomeres. The fact, that the telomere length was not associated with age in the meditators suggests that meditation practice may protect the individual from age-related erosion of telomeres. The results further suggest that meditation may do so through specific methylation of DNA. Stress has been shown to results in shortening the telomeres. Hence, a potential mechanism whereby meditation may protect telomeres may be by reducing the physiological and psychological responses to stress.
It is suspected, but not proven, that telomere length is related to health and well-being. The findings that the long-term meditators had significantly better mental health tends to support this notion. There is evidence that meditation practice increases longevity. It can be speculated that meditation practice may do so by affecting molecular genetic mechanisms that prevent the degradation of the telomeres with age.
So, improve a biological marker of aging, telomeres, with meditation.
"Meditation also helps to protect our telomeres, the protective caps at the end of our chromosomes. Telomeres are longest when we're young and naturally shorten as we age. Shorter telomeres are associated with stress and higher risk for many diseases including cancer, and depend on the telomerase enzyme to enable them to rebuild and repair."- Paula Watkins
CMCS – Center for Mindfulness and Contemplative Studies
This and other Contemplative Studies posts are also available on Google+ https://plus.google.com/106784388191201299496/posts and on Twitter @MindfulResearch
Study Summary
Mendioroz, M., Puebla-Guedea, M., Montero-Marín, J., Urdánoz-Casado, A., Blanco-Luquin, I., Roldán, M., Labarga, A., & García-Campayo, J. (2020). Telomere length correlates with subtelomeric DNA methylation in long-term mindfulness practitioners. Scientific reports, 10(1), 4564. https://doi.org/10.1038/s41598-020-61241-6
Abstract
Mindfulness and meditation techniques have proven successful for the reduction of stress and improvement in general health. In addition, meditation is linked to longevity and longer telomere length, a proposed biomarker of human aging. Interestingly, DNA methylation changes have been described at specific subtelomeric regions in long-term meditators compared to controls. However, the molecular basis underlying these beneficial effects of meditation on human health still remains unclear. Here we show that DNA methylation levels, measured by the Infinium HumanMethylation450 BeadChip (Illumina) array, at specific subtelomeric regions containing GPR31 and SERPINB9 genes were associated with telomere length in long-term meditators with a strong statistical trend when correcting for multiple testing. Notably, age showed no association with telomere length in the group of long-term meditators. These results may suggest that long-term meditation could be related to epigenetic mechanisms, in particular gene-specific DNA methylation changes at distinct subtelomeric regions.
https://www.ncbi.nlm.nih.gov/pmc/articles/PMC7067861/