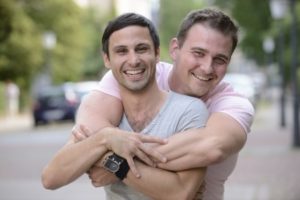 Improve Psychological Well-Being in Gay Men with Spirituality
By John M. de Castro, Ph.D.
"spirituality can offer a vision of hope and meaning in a world that sometimes appears to be a hopeless miasma of pain and suffering. At its best, spirituality bestows vision and love of life. It widens our perspective. It sensitizes us to beauty and vitality–the very things at which gay men excel." – Toby Johnson
Psychological well-being is sometimes thought of as a lack of mental illness. But, it is more than just a lack of something. It is a positive set of characteristics that lead to happy, well-adjusted life. These include the ability to be aware of and accept one's strengths and weaknesses, to have goals that give meaning to life, to truly believe that your potential capabilities are going to be realized, to have close and valuable relations with others, the ability to effectively manage life issues especially daily issues, and the ability to follow personal principles even when opposed to society. These are also all characteristics that the great psychologist Abraham Maslow labelled self-actualization.
These are lofty goals that only few truly accomplish completely. But, we can strive to improve at each. Religion and spirituality encourage such personal growth. Indeed, spirituality appears to be associated with more positive attitudes toward physical and psychological difficulties and improved overall psychological well-being. For gay men, there can be a conflict between their religion and their sexual identity as "many religious/spiritual institutions continue to hold conservative and/or hostile attitudes toward same-sex behaviors." As a result, the relationship between religion/spirituality and psychological well-being can be complicated for gay men.
In today's Research News article "Psychological well-being among religious and spiritual-identified young gay and bisexual men." See summary below or view the full text of the study at:
https://www.ncbi.nlm.nih.gov/pmc/articles/PMC5289650/
Meanley and colleagues study the relationship of religion and spirituality to psychological well-being in gay men. They recruited male gay men and transsexuals between the ages of 18 to 29 years to complete an on-line survey containing measures of religious commitment, participation, and coping, self-esteem, life purpose, internalize homophobia, and community stigma. Interestingly, 80% of the sample identified as religious and or spiritual.
As evidence that religion and spirituality can produce a conflict with sexual identity they found that participants who identified as religious/spiritual had significantly high internalized homophobia. Importantly, they also found that religiosity was associated with higher community stigma and internalized homophobia and lower purpose in life and self-esteem. But, on the other hand, spirituality was associated with higher purpose in life and self-esteem.
These results are interesting and suggest that for young gay men, adherence and commitment to a religion is associated with poorer psychological well-being while spirituality is associated with better psychological well-being. This makes sense as many traditional religions have teachings contrary to same sex sexual behaviors. But, the spiritual domain does not contain any particular dogma. By adhering to spirituality as opposed to religion gay men can bypass the conflict and reap the benefits of spirituality for psychological well-being.
So, improve psychological well-being in gay men with spirituality.
"many homosexuals naturally embody the traits of sensitivity and gentleness that religion is intended to teach. Gay men are often saints and moral exemplars. In spite of the contrary examples that can be offered, there is a goodness and virtue that runs through gay men's lives, and a demonstration of real spirituality in how many of us resolve the problem of making sense of religion in the modern world." – Toby Johnson
CMCS – Center for Mindfulness and Contemplative Studies
This and other Contemplative Studies posts are also available on Google+ https://plus.google.com/106784388191201299496/posts and on Twitter @MindfulResearch
Study Summary
Meanley, S., Pingel, E. S., & Bauermeister, J. A. (2016). Psychological well-being among religious and spiritual-identified young gay and bisexual men. Sexuality Research & Social Policy : Journal of NSRC : SR & SP, 13(1), 35–45. http://doi.org/10.1007/s13178-015-0199-4
Abstract
Religiosity and spirituality are often integral facets of human development. Young gay and bisexual men (YGBM), however, may find themselves at odds when attempting to reconcile potentially conflicting identities like religion and their sexual orientation. We sought to explore how different components of religiosity (participation, commitment, spiritual coping) are linked to different markers of psychological well-being (life purpose, self-esteem, and internalized homophobia). Using data collected in Metro Detroit (N = 351 ages 18–29 years; 47% African American, 29% Non-Latino White, 8% Latino, 16% Other Race), we examined how components of religiosity/spirituality were associated with psychological well-being among religious/spiritual-identified participants. An overwhelming majority (79.5%) identified as religious/spiritual, with most YGBM (91.0%) reporting spirituality as a coping source. Over three quarters of our religious/spiritual sample (77.7%) reported attending a religious service in the past year. Religious participation and commitment were negatively associated with psychological well-being. Conversely, spiritual coping was positively associated with YGBM's psychological well-being. Programs assisting YGBM navigate multiple/conflicting identities through sexuality-affirming resources may aid improve of their psychological well-being. We discuss the public health potential of increasing sensitivity to the religious/spiritual needs of YGBM across social service organizations.