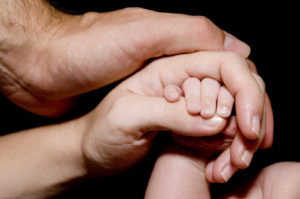 Decrease Adolescent Emotional Problems with Mindful Parenting
By John M. de Castro, Ph.D.
"As parents, perhaps the most precious thing we can give our children is the gift of our full presence, in the moment. This is the deep intention and invitation for parents as they make space for mindfulness practice in their lives. Mindful parenting takes to heart the deep truth that we can only give to our children what we have given first and fundamentally to ourselves." – Lisa Kring
Raising children, parenting, is very rewarding. But, it can also be challenging. Children test parents frequently. They test the boundaries of their freedom and the depth of parental love. They demand attention and seem to especially when parental attention is needed elsewhere. They don't always conform to parental dictates or aspirations for their behavior. They are often affected more by peers, for good or evil, than by parents. It is the parents challenge to control themselves, not overreact, and act appropriately in the face of strong emotions. Meeting these challenges becomes more and more important with adolescents, as here are the greatest struggles for independence and the potential for damaging behaviors, particularly, alcohol, drugs, and sexual behavior.
The challenges of parenting require that the parents be able to deal with stress, to regulate their own emotions, and to be sensitive and attentive their child. These skills are exactly those that are developed in mindfulness training. It improves the psychological and physiological responses to stress. It improves emotion regulation. It improves the ability to maintain attention and focus in the face of high levels of distraction. Mindful parenting involves the parents having emotional awareness of themselves and compassion for the child and having the skills to pay full attention to the child in the present moment, to accept parenting non-judgmentally and be emotionally non-reactive to the child.
In today's Research News article "The Indirect Path From Mindful Parenting to Emotional Problems in Adolescents: The Role of Maternal Warmth and Adolescents' Mindfulness." (See summary below or view the full text of the study at: https://www.frontiersin.org/articles/10.3389/fpsyg.2018.00546/full?utm_source=F-AAE&utm_medium=EMLF&utm_campaign=MRK_613817_69_Psycho_20180424_arts_A ), Wang and colleagues recruited mothers of 11-14 year old children. The mothers completed a scale measuring mindful parenting, while the children completed scales measuring mindfulness, maternal warmth, and emotional difficulties.
A regression analysis found that there was a significant indirect path from mindful parenting and the children's emotional problems, such that high levels of mindful parenting were associated with high levels of maternal warmth which were in turn associated with high levels of children's mindfulness which were in turn associated with low levels of children's emotional problems. So, mindful parenting was not associated with less emotional problems in the children directly, but indirectly through associations with maternal warmth and the children's levels of mindfulness. This underscores the importance of the child's mindfulness for improving emotional health and the effect of the mother's mindful parenting on the child's mindfulness.
It should be kept in mind that these results are correlative and causation cannot be concluded. But the results support the idea that mindful parenting is important for the emotional development of the children by improving the child's perception of the warmth of the mother and in turn the child's mindfulness. Future research should train mothers in mindful parenting and examine the effects on the children's mental health.
So, decrease adolescent emotional problems with mindful parenting.
"Managing our own emotions and behaviors is the key to teaching kids how to manage theirs. It is the reason airlines tell us to put our oxygen masks on before you can put on your child's mask. You need to be regulated before you can model regulation for your child. "– Jill Ceder
CMCS – Center for Mindfulness and Contemplative Studies
This and other Contemplative Studies posts are also available on Google+ https://plus.google.com/106784388191201299496/posts and on Twitter @MindfulResearch
Study Summary
Wang Y, Liang Y, Fan L, Lin K, Xie X, Pan J and Zhou H (2018) The Indirect Path From Mindful Parenting to Emotional Problems in Adolescents: The Role of Maternal Warmth and Adolescents' Mindfulness. Front. Psychol. 9:546. doi: 10.3389/fpsyg.2018.00546
Mindfulness has been demonstrated to have positive effects on children's emotional functioning, and adaptive parenting practices are associated with fewer emotional problems. However, the association between mindful parenting and adolescent emotional problems has not been studied much. In the current study, the indirect path from mindful parenting to adolescent emotional problems was examined, with maternal warmth and adolescent dispositional mindfulness as potential mediators. A sample of 168 mother–child dyads participated in this study. A serial indirect effects model showed mother's mindful parenting could decrease adolescent emotional problems through adolescent's perceived maternal warmth and their dispositional mindfulness. Findings of this study imply that intervention in mindful parenting may have benefits for adolescents' emotional problems through enhancing maternal warmth and children's trait mindfulness.
https://www.frontiersin.org/articles/10.3389/fpsyg.2018.00546/full?utm_source=F-AAE&utm_medium=EMLF&utm_campaign=MRK_613817_69_Psycho_20180424_arts_A