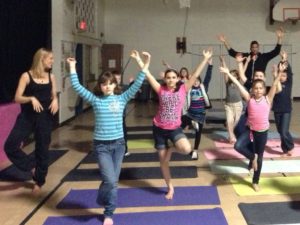 Improve Adolescent Mental Health and School Performance with Yoga
By John M. de Castro, Ph.D.
"school-based yoga cultivates competencies in mind-body awareness, self-regulation, and physical fitness. And classroom teachers benefit as well. Taken together, these competencies may lead to improvements in students' behavior, mental state, health, and performance, as well as teacher resilience, effectiveness and overall classroom climate." – Bethany Butzer
Yoga practice has been shown to have a large number of beneficial effects on the psychological, emotional, and physical health of the individual and is helpful in the treatment of mental and physical illness. The acceptance of yoga practice has spread from the home and yoga studios to its application with children in schools. Studies of these school programs have found that yoga practice produces a wide variety of positive psychosocial and physical benefits. These include improved mood state, self-control, aggression and social problems, self-regulation, emotion regulation, feelings of happiness and relaxation, self-esteem, social and physical well-being, self-concept, tolerance, nonviolence, truthfulness, overall, general, and social self-esteem, positive health, self-adjustment, and working-memory capacity, ability to focus, control behavior under stress, greater kinesthetic awareness, stress reduction and management, and social cohesion, focus, perseverance, and positive relationships. They have also shown that the yoga practice produces lower levels of anxiety, depression, general distress, physical arousal, and hostility, rumination, and intrusive thoughts, and alcohol use.
Teachers also note improvements in their students following yoga practice. These include improved classroom behavior and social–emotional skills, concentration, mood, ability to function under pressure, social skills, and attention and lower levels of. Hyperactivity and performance impairment. In addition, school records, academic tests, and physiological measures have shown that yoga practice produces improvements in student grades and academic performance, cortisol concentrations, micronutrient absorption, flexibility, grip strength, abdominal strength, respiratory muscle strength, heart rate variability, and stress reactivity.
Although yoga practice has been demonstrated to have great benefits for school children, the studies, in general, were carried out in schools in middle class areas. It is unknown whether yoga practice could have the same benefits with poor, inner city, children. In today's Research News article "Effectiveness of a School-Based Yoga Program on Adolescent Mental Health and School Performance: Findings from a Randomized Controlled Trial." (See summary below). Frank and colleagues recruited 6th and 9th grade students from an inner city middle school and randomly assigned them to receive either yoga practice or no treatment. The yoga practice occurred for 30 minutes per day for 3 to 4 days per week in the Fall semester and included breathing exercises, yoga postures, and meditation. The students were measured before and after the semester for school engagement, attitudes toward violence, positive and negative emotions, responses to stress, and somatization. In addition, the students' academic and behavioral records from the school were inspected.
They found that the yoga group, compared to the no treatment group, had significantly fewer unexcused absences, fewer detentions, and higher levels of school engagement, primary and secondary coping, emotion regulation, positive thinking, and cognitive restructuring with medium to large effect sizes. Hence the students who engaged in yoga practice during the semester had markedly improved school behavior, ability to cope with stress, and control emotions and thoughts.
These are remarkable results. Engagement in yoga practice in school had multiple and significant behavioral and psychological benefits for these middle school students. These results strongly suggest that a larger scale randomized controlled trial with an active control group, e.g. exercise, and longer-term follow-up, should be performed. These results are especially significant as they occurred with inner city, poor, students who are generally highly stressed. This is where the need is great. Yoga practice may be a tremendous asset to these students in coping with the demands of the school environment. This should translate in future years into superior performance and eventual success in school.
So, improve adolescent mental health and school performance with yoga.
"Aside from the physical benefits of yoga, yoga teaches teens techniques for coping with the unique issues they're faced with everyday—insecurity about their changing bodies, the enormous pressure to fit in, stressful schedules, and uncertainty about their beliefs and their futures." – Erica Rodefer
CMCS – Center for Mindfulness and Contemplative Studies
This and other Contemplative Studies posts are also available on Google+ https://plus.google.com/106784388191201299496/posts and on Twitter @MindfulResearch
Study Summary
Frank, J.L., Kohler, K., Peal, A., Bose, B. Effectiveness of a School-Based Yoga Program on Adolescent Mental Health and School Performance: Findings from a Randomized Controlled Trial. Mindfulness (2017) 8: 544. doi:10.1007/s12671-016-0628-3
Abstract
The purpose of this study was to assess the effectiveness of a yoga-based social-emotional wellness promotion program, Transformative Life Skills (TLS), on indicators of adolescent emotional distress, prosocial behavior, and school functioning. Participants included 159 students attending an inner-city school district who were randomly assigned to treatment or business-as-usual comparison conditions. Results suggested that students who participated in the TLS program demonstrated significant reductions on unexcused absences, detentions, and increases in school engagement. Significant concurrent improvements in primary engagement stress-coping strategies and secondary engagement stress-coping strategies were noted as well. Specifically, significant increases in student emotion regulation, positive thinking, and cognitive restructuring in response to stress were found. No effects were found for measures of somatization, suspensions, academic grades, or general affect. Student report of treatment acceptability indicated that the intervention was generally well-received and strategies were perceived as socially valid by most participants. Implications and directions for future research are discussed.