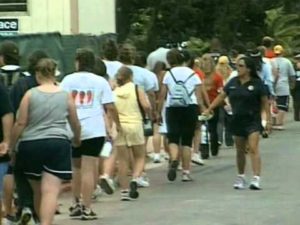 Improve Emotion Regulation and Gait in Obese Adolescents with Yoga
By John M. de Castro, Ph.D.
"consider how stressful it must be in this image driven media age to be an overweight or obese child or teen. The well documented stress reduction factors of yoga practice are a powerful start to transforming health for youth suffering with the debilitating disease of obesity." – Abby Wills
Obesity has become an epidemic in the industrialized world. In the U.S. the incidence of obesity, defined as a Body Mass Index (BMI) of 30 or above has more than doubled over the last 35 years to currently around 35% of the population, while two thirds of the population are considered overweight or obese (BMI > 25). Sadly, children and adolescents have not been spared with 1 in 5 school age children and young people (6 to 19 years) classified as obese.
Although the incidence rates have appeared to stabilize, the fact that over a third of the population is considered obese is very troubling. This is because of the health consequences of obesity. Obesity has been found to shorten life expectancy by eight years and extreme obesity by 14 years. This occurs because obesity is associated with cardiovascular problems such as coronary heart disease and hypertension, stroke, metabolic syndrome, diabetes, cancer, arthritis, and others.
Obviously, there is a need for effective treatments to prevent or treat obesity. But, despite copious research and a myriad of dietary and exercise programs, there still is no safe and effective treatment. Mindfulness is known to be associated with lower risk for obesity, alter eating behavior and improve health in obesity. This suggests that mindfulness training may be an effective treatment for overeating and obesity alone or in combination with other therapies. Yoga practice has been shown to have a myriad of physical and psychological benefits. These include significant loss in weight and body mass index (BMI), resting metabolism, and body fat in obese women with Type 2 diabetes and improve health in the obese.
It would seem reasonable to attack the problem early in life with the children and adolescents. Hence it would seem reasonable to investigate the benefits of yoga practice obese youths. In today's Research News article "A Pilot Study of Iyengar Yoga for Pediatric Obesity: Effects on Gait and Emotional Functioning." (See summary below or view the full text of the study at: https://www.ncbi.nlm.nih.gov/pmc/articles/PMC6068554/ ), Hainsworth and colleagues recruited obese adolescents (11 to 18 years of age) and provided them with an 8-week Iyengar yoga training occurring for 60 minutes twice a week. Before and after training they were measured for walking gait, health-related quality of life, pain, physical activity over 2-3 days, and acceptability of the yoga program.
They found significant improvements in gait, including improvements in hip, knee, and ankle joint movements during walking. There were also significant improvements in health-related quality of life and psychosocial and emotional functioning. No changes in weight or physical activity were noted. Hence, a brief yoga training was found to improve the gait, quality of life, and psychological health of obese adolescents.
This was a small, relatively brief trial without a control group. So, caution should be exercised in reaching conclusions. Because it involved a small number of adolescents and lasted only 8 weeks, it would have been surprising to have found changes in body weight. A longer trial would be needed. But the results are encouraging and suggest that yoga practice is a safe and effective treatment for obese adolescents. They suggest that a larger, randomized controlled clinical trial should be performed.
So, improve emotion regulation and gait in obese adolescents with yoga.
 "We found that those who were practicing yoga showed an improvement in their body satisfaction over the previous five years, and that the improvement was particularly strong among those who had a low level of body satisfaction to begin with — suggesting that those in greatest need can benefit from this practice," – Dianne Neumark-Sztainer
CMCS – Center for Mindfulness and Contemplative Studies
This and other Contemplative Studies posts are also available on Google+ https://plus.google.com/106784388191201299496/posts and on Twitter @MindfulResearch
Study Summary
Hainsworth, K. R., Liu, X. C., Simpson, P. M., Swartz, A. M., Linneman, N., Tran, S. T., … Weisman, S. J. (2018). A Pilot Study of Iyengar Yoga for Pediatric Obesity: Effects on Gait and Emotional Functioning. Children, 5(7), 92. http://doi.org/10.3390/children5070092
Abstract
Obesity negatively impacts the kinematics and kinetics of the lower extremities in children and adolescents. Although yoga has the potential to provide several distinct benefits for children with obesity, this is the first study to examine the benefits of yoga for gait (primary outcome) in youths with obesity. Secondary outcomes included health-related quality of life (HRQoL), physical activity, and pain. Feasibility and acceptability were also assessed. Nine youths (11–17 years) participated in an eight-week Iyengar yoga intervention (bi-weekly 1-h classes). Gait, HRQOL (self and parent-proxy reports), and physical activity were assessed at baseline and post-yoga. Pain was self-reported at the beginning of each class. Significant improvements were found in multiple gait parameters, including hip, knee, and ankle motion and moments. Self-reported and parent-proxy reports of emotional functioning significantly improved. Time spent in physical activity and weight did not change. This study demonstrates that a relatively brief, non-invasive Iyengar yoga intervention can result in improved malalignment of the lower extremities during ambulation, as well as in clinically meaningful improvements in emotional functioning. This study extends current evidence that supports a role for yoga in pediatric obesity.
https://www.ncbi.nlm.nih.gov/pmc/articles/PMC6068554/