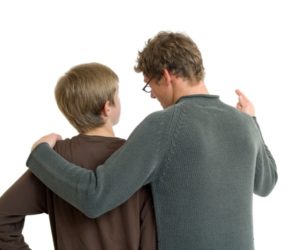 Reduce Adolescent Risk Taking with Mindful Parenting
By John M. de Castro, Ph.D.
"To bring mindful attention and awareness into your interactions with your child really seems to set the stage for you to be a good parent." – Justin Parent
Raising children, parenting, is very rewarding. But, it can also be challenging, especially with adolescents. Teens test parents frequently. They test the boundaries of their freedom and the depth of parental love. They demand attention and seem to especially when parental attention is needed elsewhere. They don't always conform to parental dictates or aspirations for their behavior. They are often affected more by peers, for good or evil, than by parents. It is the parents challenge to control themselves, not overreact, and act appropriately in the face of strong emotions. Meeting these challenges becomes more and more important with adolescents, as here are the greatest struggles for independence and the potential for damaging behaviors, particularly, alcohol, drugs, and sexual behavior.
The challenges of parenting require that the parent be able to deal with stress, to regulate their own emotions, and to be sensitive and attentive to their child. These skills are exactly those that are developed in mindfulness training. It improves the psychological and physiological responses to stress. It improves emotion regulation. And it improves the ability to maintain attention and focus in the face of high levels of distraction. Mindful parenting involves having emotional awareness of themselves but also having emotional awareness of and compassion for the child and having the skills to pay full attention to the child in the present moment, to accept parenting non-judgmentally and be emotionally non-reactive to the child.
It is not known how mindful parenting acts to improve adolescent behavior. But, it seems reasonable to postulate that mindful parenting alters parental emotional responses, particularly during parent-child conflict, and this affects the child's behavior. In today's Research News article "Mindful Parenting and Parents' Emotion Expression: Effects on Adolescent Risk Behaviors." See summary below or view the full text of the study at: https://www.ncbi.nlm.nih.gov/pmc/articles/PMC4827929/
Tupyn and Chaplin recruited adolescents, aged 12-14 years, and their primary caregiver. Both parents and adolescents completed a family issues questionnaire, including points of conflict, and were assessed for cognitive and emotional functioning, psychological symptoms, and alcohol and substance use as well as breath and urine drug screens. Parents were measured for mindful parenting. Adolescents were assessed for risk behaviors, including substance abuse and sexual risk taking. They then completed a parent-adolescent interaction task in which they discussed the topic which they both identified as the most contentious occurring over the last month. During the discussion, parents were videoed and their emotional expressions rated.
They found that higher levels of mindful parenting were associated with lower levels of drug use and sexual engagement. They also found that higher levels of mindful parenting was associated with less parental negative emotion expression in the conflict interaction. In addition, they found that mindful parenting was associated with lower adolescent drug use directly and indirectly by decreasing negative emotion expression in the conflict interaction. Hence, mindful parenting appears to be helpful in lessening the likelihood that adolescents will engage in risky behaviors.
These are interesting results and suggest that mindful parenting helps the parent deal with conflict with their adolescents more adaptively and with fewer negative emotions expressed. This, in turn, is associated with lower adolescent drug use. There are three key factors to mindful parenting, noticing feelings when in conflict with the child, learning to pause before responding in anger, and listening carefully to a child's viewpoint even when disagreeing with it. The mindful parent's ability to notice feelings when in conflict appears to contribute to its association with lower drug use, producing an indirect effect. It is possible that the ability to delay responding and listen carefully may be responsible for the obtained direct effect of mindful parenting on risky behavior. Regardless of the explanation, the result suggest that mindful parents have adolescents who have fewer risk behaviors.
So, reduce adolescent risk taking with mindful parenting.
"encouraging more mindful, responsive parenting—and less harsh punishments or yelling—may indirectly help kids to avoid some of the risks of adolescence, such as depression, anxiety, acting out, and drug use. " – Jill Suttie
CMCS – Center for Mindfulness and Contemplative Studies
This and other Contemplative Studies posts are also available on Google+ https://plus.google.com/106784388191201299496/posts and on Twitter @MindfulResearch
Study Summary
Turpyn, C. C., & Chaplin, T. M. (2016). Mindful Parenting and Parents' Emotion Expression: Effects on Adolescent Risk Behaviors. Mindfulness, 7(1), 246–254. http://doi.org/10.1007/s12671-015-0440-5
Abstract
Mindful parenting is associated with greater adjustment and fewer behavior problems in children and adolescents. However, the mechanisms by which mindful parenting functions to mitigate risk in adolescence is not well understood. This study investigated parent emotional expression as a potential mechanism in the relationship between low mindful parenting and adolescent risk behaviors. A sample of 157 12-14 year old adolescents (49% female) and their primary caregivers (99% female) participated in an emotionally-arousing conflict interaction. Parents reported on their mindful parenting practices, and parents' emotion expressions during the conflict interaction were coded including negative emotion, positive emotion, and shared parent-youth positive emotion. Adolescent substance use and sex behaviors were assessed through self-report, interview, and physical toxicology screens. Results indicated that mindful parenting was associated with less parental negative emotion and greater shared positive emotion during the parent-adolescent conflict. Further, results revealed a significant indirect effect of mindful parenting on youth's substance use through shared parent-adolescent positive emotion. Findings highlight the relevance of emotional functioning in the context of stressful parenting situations in mindful parenting.
https://www.ncbi.nlm.nih.gov/pmc/articles/PMC4827929/