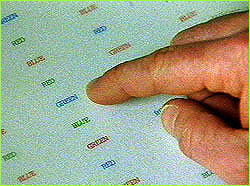 High Mindfulness and Low Anxiety is Associated with High Level Cognitive Ability
By John M. de Castro, Ph.D.
"Mindfulness meditation has been found to elicit a positive impact on cognitive performance and abilities such as attention, memory, cognitive flexibility, and quality of task performance." – Integrative Therapeutics
There is a tremendous amount of information present at any moment. It is a challenge to the nervous system to sort it out and pay attention to only the most significant information. This involves ignoring competing or conflicting stimuli and concentrating on only the most salient and pertinent stimuli. Mindfulness training can help. It involves a greater emphasis on attention to the immediate stimulus environment. So, it builds the capacity to focus on what is transpiring in the present moment. Mindful people generally have better attentional abilities and have fewer intrusive thoughts and less mind wandering. As a result, mindfulness has been shown to be associated with differences in thought processes, increases creativity, and improves cognitive processes.
In general, anxiety tends to interfere with high level thinking; interfering with cognitive ability. So, it would seem that people high in mindfulness and also low in anxiety would perform better on cognitive tasks compared to people low in mindfulness and high in anxiety. In today's Research News article "Better Cognitive Performance Is Associated With the Combination of High Trait Mindfulness and Low Trait Anxiety." (See summary below or view the full text of the study at: https://www.frontiersin.org/articles/10.3389/fpsyg.2018.00627/full?utm_source=F-AAE&utm_medium=EMLF&utm_campaign=MRK_640301_69_Psycho_20180515_arts_A ), Jaiswal and colleagues examine this prediction.
They recruited adults aged 18 to 30 years through Facebook and measured them for mindfulness and anxiety. They identified participants who were 0.85 standard deviations above the mean in mindfulness and 0.85 standard deviations below the mean in anxiety (High Mindfulness – Low Anxiety) and participants who were 0.85 standard deviations below the mean in mindfulness and 0.85 standard deviations above the mean in anxiety (Low Mindfulness – High Anxiety). These participants were asked to perform a flanker distraction task to measure attentional ability, a Stroop color test to measure interference with attention, and a visual working memory task.
They found that the High Mindfulness – Low Anxiety group performed significantly better than the Low Mindfulness – High Anxiety group on the Stroop attention interference task and the visual working memory task, and overall working memory capacity. The results confirmed the initial hypothesis that individuals with a combination of high mindfulness and low anxiety have superior attentional and cognitive abilities. Hence, it appears that mindfulness improves cognition while anxiety interferes with it.
The study was a cross sectional design and neither mindfulness nor anxiety were manipulated. Thus, causation cannot be determined. The results, though, support the initiation of a study where groups are trained in mindfulness and exposed to anxiety evoking situations to determine the causal connections of the combinations of mindfulness and anxiety on the ability for high level attentional ability and thought processes.
Nevertheless, it appears that high mindfulness and low anxiety is associated with high level attentional and cognitive ability.
"new research now suggests that the mind may be easier to cognitively train than we previously believed. Psychologists studying the effects of a meditation technique known as "mindfulness " found that meditation-trained participants showed a significant improvement in their critical cognitive skills (and performed significantly higher in cognitive tests than a control group) after only four days of training for only 20 minutes each day." – Science daily
CMCS – Center for Mindfulness and Contemplative Studies
This and other Contemplative Studies posts also available on Google+ https://plus.google.com/106784388191201299496/posts and on Twitter @MindfulResearch
Study Summary
Jaiswal S, Tsai S-Y, Juan C-H, Liang W-K and Muggleton NG (2018) Better Cognitive Performance Is Associated With the Combination of High Trait Mindfulness and Low Trait Anxiety. Front. Psychol. 9:627. doi: 10.3389/fpsyg.2018.00627
There are several ways in which cognitive and neurophysiological parameters have been consistently used to explain the variability in cognitive ability between people. However, little has been done to explore how such cognitive abilities are influenced by differences in personality traits. Dispositional mindfulness and anxiety are two inversely linked traits that have been independently attributed to a range of cognitive functions. The current study investigated these two traits in combination along with measures of the attentional network, cognitive inhibition, and visual working memory (VWM) capacity. A total of 392 prospective participants were screened to select two experimental groups each of 30 healthy young adults, with one having high mindfulness and low anxiety (HMLA) and the second having low mindfulness and high anxiety (LMHA). The groups performed an attentional network task, a color Stroop task, and a change detection test of VWM capacity. Results showed that the HMLA group was more accurate than the LMHA group on the Stroop and change detection tasks. Additionally, the HMLA group was more sensitive in detecting changes and had a higher WMC than the LMHA group. This research adds to the literature that has investigated mindfulness and anxiety independently with a comprehensive investigation of the effects of these two traits in conjunction on executive function.
https://www.frontiersin.org/articles/10.3389/fpsyg.2018.00627/full?utm_source=F-AAE&utm_medium=EMLF&utm_campaign=MRK_640301_69_Psycho_20180515_arts_A