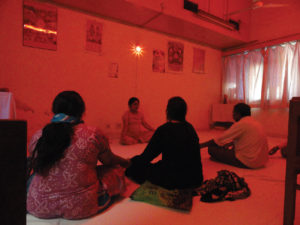 Improve Glucodynamics in Coronary Artery Disease with Meditation
By John M. de Castro, Ph.D.
"Meditation can be a useful part of cardiovascular risk reduction/ I do recommend it, along with diet and exercise. It can also help decrease the sense of stress and anxiety." – Deepak Bhatt
Coronary Artery Disease (CAD) disease is the number one killer, claiming more lives than all forms of cancer combined. "Heart disease is the leading cause of death for both men and women. About 610,000 people die of heart disease in the United States every year–that's 1 in every 4 deaths. Every year about 735,000 Americans have a heart attack." (Centers for Disease Control). Coronary Artery Disease (CAD) is highly associated with Type 2 diabetes and those with Type 2 diabetes have a significantly higher risk of death from CAD. So, control of blood glucose and insulin levels are important in the treatment and prevention of CAD.
A myriad of treatments has been developed for heart disease including a variety of surgical procedures and medications. But the safest effective treatments are lifestyle changes. These include quitting smoking, weight reduction, improved diet, physical activity, and reducing stresses. Cardiac rehabilitation programs for patients recovering from a heart attack, emphasize these lifestyle changes. Unfortunately, for a variety of reasons, 60% of cardiac patients decline participation, making these patients at high risk for another attack. Other safe and effective treatments for cardiovascular disease are contemplative practices, such as meditation, tai chi, and yoga, have also been shown to be helpful for heart health. These practices have also been shown to be helpful for producing the kinds of lifestyle changes needed to prevent heart disease such as smoking cessation, weight reduction, and stress reduction.
In today's Research News article "Effect of 6 months of meditation on blood sugar, glycosylated hemoglobin, and insulin levels in patients of coronary artery disease. Int J Yoga." (See summary below or view the full text of the study at: http://www.ijoy.org.in/article.asp?issn=0973-6131;year=2018;volume=11;issue=2;spage=122;epage=128;aulast=Sinha ), Sinha and colleagues recruited patients with Coronary Artery Disease (CAD) and prescribed for them a program of medications and dietary restrictions. They were then randomly assigned to either receive an additional meditation practice or no further treatment. Meditation was focused on breathing, the body, distress, and self-compassion and was practiced twice a week for 6 months. They were measured before during and after treatment for hemoglobin, blood sugar, fasting glycosylated hemoglobin (HbA1c), and fasting serum insulin.
They found that after treatment the meditation group but not the control group had significant decreases in fasting and after meal blood sugar and fasting glycosylated hemoglobin (HbA1c), a marker of good control of blood glucose levels. It is good to remember that all of these patients, meditation, and control, received standard dietary and drug treatments. So, the beneficial effects of meditation were additional to the effects of the usual treatment. Hence, meditation improved markers of the development of type 2 diabetes in these patients with Coronary Artery Disease (CAD). Unfortunately, there wasn't a control in the study for expectancy, experimenter bias, or attentional effects, so the conclusions must be tempered with caution.
Mindfulness training has previously been shown to be helpful in the treatment of diabetes. The importance of the present findings is that meditation can also help prevent type 2 diabetes in a delicate and vulnerable population of patients with CAD. This suggests that meditation training may help to promote the health and well-being and potentially the longevity of CAD patients.
So, improve glucodynamics in coronary artery disease with meditation.
"meditation, which includes mindfulness approaches and Transcendental Meditation, can be considered in addition to existing standard treatment for heart problems, including lowering cholesterol, losing weight and stopping smoking." – American Heart Association
CMCS – Center for Mindfulness and Contemplative Studies
This and other Contemplative Studies posts are also available on Google+ https://plus.google.com/106784388191201299496/posts and on Twitter @MindfulResearch
Study Summary
Sinha SS, Jain AK, Tyagi S, Gupta S K, Mahajan AS. Effect of 6 months of meditation on blood sugar, glycosylated hemoglobin, and insulin levels in patients of coronary artery disease. Int J Yoga 2018;11:122-8
Background and Objectives: Coronary artery disease (CAD) is the leading cause of morbidity and mortality worldwide. It has been recognized that stress, diabetes, and hypertension are important in etiology and progression of CAD. This study is to evaluate the role of meditation in improving biochemical parameters such as blood glucose, glycosylated hemoglobin, and serum insulin levels in known CAD patients. Material and Methods: Sixty CAD patients are divided into two groups of which one group did meditation and other did not. Blood glucose, glycosylated hemoglobin, and fasting serum insulin levels were measured before and at the end of 6 months of study in both the groups. Results: At the end of the study, significant decrease was seen in patients who practiced meditation as compared to other group. Conclusion: Meditation may modulate the physiological response to stress through neurohumoral activation, which may be a novel therapeutic target for the treatment of CAD.
http://www.ijoy.org.in/article.asp?issn=0973-6131;year=2018;volume=11;issue=2;spage=122;epage=128;aulast=Sinha