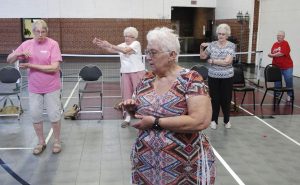 Improve Quality of Life and Reduce Falls in Dementia Patients with Tai Chi
By John M. de Castro, Ph.D.
"The number of people living with Alzheimer's disease and other dementia-related conditions is exploding in the United States. But while scientists struggle to find a new medical treatment, tai chi, the ancient Chinese martial art, has emerged as a potentially potent way to help stem the tide." – David-Dorian Ross
Dementia is a progressive loss of mental function produced by degenerative diseases of the brain. These are progressive disorders with no cures. Alzheimer's disease is the most common form of dementia. It is estimated that 5 million Americans have Alzheimer's disease. It involves an irreversible progressive loss of mental function associated with brain degeneration. The early stages are typified by memory loss but as the disease progresses patients can lose the ability to carry on a conversation or carry on normal life functions, and eventually leads to death.
Mindfulness training has been found to help protect aging individuals from physical and cognitive declines. Tai Chi has been practiced for thousands of years with benefits for health and longevity. Tai Chi training is designed to enhance function and regulate the activities of the body through regulated breathing, mindful concentration, and gentle movements. Tai Chi practice has been found to be effective for an array of physical and psychological issues. Tai Chi has been shown to help the elderly improve attention, balance, reducing falls, arthritis, cognitive function, memory, and reduce age related deterioration of the brain. So, it makes sense to investigate the effects of Tai Chi practice in patients with dementia.
In today's Research News article "Randomised Controlled Trial Of The Effect Of Tai Chi On Postural Balance Of People With Dementia." (See summary below or view the full text of the study at: https://www.ncbi.nlm.nih.gov/pmc/articles/PMC6875562/),Nyman and colleagues recruited community dwelling elderly (aged 78 to 97 years) adults with dementia and randomly assigned them to either usual care or usual care plus 20 weeks of once a week for 90 minutes Tai Chi practice and home practice. They were measured before and after training for dynamic balance, functional balance, falls, fall efficacy, fear of falls, quality of life, and cognitive function.
They found that in comparison to baseline and the usual care group, the Tai Chi group had a significantly greater quality of life and significantly fewer falls (44% fewer) during the 6-month follow-up period. There were no serious adverse events due to Tai Chi practice recorded.
Since Tai Chi is practiced in groups, the fact that it produced an increase in quality of life may have been due to the enhanced social contacts occurring in the course of practice. This can have quite an impact as community dwelling elderly, and particularly those with dementia, are often isolated from social contacts. The reduced falls has been previous documented in the elderly. The present study, though, documents this in dementia patients. This is very important as falls in the elderly are particularly dangerous and can be major contributors to mortality.
Tai Chi is not strenuous, involving slow gentle movements, and is safe, having no appreciable side effects, it is appropriate for all ages including the elderly and for individuals with illnesses that limit their activities or range of motion. It can also be practiced without professional supervision and in groups making it inexpensive to deliver and fun to engage in. This makes Tai Chi practice an excellent means to improve the quality of life and prevent falls in elderly dementia patients.
So, improve quality of life and reduce falls in dementia patients with Tai Chi.
"Researchers have shown that regular practice of Tai Chi increases brain volume, augments memory and thinking skills, and may combat dementia." – Explore
CMCS – Center for Mindfulness and Contemplative Studies
This and other Contemplative Studies posts are also available on Google+ https://plus.google.com/106784388191201299496/posts and on Twitter @MindfulResearch
Study Summary
Samuel R Nyman, Wendy Ingram, Jeanette Sanders, Peter W Thomas, Sarah Thomas, Michael Vassallo, James Raftery, Iram Bibi, Yolanda Barrado-Martín. Randomised Controlled Trial Of The Effect Of Tai Chi On Postural Balance Of People With Dementia. Clin Interv Aging. 2019; 14: 2017–2029. Published online 2019 Nov 19. doi: 10.2147/CIA.S228931
Abstract
Purpose
To investigate the effect of Tai Chi exercise on postural balance among people with dementia (PWD) and the feasibility of a definitive trial on falls prevention.
Patients and methods
Dyads, comprising community-dwelling PWD and their informal carer (N=85), were randomised to usual care (n=43) or usual care plus weekly Tai Chi classes and home practice for 20 weeks (n=42). The primary outcome was the timed up and go test. All outcomes for PWD and their carers were assessed six months post-baseline, except for falls, which were collected prospectively over the six-month follow-up period.
Results
For PWD, there was no significant difference at follow-up on the timed up and go test (mean difference [MD] = 0.82, 95% confidence interval [CI] = −2.17, 3.81). At follow-up, PWD in the Tai Chi group had significantly higher quality of life (MD = 0.051, 95% CI = 0.002, 0.100, standardised effect size [ES] = 0.51) and a significantly lower rate of falls (rate ratio = 0.35, 95% CI =0.15, 0.81), which was no longer significant when an outlier was removed. Carers in the Tai Chi group at follow-up were significantly worse on the timed up and go test (MD = 1.83, 95% CI = 0.12, 3.53, ES = 0.61). The remaining secondary outcomes were not significant. No serious adverse events were related to participation in Tai Chi.
Conclusion
With refinement, this Tai Chi intervention has potential to reduce the incidence of falls and improve quality of life among community-dwelling PWD
https://www.ncbi.nlm.nih.gov/pmc/articles/PMC6875562/