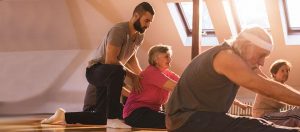 Improve Mobility and Quality of Life in Patients with Chemotherapy-Induced Peripheral Neuropathy with Yoga
By John M. de Castro, Ph.D.
"Exercise can increase blood flow to the hands and feet and may offer temporary relief from pain. People should discuss the exercises that are best for them with their doctor. Low-impact activities, such as swimming, low-impact aerobics, or yoga, are the safest options." – Zawn Villines
Receiving a diagnosis of cancer has a huge impact on most people. Feelings of depression, anxiety, and fear are very common and are normal responses to this life-changing and potentially life-ending experience. But, surviving cancer carries with it a number of problems. Painful Chemotherapy-induced peripheral neuropathy is a frequent side effect of cancer treatment. This Neuropathy is characterized by damage to the nervous system resulting from chemotherapy. Between 30-100% of patients can experience this neuropathy.  It can affect patients motor abilities including walking, and balance. But it can also affect driving, relationships, work, writing, exercise, sleep and sexual activity.
Mindfulness training has been shown to help with cancer recovery and help to relieve chronic pain. It can also help treat the residual physical and psychological symptoms, including stress,  sleep disturbance, and anxiety and depression. Yoga practice is a form of mindfulness training that has been shown to help relieve chronic pain and be beneficial for cancer patients.  So, it makes sense to examine the ability of yoga practice to help relieve the symptoms of chemotherapy-induced peripheral neuropathy.
In today's Research News article "Impact of Somatic Yoga and Meditation on Fall Risk, Function, and Quality of Life for Chemotherapy-Induced Peripheral Neuropathy Syndrome in Cancer Survivors." (See summary below or view the full text of the study at: https://www.ncbi.nlm.nih.gov/pmc/articles/PMC6537287/), Galantino and colleagues recruited cancer survivors who had completed all treatments but who had some degree of peripheral neuropathy. They participated in a 90 minute, twice a week for 8-weeks, Hatha yoga program including postures, breathwork, and meditation. They were also asked to practice at home. They were measured before and after treatment for motor functions, balance, lower extremity flexibility, pain, neurotoxicity, perceived stress, sleep quality, spiritual efficacy, fear of falling, vibration sense, and salivary cortisol. The participants were asked to record their reflections on their yoga practice in a diary.
They found that at the completion of the yoga training the patients had significantly improved mobility, flexibility, balance, risk of falling, perceived pain, pain interference with life activities, sensory systems, muscular weakness, foot vibration sensitivity, and perceived stress. They did not find any adverse effects of the yoga practice on the patients. Qualitative analysis of the patient diaries revealed that the patients noted improvements in enhanced sensations in the extremities, that the yoga practice helped them in managing their symptoms, that the improvement in physical function allowed return to work and re-engagement in hobbies, greater ability to relax, and enjoyment of the social aspects of the yoga practice.
It should be noted that this was a small pilot study and there wasn't a control condition so the results need to be interpreted with caution. But the results are very encouraging and suggest that a large randomized controlled trial is justified and needed to verify the efficacy of the yoga program. But prior to the program there was no improvement over time, so participation in the program likely produced the benefits. The benefits obtained in this study are significant and important contributing to the daily functions, mental and physical health of the patients.
Chemotherapy-induced peripheral neuropathy is painful, persistent, disruptive, and debilitating. The degree of improvement seen in the patients after yoga practice markedly improved their symptoms and greatly reduced their suffering. Importantly, after yoga practice the symptoms of peripheral neuropathy were greatly reduced allowing the patients to better function and to enjoy their lives.
So, improve mobility and quality of life in patients with chemotherapy-induced peripheral neuropathy with yoga.
"They may also benefit from exercise programs such as water exercise, a strength & balance class, Tai Chi, and yoga.  Although patients survived their cancer, giving them their quality of life back should be a priority for those that are suffering from CIPN." – Pam McMillan
CMCS – Center for Mindfulness and Contemplative Studies
This and other Contemplative Studies posts are also available on Google+ https://plus.google.com/106784388191201299496/posts and on Twitter @MindfulResearch
Study Summary
Galantino, M. L., Tiger, R., Brooks, J., Jang, S., & Wilson, K. (). Impact of Somatic Yoga and Meditation on Fall Risk, Function, and Quality of Life for Chemotherapy-Induced Peripheral Neuropathy Syndrome in Cancer Survivors. Integrative cancer therapies, 18, 1534735419850627. doi:10.1177/1534735419850627
Abstract
Objective. Chemotherapy-induced peripheral neuropathy (CIPN) syndrome causes significant pain as an adverse effect of treatment, with few nonpharmacological interventions tested. A somatic yoga and meditation (SYM) intervention on functional outcomes and quality of life (QOL) was investigated. Design and methods. Individuals diagnosed with CIPN were enrolled in an open-label, single-arm, mixed-methods feasibility trial. Participants and Setting. In an outpatient rehabilitation center, ten participants with median age 64.4 years (47-81) attended 61% of the sessions with no adverse events. Intervention. SYM twice a week for 8 weeks for 1.5 hours, with home program and journaling. Main outcome measures. Primary functional outcomes included Sit and Reach (SR), Functional Reach (FR), and Timed Up and Go (TUG). Self-reported Patient Neurotoxicity Questionnaire (PNQ) and Functional Assessment of Cancer Therapy—Neurotoxicity (FACT-GOG-NTX) were secondary CIPN outcomes. Biomarkers included salivary cortisol (stress) and bioesthesiometer (vibration). Results: Quantitative findings. Significant improvements were found in flexibility (SR; P = .006); balance (FR; P = .001) and fall risk (TUG; P = .004). PNQ improved significantly (P = .003) with other measures improving non-significantly. Qualitative findings. Five themes emerged: (1) vacillation of CIPN pain perception over time; (2) transferability of skills to daily activities; (3) improvement in physical function; (4) perceived relaxation as an effect of SYM; and (5) group engagement provided a social context for not feeling isolated with CIPN. Conclusion. Preliminary data suggest SYM may improve QOL, flexibility, and balance in cancer survivors with CIPN, with a fully powered randomized controlled trial indicated.
https://www.ncbi.nlm.nih.gov/pmc/articles/PMC6537287/