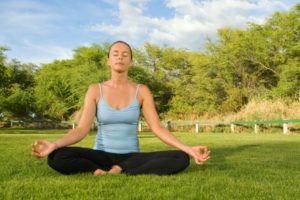 Improve Quality of Life in Breast Cancer Survivors with Exercise or Yoga
By John M. de Castro, Ph.D.
"In studies of women with breast cancer, yoga has been shown to reduce fatigue and improve quality of sleep, physical vitality, and overall quality of life." – BreastCancer.org
Receiving a diagnosis of cancer has a huge impact on most people. Feelings of depression, anxiety, and fear are very common and are normal responses to this life-changing and potentially life-ending experience. But cancer diagnosis is not necessarily a death sentence. Over half of the people diagnosed with cancer are still alive 10 years later and this number is rapidly increasing. But, surviving cancer carries with it a number of problems. Anxiety, depression, fatigue and insomnia are common symptoms in the aftermath of surviving breast cancer. These symptoms markedly reduce the quality of life of the patients.
Mindfulness training has been shown to help with cancer recovery and help to alleviate many of the residual physical and psychological symptoms, including fatigue, stress,  sleep disturbance, and anxiety and depression. Yoga practice is a form of mindfulness training that has been shown to be beneficial for cancer patients. But yoga practice is both a mindfulness practice and an exercise. It is unclear whether the benefits of yoga practice for cancer patients is due to its mindfulness or exercise components or both. The research has been accumulating. It is thus important to take a step back and summarize what has been learned.
In today's Research News article "Yoga-Specific Enhancement of Quality of Life Among Women With Breast Cancer: Systematic Review and Exploratory Meta-Analysis of Randomized Controlled Trials." (See summary below or view the full text of the study at: https://www.ncbi.nlm.nih.gov/pmc/articles/PMC6388460/ ), El-Hashimi and Gorey review, summarize and perform a meta-analysis of the effectiveness of yoga for improving the quality of life in survivors of breast cancer. They found and report on 8 randomized controlled trials that included a comparison to another exercise program.
They report that the research demonstrated that exercise practices including yoga produce significant improvements in quality of life for the breast cancer patients that are still present as much as a year later. But yoga practice was not significantly better than other exercise programs in improving the quality of life. It would appear that the fact that yoga practice is an exercise and not its mindfulness aspect is critical for the improvement in the quality of life of breast cancer patients.
So, improve quality of life in breast cancer survivors with exercise or yoga.
"Yoga, meditation, and breathing practices allow women with breast cancer to explore their emotions, foster mindful empathy, and cope with fatigue and tightness," – Sierra Campbell
CMCS – Center for Mindfulness and Contemplative Studies
This and other Contemplative Studies posts are also available on Google+ https://plus.google.com/106784388191201299496/posts and on Twitter @MindfulResearch
Study Summary
El-Hashimi, D., & Gorey, K. M. (2019). Yoga-Specific Enhancement of Quality of Life Among Women With Breast Cancer: Systematic Review and Exploratory Meta-Analysis of Randomized Controlled Trials. Journal of evidence-based integrative medicine, 24, 2515690X19828325.
Abstract
Physical activities during and after cancer treatment have favorable psychosocial effects. Increasingly, yoga has become a popular approach to improving the quality of life (QoL) of women with breast cancer. However, the extant synthetic evidence on yoga has not used other exercise comparison conditions. This meta-analysis aimed to systematically assess yoga-specific effects relative to any other physical exercise intervention (eg, aerobics) for women with breast cancer. QoL was the primary outcome of interest. Eight randomized controlled trials with 545 participants were included. The sample-weighted synthesis at immediate postintervention revealed marginally statistically and modest practically significant differences suggesting yoga's potentially greater effectiveness: d = 0.14, P = .10. However, at longer term follow-up, no statistically or practically significant between-group difference was observed. This meta-analysis preliminarily demonstrated that yoga is probably as effective as other exercise modalities in improving the QoL of women with breast cancer. Both interventions were associated with clinically significant improvements in QoL. Nearly all of the yoga intervention programs, however, were very poorly resourced. Larger and better controlled trials of well-endowed yoga programs are needed.
https://www.ncbi.nlm.nih.gov/pmc/articles/PMC6388460/