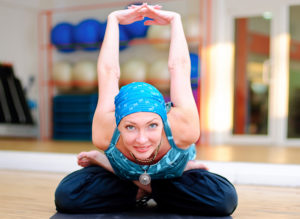 Improve Psychological and Physical Health During Cancer Treatment with Yoga
By John M. de Castro, Ph.D.
"Yoga for cancer patients—what better way to manage anxiety, gain strength, increase flexibility, and create feelings of well-being! A growing body of research points to the potential of yoga for supporting cancer patients, both during and after treatment." – Tari Prinster
Receiving a diagnosis of cancer has a huge impact on most people. Feelings of depression, anxiety, and fear are very common and are normal responses to this life-changing and potentially life-ending experience. These feeling can result from changes in body image, changes to family and work roles, feelings of grief at these losses, and physical symptoms such as pain, nausea, or fatigue. People might also fear death, suffering, pain, or all the unknown things that lie ahead. So, coping with the emotions and stress of a cancer diagnosis is a challenge and there are no simple treatments for these psychological sequelae of cancer diagnosis.
Mindfulness training has been shown to help with cancer recovery and help to alleviate many of the residual physical and psychological symptoms, including stress,  sleep disturbance, and anxiety and depression. Yoga practice is a form of mindfulness training that has been shown to be beneficial for cancer patients. In today's Research News article "Review of Yoga Therapy During Cancer Treatment." (See summary below or view the full text of the study at: https://www.ncbi.nlm.nih.gov/pmc/articles/PMC5777241/ ), Danhauer and colleagues review and summarize the published research studies on the application of yoga practice to the treatment of cancer patients undergoing treatment. They identified 12 non-randomized and 13 randomized published clinical trials.
They found that the research reports that yoga practice improves the psychological and physical health of cancer patients undergoing treatment. These include psychological improvements in anxiety, depression, mood, negative affect, relaxation, overall mental health, cognition, spiritual well-being, social support, self-efficacy, and coping, and physical improvements in overall health, physical quality of life, fatigue, invigoration, sleep, most-bothersome symptom, and upregulation of genes involved in immunity.
These are impressive results that strongly suggest that yoga practice is of great benefit to cancer patients undergoing treatment. It appears to be safe, with few if any negative side effects, be acceptable for patients undergoing treatment, and to improve the patients' mental and physical health.
Yoga practice is generally complex, involving a number of components including, postures, meditation, breathing exercises, and chanting. It is unclear from the research which ones or which combinations of these components are responsible for the benefits. It remains for future research to better clarify how yoga functions to produce these remarkable benefits for cancer patients. Such a clarification could lead to improved and more targeted practices.
So, improve psychological and physical health during cancer treatment with yoga.
"Cancer patients who practice yoga as therapy during their treatment often refer to their yoga practice as a life-saver. The healing power of yoga helps both cancer patients and cancer survivors. No matter how sick from treatments and no matter how little energy, many find that the one thing that would bring relief were a gentle set of therapeutic yoga poses geared for cancer patients." – Yoga U
CMCS – Center for Mindfulness and Contemplative Studies
This and other Contemplative Studies posts are also available on Google+ https://plus.google.com/106784388191201299496/posts and on Twitter @MindfulResearch
Study Summary
Danhauer, S. C., Addington, E. L., Sohl, S. J., Chaoul, A., & Cohen, L. (2017). Review of Yoga Therapy During Cancer Treatment. Supportive Care in Cancer : Official Journal of the Multinational Association of Supportive Care in Cancer, 25(4), 1357–1372. http://doi.org/10.1007/s00520-016-3556-9
Abstract
Purpose
Reviews of yoga research that distinguish results of trials conducted during (versus after) cancer treatment are needed to guide future research and clinical practice. We therefore conducted a review of non-randomized studies and randomized controlled trials of yoga interventions for children and adults undergoing treatment for any cancer type.
Methods
Studies were identified via research databases and reference lists. Inclusion criteria: (1) children or adults undergoing cancer treatment; (2) intervention stated as yoga or component of yoga; and (3) publication in English in peer-reviewed journals through October 2015. Exclusion criteria: (1) samples receiving hormone therapy only; (2) interventions involving only meditation; and (3) yoga delivered within broader cancer recovery or mindfulness-based stress reduction programs.
Results
Results of non-randomized (adult: n=8, pediatric: n=4) and randomized controlled trials (adult: n=13, pediatric: n=0) conducted during cancer treatment are summarized separately by age group. Findings most consistently support improvement in psychological outcomes (e.g., depression, distress, anxiety). Several studies also found that yoga enhanced quality of life, though further investigation is needed to clarify domain-specific efficacy (e.g., physical, social, cancer-specific). Regarding physical and biomedical outcomes, evidence increasingly suggests that yoga ameliorates sleep and fatigue; additional research is needed to advance preliminary findings for other treatment sequelae and stress/immunity biomarkers.
Conclusions
Among adults undergoing cancer treatment, evidence supports recommending yoga for improving psychological outcomes, with potential for also improving physical symptoms. Evidence is insufficient to evaluate the efficacy of yoga in pediatric oncology. We describe suggestions for strengthening yoga research methodology to inform clinical practice guidelines.
https://www.ncbi.nlm.nih.gov/pmc/articles/PMC5777241/