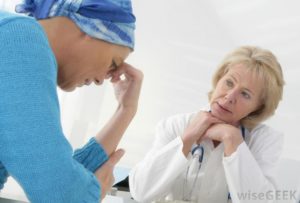 Reduce Fatigue with Breast Cancer with Yoga
By John M. de Castro, Ph.D.
"Yoga works on the principle of mind and body health and it would help women cope with systemic therapy side effects better. Yoga nidra and pranayama also improve sleep patterns. Thus, all this together may reduce fatigue and pain." – Nita Nair
Because of great advances in treatment, many women today are surviving breast cancer. But, cancer survivors frequently suffer from anxiety, depression, mood disturbance, post-traumatic stress disorder (PTSD), sleep disturbance, fatigue, sexual dysfunction, loss of personal control, impaired quality of life, an alteration of their body image, and psychiatric symptoms which have been found to persist even ten years after remission. Also, breast cancer survivors can have to deal with a heightened fear of reoccurrence. This is particularly true with metastatic cancer. So, safe and effective treatments for the symptoms in breast cancer and the physical and psychological effects of the treatments are needed.
Mindfulness training has been shown to help with general cancer recovery and breast cancer recovery. Yoga practice of has also been shown to be helpful with the residual symptoms, the psychological and physical ability to deal with cancer treatment and improves sleep in women with metastatic breast cancer. So, it's reasonable to further explore the potential benefits of yoga practice to relieve fatigue and stress in women fighting metastatic breast cancer.
In today's Research News article "Effects of Yoga in Managing Fatigue in Breast Cancer Patients: A Randomized Controlled Trial." See summary below or view the full text of the study at: https://www.ncbi.nlm.nih.gov/pmc/articles/PMC5545948/, Vadiraja and colleagues recruited women with advanced metastatic breast cancer. They received treatment as usual and were randomly assigned to receive either education and supportive counseling or an integrated yoga program for 12 weeks consisting of 60-min sessions twice a week combined with home practice of relaxation, breathing exercises, postures, and meditation. They were measured before and after treatment for perceived stress and fatigue.
In comparison to baseline and the control group the yoga practice group had significant reductions in perceived stress and in fatigue, including severity, how often they felt fatigued, how much fatigue interfered with their everyday activities, and the difference between daytime and nighttime fatigue.  It would have been better if the control group had performed some other form of exercise to determine if it was yoga practice per se or simply exercise was responsible for the results. In addition, since the integrated yoga program contained multiple components it is impossible to differentiate which or which combination of components was effective. Nevertheless, these are impressive and exciting results that integrated yoga practice can have such positive effects on women with advanced metastatic breast cancer.
Mindfulness practices, including yoga practice, has been shown to reduce the physiological and psychological responses to stress and fatigue in other populations. It is particularly good that yoga has these effects in women with cancer where stress and fatigue exacerbate an already difficult situation. These effects may help to contribute to these women's ability to fight off the cancer and improve their longevity.
So, reduce fatigue with breast cancer with yoga.
"Even on my worst days, in terms of fatigue, if I just got up and did a little something, whether it be some light stretching, gentle yoga, just some yoga, that definitely made me feel better." – Amy Schnitzler
CMCS – Center for Mindfulness and Contemplative Studies
This and other Contemplative Studies posts are also available on Google+ https://plus.google.com/106784388191201299496/posts and on Twitter @MindfulResearch
Study Summary
Vadiraja, H., Rao, R. M., Nagarathna, R., Nagendra, H., Patil, S., Diwakar, R. B., … Ajaikumar, B. (2017). Effects of Yoga in Managing Fatigue in Breast Cancer Patients: A Randomized Controlled Trial. Indian Journal of Palliative Care, 23(3), 247–252. http://doi.org/10.4103/IJPC.IJPC_95_17
Abstract
Background:
Cancer-related fatigue is widely prevalent in cancer patients and affects quality of life in advanced cancer patients. Fatigue is caused due to both psychologic distress and physiological sequel following cancer progression and its treatment. In this study, we evaluate the effects of yogic intervention in managing fatigue in metastatic breast cancer patients.
Methods:
Ninety-one patients with metastatic breast cancer were randomized to receive integrated yoga program (n = 46) or supportive therapy and education (n = 45) over a 3-month period. Assessments such as perceived stress, fatigue symptom inventory, diurnal salivary cortisol, and natural killer cell counts were carried out before and after intervention. Analysis was done using an intention-to-treat approach. Postmeasures for the above outcomes were assessed using ANCOVA with respective baseline measure as a covariate.
Results:
The results suggest that yoga reduces perceived stress (P = 0.001), fatigue frequency (P < 0.001), fatigue severity (P < 0.001), interference (P < 0.001), and diurnal variation (P < 0.001) when compared to supportive therapy. There was a positive correlation of change in fatigue severity with 9 a.m. salivary cortisol levels.
Conclusion:
The results suggest that yoga reduces fatigue in advanced breast cancer patients.