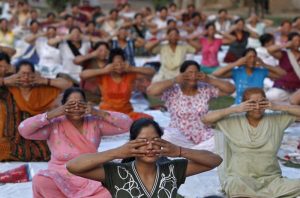 Yoga is the Preferred Exercise for the Treatment of Type 2 Diabetes
By John M. de Castro, Ph.D.
"By increasing muscle mass through strengthening poses, yoga can improve your metabolism, helping you maintain a healthy body weight. Studies suggest that regular practice helps normalize blood pressure and cholesterol levels. By inducing a feeling of calm, yoga can lower the release of cortisol, a stress hor­mone that causes your body to release more glucose. Less unnecessary cortisol means fewer unnecessary elevations in blood sugar." – Annie Kay
Diabetes is a major health issue. It is estimated that 30 million people in the United States and nearly 600 million people worldwide have diabetes and the numbers are growing. Type II Diabetes results from a resistance of tissues, especially fat tissues, to the ability of insulin to promote the uptake of glucose from the blood. As a result, blood sugar levels rise producing hyperglycemia. Diabetes is heavily associated with other diseases such as cardiovascular disease, heart attacks, stroke, blindness, kidney disease, and circulatory problems leading to amputations. As a result, diabetes doubles the risk of death of any cause compared to individuals of the same age without diabetes.
Type 2 diabetes is a common and increasingly prevalent illness that is largely preventable. One of the reasons for the increasing incidence of Type 2 Diabetes is its association with overweight and obesity which is becoming epidemic in the industrialized world. A leading cause of this is a sedentary life style. Unlike Type I Diabetes, Type II does not require insulin injections. Instead, the treatment and prevention of Type 2 Diabetes focuses on diet, exercise, and weight control. Recently, mindfulness practices have been shown to be helpful in managing diabetes. A mindfulness practice that combines mindfulness with exercise is yoga and it has been shown to be helpful in the treatment of Type II Diabetes.
In today's Research News article "Effect of Yoga and Exercise on Glycemic Control and Psychosocial Parameters in Type 2 Diabetes Mellitus: A Randomized Controlled Study." (See summary below or view the full text of the study at: https://www.ncbi.nlm.nih.gov/pmc/articles/PMC7336951/ ) Singh and Khandelwal recruited adult patients with Type 2 Diabetes and randomly assigned them to either an exercise or yoga practice group. Exercise was practiced for 30 minutes 5 days per week for 3 months and consisted of walking and moderate aerobic exercise combined with diet. The yoga group were trained in postures and breathing exercises for 2 weeks and then practiced at home for 3 months. They were measured before and after training for anxiety, depression, diabetes quality of life and self-efficacy. They also had blood drawn for assessment of glycemic control (HbA1c).
They found that following training both groups had significant decreases in anxiety, depression, and HbA1c and significant increases in diabetes quality of life and self-efficacy. But the yoga group had significantly better outcomes on all measures compared to the diet and exercise group.
These results suggest that practicing yoga is better for the psychological and physical health of patients with Type 2 Diabetes than non-yoga exercises. Yoga practice not only improved psychological health but also glycemic control suggesting better control of the disease. The fact that yoga was superior in effectiveness to non-yoga exercise is important as yoga is both a mindfulness practice and an exercise. So, the results suggest that adding mindfulness to exercise potentiates the programs effectiveness in treating patients with Type 2 Diabetes.
Hence, yoga is the preferred exercise for the treatment of Type 2 Diabetes.
"I recommend yoga primarily for stress management. Stress elevates blood sugar, which can lead to more diabetes complications. Yoga helps us center ourselves, and centering calms us and can help keep blood sugar levels balanced." – Janet Zappe
CMCS – Center for Mindfulness and Contemplative Studies
This and other Contemplative Studies posts are also available on Google+ https://plus.google.com/106784388191201299496/posts and on Twitter @MindfulResearch
Study Summary
Vijay Pratap Singh, Bidita Khandelwal. Effect of Yoga and Exercise on Glycemic Control and Psychosocial Parameters in Type 2 Diabetes Mellitus: A Randomized Controlled Study. Int J Yoga. 2020 May-Aug; 13(2): 144–151. Published online 2020 May 1. doi: 10.4103/ijoy.IJOY_45_19
Abstract
Context (Background):
Type 2 diabetes has been strongly associated with psychosocial factors such as stress, anxiety, depression, and quality of life (QOL). There is not much evidence whether yoga can improve these factors and motivate individuals to engage in active lifestyle.
Aims:
This study aims to evaluate the effect of yoga and exercise over glycemic control, anxiety, depression, exercise self-efficacy (ESE), and QOL after 3-month program.
Methods:
Two hundred and twenty-seven individuals were randomly allocated to yoga group (YG) and exercise group. YG practiced yoga for 2 weeks under supervision and then carried out practice at home for 3 months. The exercise group practiced 30 min of brisk walking for 5 days a week.
Results:
On comparison among the groups, in YG, there was a mean change of 0.47 in glycated hemoglobin which was greater than mean reduction of 0.28 in the exercise group with P < 0.05. State anxiety reduced by 7.8 and trait anxiety reduced by 4.4 in YG (P < 0.05) in 3 months as compared to nonsignificant reductions of 3 and 1 in mean of state and trait anxiety scores in the exercise group (P > 0.05). There was a statistically significant reduction in depression score in both the groups, 8.6 in yoga and 4.0 in exercise, which was greater in YG. ESE improved by 19.2 in YG (P < 0.05), whereas it improved only 2.2 in the exercise group (P > 0.05). QOL improved by 23.7 in YG and 3.0 in the exercise group which was nonsignificant in the exercise group as compared to YG.
Conclusions:
Yoga is superior to exercise alone as a lifestyle modification program in improving glycemic control, anxiety, depression, and QOL as well as ESE.
https://www.ncbi.nlm.nih.gov/pmc/articles/PMC7336951/