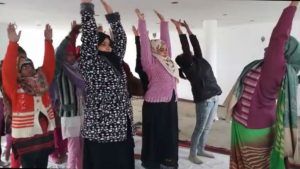 Improve Cardiovascular and Metabolic Symptoms of Type 2 Diabetes with Yoga
By John M. de Castro, Ph.D.
"Yoga practices such as cleansing processes, asanas, pranayama, mudras, bandha, meditation, mindfulness, and relaxation are known to reduce blood glucose levels and to help in the management of comorbid disease conditions associated with type 2 diabetes mellitus, resulting in significant positive clinical outcomes." – Arkiath Veettil Raveendran
Diabetes is a major health issue. It is estimated that 30 million people in the United States and nearly 600 million people worldwide have diabetes and the numbers are growing. Type II Diabetes results from a resistance of tissues, especially fat tissues, to the ability of insulin to promote the uptake of glucose from the blood. As a result, blood sugar levels rise producing hyperglycemia. Diabetes is heavily associated with other diseases such as cardiovascular disease, heart attacks, stroke, blindness, kidney disease, and circulatory problems leading to amputations. As a result, diabetes doubles the risk of death of any cause compared to individuals of the same age without diabetes.
Type 2 diabetes is a common and increasingly prevalent illness that is largely preventable. One of the reasons for the increasing incidence of Type 2 Diabetes is its association with overweight and obesity which is becoming epidemic in the industrialized world. A leading cause of this is a sedentary life style. Unlike Type I Diabetes, Type II does not require insulin injections. Instead, the treatment and prevention of Type 2 Diabetes focuses on diet, exercise, and weight control. Recently, mindfulness practices have been shown to be helpful in managing diabetes. A mindfulness practice that combines mindfulness with exercise is yoga and it has been shown to be helpful in the treatment of Type II Diabetes.
In today's Research News article "Yoga-based lifestyle treatment and composite treatment goals in Type 2 Diabetes in a rural South Indian setup- a retrospective study." (See summary below or view the full text of the study at: https://www.ncbi.nlm.nih.gov/pmc/articles/PMC7156497/), Arumugam and colleagues recruited adults with Type 2 Diabetes in rural India and randomly assigned them to either standard care or to 6 months of 1 hour daily supervised yoga practice "comprised of loosening practices, asanas, pranayama, relaxation techniques, and meditation." They were measured before and after treatment for blood levels of A1c, LDL and HDL-cholesterol, fasting blood glucose, postprandial blood glucose, systolic and diastolic blood pressure, weight, total cholesterol, triglyceride, and body mass index (BMI).
They found that for the most part the control group had deterioration of most measures of their cardiovascular and metabolic health while the yoga group had significant improvements in all measures, including blood fats and glucose, blood pressure, and body weight, except total triglycerides. Hence, the patients with Type 2 Diabetes markedly reduced their risk factors for cardiovascular disease while the control group increased their risk.
These are very encouraging results that yoga practice can improve the health of patients with Type 2 Diabetes in rural India and lower their risk of developing serious cardiovascular disease. It would be important in future research to include another condition of perhaps aerobic exercise to evaluate if yoga practice confers extra benefits beyond its exercise effects. Regardless, the results suggest that yoga practice improves the physical well-being of patients with Type 2 Diabetes in rural settings.
So, improve cardiovascular and metabolic symptoms of Type 2 Diabetes with yoga.
"Yoga is considered to be a promising, cost-effective option in the treatment and prevention of diabetes, with data from several studies suggesting that yoga and other mind-body therapies can reduce stress-related hyperglycemia and have a positive effect on blood glucose control." – Diabetes UK
CMCS – Center for Mindfulness and Contemplative Studies
This and other Contemplative Studies posts are also available on Google+ https://plus.google.com/106784388191201299496/posts and on Twitter @MindfulResearch
Study Summary
Arumugam, G., Nagarathna, R., Majumdar, V., Singh, M., Srinivasalu, R., Sanjival, R., Ram, V. S., & Nagendra, H. R. (2020). Yoga-based lifestyle treatment and composite treatment goals in Type 2 Diabetes in a rural South Indian setup- a retrospective study. Scientific reports, 10(1), 6402. https://doi.org/10.1038/s41598-020-63133-1
Abstract
This multicentre retrospective study examined the effects of adjunct yoga-treatment in achieving composite cardiovascular goals for type 2 diabetes (T2D), set forth by the American Diabetes Association (ADA) in rural Indian settings. Records were extracted for 146 T2D patients, aged ≥20–70 years, and treated under the "Apollo Total Health Programme" for rural diabetes management, for the period April 2016 to November 2016. The study cohort comprised of two treatment groups (n = 73 each); non-yoga group (standard of care) and yoga group (adjunct yoga-treatment). Propensity score matching was applied between the study groups to define the cohort. Composite cardiovascular scores were based on the combination of individual ADA goals; A1c < 7%, blood pressure (BP) < 140/90 mmHg, stringent BP (<130/80 mmHg) and lipid, LDL-C < 100 mg/dl [risk factor for atherosclerotic cardiovascular disease]. Logistic regression was used to compare between the two treatment groups. Compared to standard of care, adjunct yoga-treatment was found to significantly facilitate the attainment of ADA composite score by 8-fold; A1c, ~2-fold; LDL-C, ~2-fold; BP < 140/90 mmHg and <130/80 mmHg by ~8-and ~6-fold respectively. This study provides the first evidence for significant efficacy of adjunct yoga-treatment for the attainment of favourable treatment goals for T2D in rural Indian settings.
https://www.ncbi.nlm.nih.gov/pmc/articles/PMC7156497/