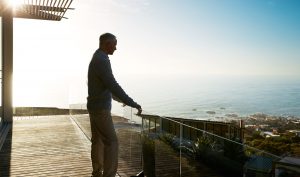 Improve Quality of Life in Breast Cancer Patients with Mind-Body Practices
By John M. de Castro, Ph.D.
"mindfulness makes a profound difference for breast cancer patients and survivors, both physically and mentally." – Laura Dorwart
Receiving a diagnosis of cancer has a huge impact on most people. Feelings of depression, anxiety, and fear are very common and are normal responses to this life-changing and potentially life-ending experience. Coping with the emotions and stress of a cancer diagnosis is a challenge and there are no simple treatments for these psychological sequelae of cancer diagnosis. But over half of the people diagnosed with cancer are still alive 10 years later and this number is rapidly increasing. Breast cancer is very common with 1 out of every 8 women developing breast cancer sometime during their lives.
Mindfulness training has been shown to help with cancer recovery and help to relieve chronic pain. It can also help treat the residual physical and psychological symptoms, including stress, sleep disturbance, fear, and anxiety and depression. Mind-body practices have been shown to be effective in improving the psychological symptoms occurring in breast cancer patients. There has been a considerable amount of research conducted and it makes sense to step back and summarize what has been learned.
In today's Research News article "The Effect of Complementary and Alternative Medicines on Quality of Life in Patients with Breast Cancer: A Systematic Review." (See summary below or view the full text of the study at: https://www.ncbi.nlm.nih.gov/pmc/articles/PMC7017686/), Nayeri and colleagues review and summarize the published research studies of the effectiveness of mind-body practices for the treatment of breast cancer patients. They identified 28 clinical trials, 18 of which were randomized controlled clinical trials.
They report that 27 of the 28 trials found that mind-body practices result in significant improvement in the quality of life of women with breast cancer. The mind-body practices used included yoga, acupuncture, art therapy, music therapy, guided imagery, cognitive-behavioral stress management, and mental exercise techniques.
These findings are overwhelmingly positive suggesting that mind-body practices are safe and effective treatments to improve the quality of life of women living with breast cancer. This is particularly important as there are such a large number of women living with the current or residual symptoms of breast cancer and its treatment. These practices then are important for the relief of their suffering.
So, improve quality of life in breast cancer patients with mind-body practices.
"The routine use of yoga, meditation, relaxation techniques, and passive music therapy to address common mental health concerns among patients with breast cancer is supported by high levels of evidence," – Debu Tripathy
CMCS – Center for Mindfulness and Contemplative Studies
This and other Contemplative Studies posts are also available on Google+ https://plus.google.com/106784388191201299496/posts and on Twitter @MindfulResearch
Study Summary
Nayeri, N. D., Bakhshi, F., Khosravi, A., & Najafi, Z. (2020). The Effect of Complementary and Alternative Medicines on Quality of Life in Patients with Breast Cancer: A Systematic Review. Indian journal of palliative care, 26(1), 95–104. https://doi.org/10.4103/IJPC.IJPC_183_19
Abstract
Background:
Breast cancer disease and its classic treatment lead to decrease in patients' quality of life (QOL). This systematic review aimed to compare the effectiveness of complementary and alternative medicines (CAMs) categories on the QOL of women with breast cancer.
Methods:
English clinical trials from PubMed, Emabase, Scupos, and Google Scholar databases were searched electronically by the end of 2018 with the Cochrane Collaboration protocol. Two researchers independently extracted data such as participants' characteristics, CAM methods, QOL assessment tools. CAMs were classified into three categories of dietary supplements, herbal medicine, and mind-body techniques.
Results:
During the initial search, 1186 articles were found. After reviewing titles, abstracts, and full texts based on inclusion and exclusion criteria, 28 clinical trials were included in the systematic review, 18 of which was randomized controlled trial (RCT). Participants included women with breast cancer who were undergoing the first three phases of breast cancer or postcancer rehabilitation. Among CAM interventions, one article used a dietary supplement, and the other 27 articles included a variety of mind-body techniques. Twenty-seven studies showed improved QOL (P > 0.05).
Conclusion:
The findings may indicate the potential benefits of CAMs, especially mind-body techniques on QOL in breast cancer patients. Further RCTs or long-term follow-up studies are recommended. Moreover, the use of similar QOL assessment tools allows for more meta-analysis and generalizability of results, especially for the development of clinical guidelines.
https://www.ncbi.nlm.nih.gov/pmc/articles/PMC7017686/