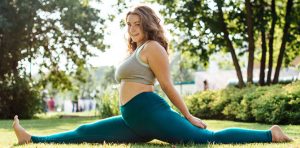 Yoga Practice May Help Prevent the Development of Type II Diabetes
By John M. de Castro, Ph.D.
"Yoga can do more than just relax your body in mind — especially if you're living with diabetes. Certain poses may help lower blood pressure and blood sugar levels while also improving circulation, leading many experts to recommend yoga for diabetes management." – Healthline
Diabetes is a major health issue. It is estimated that 30 million people in the United States and nearly 600 million people worldwide have diabetes and the numbers are growing. Type II Diabetes results from a resistance of tissues, especially fat tissues, to the ability of insulin to promote the uptake of glucose from the blood. As a result, blood sugar levels rise producing hyperglycemia. Diabetes is heavily associated with other diseases such as cardiovascular disease, heart attacks, stroke, blindness, kidney disease, and circulatory problems leading to amputations. As a result, diabetes doubles the risk of death of any cause compared to individuals of the same age without diabetes.
Type 2 diabetes is a common and increasingly prevalent illness that is largely preventable. One of the reasons for the increasing incidence of Type 2 Diabetes is its association with overweight and obesity which is becoming epidemic in the industrialized world. A leading cause of this is a sedentary life style. Unlike Type I Diabetes, Type II does not require insulin injections. Instead, the treatment and prevention of Type 2 Diabetes focuses on diet, exercise, and weight control. Recently, mindfulness practices have been shown to be helpful in managing diabetes. A mindfulness practice that combines mindfulness with exercise is yoga and it has been shown to be helpful in the treatment of Type II Diabetes. Prevention is always better than treatments. So, it is important to investigate the ability of yoga practice to prevent Type II diabetes in at risk individuals.
In today's Research News article "." (See summary below or view the full text of the study at: https://www.ncbi.nlm.nih.gov/pmc/articles/PMC6795440/), Ramamoorthi and colleagues reviewed, summarized, and performed a meta-analysis of the published controlled research studies of the effectiveness of yoga practice in improving prediabetic symptoms. The found 14 published studies with a total of 834 participants.
They report that the published research found that yoga practice significantly improved prediabetic symptoms. They included a significant reduction in fasting blood glucose levels and systolic blood pressure, and improved blood lipid profiles including low density lipoproteins, cholesterol, and triglycerides.
This meta-analysis suggests that yoga practice is a safe and effective practice that improves the metabolic signs predictive of future Type II diabetes. It appears to improve glycemic control, blood lipid profiles, and blood pressure. These are very encouraging results. It will be important to follow-up over the long-term to see if these improvements are lasting and if they reduce the transition from then prediabetic state to Type II diabetes.
So, yoga practice may help prevent the development of Type II Diabetes.
"yoga for diabetes provides unique benefits that can effectively restore the body to a state of natural health and proper function." – Yoga U
CMCS – Center for Mindfulness and Contemplative Studies
This and other Contemplative Studies posts are also available on Google+ https://plus.google.com/106784388191201299496/posts and on Twitter @MindfulResearch
Study Summary
Ramamoorthi, R., Gahreman, D., Skinner, T., & Moss, S. (2019). The effect of yoga practice on glycemic control and other health parameters in the prediabetic state: A systematic review and meta-analysis. PloS one, 14(10), e0221067. doi:10.1371/journal.pone.0221067
Abstract
A systematic review and meta-analysis was conducted to investigate the effects of yoga on glycemic control, lipid profiles, body composition and blood pressure in people in the pre-diabetic state. Studies on the effectiveness of yoga on population groups under high risk for diabetes, called prediabetic or suffering from metabolic syndromes were extracted from a thorough search of PubMed, Scopus, Cochrane Library, EBSCO and IndMED databases. Both Randomised Controlled Trial (RCT) and non-RCT studies were included in the systematic review and meta-analysis. Studies published between Jan 2002 and Dec 2018 were included. Studies were considered for evaluation if they investigated a yoga intervention to prevent T2DM, against a control group, while also reporting glycemic control and other health parameters of T2DM management. Summary effect sizes and 95% confidence intervals (CI) were calculated using the Comprehensive Meta-Analysis software in addition to publication bias. Of the 46,500 identified studies, 14 studies with 834 participants of whom were 50% women, were found to be eligible for inclusion in our systematic review. Our quantitative synthesis included 12 randomized control trials and 2 non-randomized control trials, with the follow-up period ranging from 4 to 52 weeks. Compared to controls, yoga intervention improved fasting blood glucose (FBG) [Standard Mean Difference (SMD -0.064 mg/dL (95% CI -0.201 to 0.074)]; low density lipoprotein (LDL) [SMD-0.090 mg/dL (95% CI -0.270 to 0.090)]; triglycerides [SMD -0.148 mg/dL (95% CI -0.285 to -0.012)]; total cholesterol [SMD -0.058 mg/dL (95% CI -0.220 to 0.104)] and systolic blood pressure [SMD -0.058 mm Hg (95% CI -0.168 to 0.053)]. This meta-analysis uncovered clinically improved effects of yoga intervention on glycemic control, lipid profiles and other parameters of T2DM management in prediabetic population. These results suggest that yoga intervention may be considered as a comprehensive and alternative approach to preventing T2DM. Further adequately powered, well designed RCTs are needed to support our findings and investigate the long-term effects of yoga in T2DM patients.
https://www.ncbi.nlm.nih.gov/pmc/articles/PMC6795440/