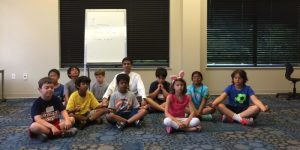 Meditation Practice is Growing Rapidly Among Children and Adolescents
By John M. de Castro, Ph.D.
"It's almost as though meditation was designed for kids. They just 'get it' – there is this elasticity and freedom in their minds which allows them to be present in the moment and free from any external thoughts or pressures." – Andy Puddicombe
Childhood is a miraculous period during which the child is dynamically absorbing information from every aspect of its environment. This occurs almost without any intervention from the adults as the child appears to be programmed to learn. It is here that behaviors, knowledge, skills, and attitudes are developed that shape the individual. Adolescence is a time of mental, physical, social, and emotional growth. It is during this time that higher levels of thinking, sometimes called executive function, develops.
Childhood and adolescence can be difficult times, fraught with challenges. During this time the child transitions to young adulthood; including the development of intellectual, psychological, physical, and social abilities and characteristics. There are so many changes occurring during this time that the child or adolescent can feel overwhelmed and unable to cope with all that is required.
Mindfulness training for children and adolescents has been shown to have very positive effects. These include academic, cognitive, psychological, and social domains. Mindfulness training has been shown to improve emotion regulation and to benefit the psychological and emotional health of adolescents. Importantly, mindfulness training with children and adolescents appears to improve the self-concept, improves attentional ability and reduces stress. These benefits are becoming more widely appreciated and should have led to greater numbers of children and adolescents practicing meditation.
In today's Research News article "Prevalence, patterns, and predictors of meditation use among U.S. children: Results from the National Health Interview Survey." (See summary below or view the full text of the study at: https://www.ncbi.nlm.nih.gov/pmc/articles/PMC6502253/), Wang and Gaylord analyzed the data from the 2017 National Health Interview Survey, separating that  obtained from children and adolescents. They recorded meditation use, health records, and health care utilization.
They found that 7.4% of the children and adolescents practiced meditation. This was a very large increase from the 1.6% that was found in 2012. 1.0% of the children and adolescents used mantra meditation, 1.6% used mindfulness meditation, 4.0% used spiritual meditation, and 3.0% practiced meditation as part of yoga, tai chi, or qigong. They also found that meditation was more likely to be used by youths whose parent completed some college, had headaches, depression, or a respiratory allergy, and who lived in the western U.S. Children or adolescents who had medical conditions were more likely to use mindfulness meditation. Surprisingly, neither age, gender, race, nor socioeconomic status was associated with different frequencies of meditation use.
These results are interesting and document the tremendous increase in the acceptability and utilization of meditation practice by children and adolescents over the last 5 years. This has probably occurred due to the increased recognition of the benefits of mindfulness practices for the physical and psychological health of children and adolescents and it's increased practice in schools. It will be interesting to see if this trend continues over the next 5 years.
"Our kids' brains are tired, and children of all ages really need opportunities where they can take time out each day "unplugged" to relax and focus. Meditation offers this break and helps kids function more effectively and clearly." – Healthy Children
CMCS – Center for Mindfulness and Contemplative Studies
This and other Contemplative Studies posts are also available on Google+ https://plus.google.com/106784388191201299496/posts and on Twitter @MindfulResearch
Study Summary
Wang, C., Li, K., & Gaylord, S. (2019). Prevalence, patterns, and predictors of meditation use among U.S. children: Results from the National Health Interview Survey. Complementary therapies in medicine, 43, 271–276. doi:10.1016/j.ctim.2019.02.004
Abstract
Objectives:
The purpose of the study is to examine the characteristics of various types of meditation use (i.e., mantra, mindful, and spiritual meditation) among U.S. children.
Methods:
Using 2017 National Health Interview Survey, we examined the prevalence, patterns, and potential predictors of meditation use among U.S. children aged 4 to 17 years. Descriptive statistics, Wald F chi-square test, and multivariable logistic regression were used for data analysis (n = 6925).
Results:
Overall meditation use has increased substantially from 1.6% in 2012 to 7.4% in 2017 among children in the US. Children with chronic medical conditions were more likely to use mindful meditation (Adjusted Odds Ratio (AOR) = 1.9–3.6, 95% CI [1.0–7.4]). Regularly taking prescription medication had an inverse relation with mantra meditation use (AOR = 0.4, 95% CI [0.2–0.9]). Children with delayed medical care due to access difficulties were more likely to use spiritual meditation, compared to those who did not (AOR = 1.7, 95% CI [1.1–2.6]).
Conclusions:
Meditation use has rapidly increased among U.S. children within the past few years. Future studies should explore the underlying reasons for this increase and its potential benefits for pediatric meditators.
https://www.ncbi.nlm.nih.gov/pmc/articles/PMC6502253/