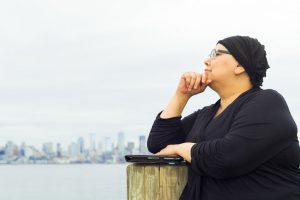 By John M. de Castro, Ph.D.
"A cancer diagnosis brings an awareness of the preciousness of life," Fine explains. "And mindfulness can help us to experience that precious life with greater clarity, balance, and gratitude, one moment at a time." – Micki Fine
Receiving a diagnosis of cancer has a huge impact on most people. Feelings of depression, anxiety, and fear are very common and are normal responses to this life-changing and potentially life-ending experience. Coping with the emotions and stress of a cancer diagnosis is a challenge and there are no simple treatments for these psychological sequelae of cancer diagnosis. In addition, cancer patients are often challenged with a wide range of residual issues including chronic pain, sleep disturbance, sexual problems, loss of appetite, and chronic fatigue. Cancer survivors are also at greater risk for developing second cancers and other health conditions.
But cancer diagnosis is not necessarily a death sentence. Over half of the people diagnosed with cancer are still alive 10 years later and this number is rapidly increasing. It is estimated that 15 million adults and children with a history of cancer are alive in the United States today. Hence there is a need to identify safe and effective treatments for the physical, emotional, and financial hardships that can persist for years after diagnosis and treatment.
Mindfulness training has been shown to help with cancer recovery and help to relieve chronic pain. It can also help treat the residual physical and psychological symptoms, including stress,  sleep disturbance, and anxiety and depression. The evidence is rapidly accumulating, so it makes sense to step back and summarize what has been learned.
In today's Research News article "Evidence for the Role of Mindfulness in Cancer: Benefits and Techniques." (See summary below or view the full text of the study at: https://www.ncbi.nlm.nih.gov/pmc/articles/PMC6623989/), Mehta and colleagues review and summarize the published research literature on the effectiveness of mindfulness practice to relieve the physical and psychological suffering of cancer patients. They identified 124 published research studies using a variety of mindfulness training programs, most of which involved either the Mindfulness-Based Stress Reduction (MBSR) program or Mindfulness-Based Cognitive Therapy (MBCT) or versions of MBSR. or MBCT that were modified for the needs of cancer patients.
They report that the published research finds that mindfulness training is safe, resulting in few if any negative effects and effective, producing significant improvements in cancer-related stress, depression, pain intensity, fatigue, loss of appetite and weight loss, insomnia, immune responses, and psychological responses to chemotherapy. Mindfulness training also improved the ability of caregivers for cancer patients to deal with the psychological stresses. They also report that studies indicate that mindfulness training is cost effective in treating cancer patients compared to other approaches. Hence, the research to date suggests that mindfulness training is a safe, effective, and cost effective treatment for a variety of cancer-related problems in cancer survivors and their caregivers.
So, treat cancer with mindfulness.
"results show promise for mindfulness-based interventions to treat common psychological problems such as anxiety, stress, and depression in cancer survivors and to improve overall quality of life." – Linda Carlson
CMCS – Center for Mindfulness and Contemplative Studies
This and other Contemplative Studies posts are also available on Google+ https://plus.google.com/106784388191201299496/posts and on Twitter @MindfulResearch
Study Summary
Mehta, R., Sharma, K., Potters, L., Wernicke, A. G., & Parashar, B. (2019). Evidence for the Role of Mindfulness in Cancer: Benefits and Techniques. Cureus, 11(5), e4629. doi:10.7759/cureus.4629
Abstract
Mindfulness is being used increasingly in various aspects of cancer management. Benefits of mindfulness practices are being observed to manage the adverse effects of treatment, symptoms from cancer progression, and the cost-effectiveness compared to conventional contemporary management strategies. In this review article, we present clinical trial data showing the benefits of mindfulness in various aspects of cancer management as well as techniques that have been commonly used in this practice.
Conclusions
Mindfulness-based practices are being increasingly utilized in various aspects of cancer management. It has shown utility in multiple prospective trials and continues to be explored. Most of the evidence of the benefit of mindfulness in cancer is to reduce toxicity and stress. There is a need for more prospective trials exploring its use in reducing cancer incidence or preventing its recurrence.
https://www.ncbi.nlm.nih.gov/pmc/articles/PMC6623989/