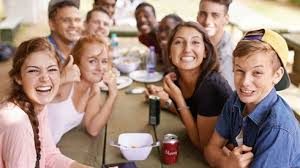 Teen Health and Life Satisfaction are Associated with Spirituality
By John M. de Castro, Ph.D.
"While adolescents may question or review their spirituality, it remains a critical aspect of adolescent stability. . . studies of religiosity have found a positive correlation with an adolescent sense of well-being, positive life attitudes, altruism, resiliency, school success, health and positive identity, as well as a negative correlation with alcohol and drug use, delinquency, depression, excessive risk-taking and early sexual activity." – Kenneth Doka
Adolescence is a time of mental, physical, social, and emotional growth. It is during this time that higher levels of thinking, sometimes called executive function, develops. But adolescence can be a difficult time, fraught with challenges. During this time the child transitions to young adulthood; including the development of intellectual, psychological, physical, and social abilities and characteristics. There are so many changes occurring during this time that the child can feel overwhelmed and unable to cope with all that is required. Indeed, up to a quarter of adolescents suffer from depression or anxiety disorders, and an even larger proportion struggle with subclinical symptoms.
Spirituality is defined as "one's personal affirmation of and relationship to a higher power or to the sacred. There have been a number of studies of the influence of spirituality on the physical and psychological well-being of practitioners mostly showing positive benefits, with spirituality encouraging personal growth and mental health even in adolescents. So, it makes sense to investigate the influence of spirituality on youths' physical and psychological well-being.
In today's Research News article "Spirituality but not Religiosity Is Associated with Better Health and Higher Life Satisfaction among Adolescents." (See summary below or view the full text of the study at: https://www.ncbi.nlm.nih.gov/pmc/articles/PMC6313303/), Dankulincova Veselska and colleagues employed the data from a large representative sample of adolescents from Slovakia in the 5th through 9th grades. They completed measures of physical and psychological health, life satisfaction, religiosity, spirituality, and family affluence.
They found that there were significant relationships between spirituality and the other measures, with the higher the level of spirituality the higher the levels of health and life satisfaction and the lower the levels of health complaints. On the other hand, religiosity was not found to be associated with any of the variables.
This study was correlational and as such conclusions regarding causation cannot be reached. But, the adolescents' levels of religiosity (church attendance and importance of faith) were not related to their physical or psychological health or life satisfaction, suggesting that simply being religious is not sufficient to enhance well-being. But being spiritual (have meaning in life, connections to nature) is associated with the youths' well-being.
So, teen health and life satisfaction are associated with spirituality.
"Spiritual health has long been recognised as an important component in maintaining overall health and wellbeing, with a growing body of research which supports linkages between mindfulness-based practices and positive mental health and resilience." – HBSC News
CMCS – Center for Mindfulness and Contemplative Studies
This and other Contemplative Studies posts are also available on Google+ https://plus.google.com/106784388191201299496/posts and on Twitter @MindfulResearch
Study Summary
Dankulincova Veselska, Z., Jirasek, I., Veselsky, P., Jiraskova, M., Plevova, I., Tavel, P., & Madarasova Geckova, A. (2018). Spirituality but not Religiosity Is Associated with Better Health and Higher Life Satisfaction among Adolescents. International journal of environmental research and public health, 15(12), 2781. doi:10.3390/ijerph15122781
Abstract
Careful conceptualization and differentiation of both spirituality and religiosity is a necessary precondition for understanding the potential role they play in health, whether physical or mental. The aim of this study was to explore the associations of spirituality with self-rated health, health complaints, and life satisfaction of adolescents with the moderating role of religiosity. Data from the Health Behaviour in School-aged Children study conducted in 2014 in Slovakia were used. The final sample consisted of 658 adolescents (mean age = 15.37; 50.6% boys). Data regarding spirituality, religiosity, self-rated health, health complaints, and life satisfaction were obtained. Binary logistic models revealed spirituality to be associated with self-rated health, health complaints, and life satisfaction. A moderating role of religiosity was not confirmed. The presented findings indicate the need to distinguish between the concepts of religiosity and spirituality in connection with subjective health and life satisfaction.