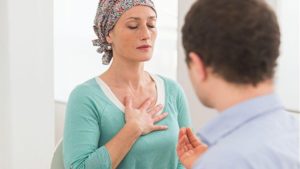 Improve Pain, Mental Health and Quality of Life in Cancer Patients with Mindfulness
By John M. de Castro, Ph.D.
"Results show promise for mindfulness-based interventions to treat common psychological problems such as anxiety, stress, and depression in cancer survivors and to improve overall quality of life." – Linda E. Carlson
Receiving a diagnosis of cancer has a huge impact on most people. Feelings of depression, anxiety, and fear are very common and are normal responses to this life-changing and potentially life-ending experience. But cancer diagnosis is not necessarily a death sentence. Over half of the people diagnosed with cancer are still alive 10 years later and this number is rapidly increasing. But, surviving cancer carries with it a number of problems. Pain, anxiety, depression, fatigue and insomnia and reduced quality of life are common symptoms in the aftermath of surviving cancer.
Mindfulness training has been shown to help with cancer recovery and help to alleviate many of the residual physical and psychological symptoms, including fatigue, stress,  sleep disturbance, and anxiety and depression. The research is accumulating. So, it is useful to take a step back and look at what has been learned.
In today's Research News article "A Systematic Review: Mindfulness Intervention for Cancer-Related Pain." (See summary below or view the full text of the study at: https://www.ncbi.nlm.nih.gov/pmc/articles/PMC6371675/), Ngamkham and colleagues review and summarize the high quality published research literature on the application of mindfulness training for the treatment of cancer related pain. They found 6 randomized controlled clinical trials (RCTs). These studies used Mindfulness-Based Stress Reduction (MBSR), Mindfulness-Based Cognitive Therapy (MBCT), Breathing Meditation, or Mindful Awareness Practice (MAP) programs as treatments.
They found that the published research reports that mindfulness training produces a significant reduction in cancer related pain that was still present 6-months after the training. The research also found significant reductions in anxiety and depression and significant increases in the patient's quality of life. Hence, mindfulness training was found to be a safe and effective treatment for patients suffering with cancer related pain.
It is not known exactly how mindfulness training produces these benefits. It has been shown, however, that in healthy individuals, mindfulness training also produces reductions in pain, anxiety, and depression. It is thought that one way mindfulness training reduces is by reducing worry and rumination which is thought to amplify pain. Mindfulness training has also been shown to improve emotion regulation and reduce response to stress that may also contribute to pain reduction. Regardless mindfulness training should be recommended for cancer patients to reduce pain and improve their well-being.
So, improve pain, mental health and quality of life in cancer patients with mindfulness.
"Fear. Uncertainty about the future. Some of the most difficult elements of the cancer experience are well-suited for mindfulness." – Lu Hanessian
CMCS – Center for Mindfulness and Contemplative Studies
This and other Contemplative Studies posts are also available on Google+ https://plus.google.com/106784388191201299496/posts and on Twitter @MindfulResearch
Study Summary
Ngamkham, S., Holden, J. E., & Smith, E. L. (2019). A Systematic Review: Mindfulness Intervention for Cancer-Related Pain. Asia-Pacific journal of oncology nursing, 6(2), 161–169. doi:10.4103/apjon.apjon_67_18
Abstract
Moderate-to-severe pain is a common problem experienced by patients with cancer. Although analgesic drugs are effective, adverse side effects are common and some analgesic drugs are addictive. Nonpharmacological treatment may be a way to treat cancer pain without causing negative side effects. Mindfulness is used as an effective nonpharmacological treatment to improve quality of life (QoL) and to address psychological problems including distress, anxiety, stress, and depression. However, the effect of mindfulness on pain severity has not been sufficiently investigated. Therefore, a systematic review was undertaken to describe the effectiveness of mindfulness interventions for pain and its underlying pathophysiologic mechanisms. The search was conducted in PubMed, Ovid MEDLINE, and CINAHL and included only empirical studies published from 2008 to 2017. Search terms included mindfulness, mindfulness-based intervention, meditation, cancer, pain, and cancer-related pain. Six studies met the search criteria. These studies tested several types of intervention including mindfulness-based stress reduction, mindfulness-based cognitive therapy, meditation with massage, and mindful awareness practices. Study outcomes include improved pain severity, anxiety, stress, depression, and QoL. However, most studies reviewed were conducted in the United States and Denmark. Further research is needed to test culturally appropriate mindfulness interventions to reduce pain.
https://www.ncbi.nlm.nih.gov/pmc/articles/PMC6371675/