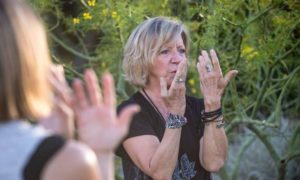 Improve the Mental Health of Breast Cancer Survivors with Mindfulness
By John M. de Castro, Ph.D.
"mindfulness-based meditation can help ease the stress, anxiety, fear, and depression that often come along with a breast cancer diagnosis and treatment." – BreastCancer,org
About 12.5% of women in the U.S. develop invasive breast cancer over their lifetimes and every year about 40,000 women die. Indeed, more women in the U.S. die from breast cancer than from any other cancer, besides lung cancer. Breast cancer diagnosis, however, is not always a death sentence. Death rates have been decreasing for decades from improved detection and treatment of breast cancer. Five-year survival rates are now at around 95%. The improved survival rates mean that more women are now living with cancer.
Surviving cancer, however, carries with it a number of problems. "Physical, emotional, and financial hardships often persist for years after diagnosis and treatment. Cancer survivors are also at greater risk for developing second cancers and other health conditions." (National Cancer Survivors Day). Also, breast cancer survivors can have to deal with a heightened fear of reoccurrence. This is particularly true with metastatic cancer. Additionally, cancer survivors frequently suffer from anxiety, depression, mood disturbance, Post-Traumatic Stress Disorder (PTSD), sleep disturbance, fatigue, sexual dysfunction, loss of personal control, impaired quality of life, an alteration of their body image, and psychiatric symptoms which have been found to persist even ten years after remission. So, safe and effective treatments for the symptoms in breast cancer and the physical and psychological effects of the treatments are needed.
Mindfulness training has been shown to help with general cancer recovery and breast cancer recovery. Mindfulness helps to alleviate many of the residual physical and psychological symptoms, including stress,  sleep disturbance, and anxiety and depression. Hence, there is a need to intensively study the effectiveness of these programs to help alleviate the mental and physical sequelae of breast cancer survival.
In today's Research News article "Investigating the Effect of Mindfulness-Based Training on Psychological Status and Quality of Life in Patients with Breast Cancer." (See summary below or view the full text of the study at: https://www.ncbi.nlm.nih.gov/pmc/articles/PMC6165667/ ), Pouy and colleagues recruited women with diagnosed breast cancer at least 6 months after diagnosis and randomly assigned them to either receive either routine care plus 4 weeks of twice a week for 1.5 hours group based mindfulness training or routine care only. The mindfulness training was based upon the Mindfulness-Based Stress Reduction (MBSR) program that includes body scan and focused meditations, yoga practice, and discussion. They were measured before the training and 2 months later for anxiety, depression, stress, physical health, mental health, social relationships, environmental health, quality of life, and life expectancy questionnaire.
They found that after the mindfulness training the breast cancer survivors had significantly improved quality of life and life expectancy and significantly less anxiety, depression, and stress. Hence, mindfulness training was found to be of great benefit to the patients, improving their quality of life and psychological health. These findings are similar to previous findings that mindfulness training reduces anxiety, depression, and stress and improves quality of life in cancer patients. The current study adds to the accumulating scientific evidence that mindfulness practice significantly beneficial for breast cancer survivors.
So, improve the mental health of breast cancer survivors with mindfulness.
"mindfulness-based stress reduction can be effective in alleviating anxiety and depression, decreasing long-term emotional and physical side effects of treatments and improving the quality of sleep in breast cancer patients. Scientists caution, however that sustained benefit requires ongoing mindfulness practice." – BCRF
CMCS – Center for Mindfulness and Contemplative Studies
This and other Contemplative Studies posts are also available on Google+ https://plus.google.com/106784388191201299496/posts and on Twitter @MindfulResearch
Study Summary
Pouy, S., Attari Peikani, F., Nourmohammadi, H., Sanei, P., Tarjoman, A., & Borji, M. (2018). Investigating the Effect of Mindfulness-Based Training on Psychological Status and Quality of Life in Patients with Breast Cancer. Asian Pacific journal of cancer prevention : APJCP, 19(7), 1993-1998. doi:10.22034/APJCP.2018.19.7.1993
Abstract
Cancer poses substantial challenges to both physical and mental health of patients. On the other hand, breast cancer is one of the most common cancers among Iranian women. Therefore, the present study was conducted to investigate the effect of mindfulness-based training on psychological status and quality of life (QoL) of patients with breast cancer living in Ilam, Iran. This quasi-experimental study was performed on 66 patients diagnosed with breast cancer. The patients assigned into two groups of experimental and control. Experimental group received mindfulness-based group training through eight 90-min sessions. Sessions were conducted twice a week and were completed within 1 month. The research tools included a QoL questionnaire (WHOQOL-BREF), Schneider's life expectancy questionnaire, and the depression anxiety stress scale (DASS-21). The questionnaires were completed before and during the interviews with the patients 2 months after intervention. Data were analyzed using SPSS (version 16) and running descriptive and analytical statistics. Before the intervention, there was no significant difference between he experimental and control groups considering QoL, life expectancy, depression, anxiety, and stress (p>0.05). However, after the intervention, the patients in the experimental group reported higher QoL and life expectancy and less severe depression, anxiety, and stress (p < 0.05). Considering the positive effect of mindfulness-based training on the psychological status and QoL of patients with breast cancer, we recommend health nurses conduct mindfulness-based training for patients receiving clinical care services.
https://www.ncbi.nlm.nih.gov/pmc/articles/PMC6165667/