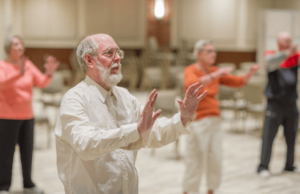 Improve Balance in Stroke Victims with Tai Chi Practice
By John M. de Castro, Ph.D.
"Stroke can impair balance, heightening the risk of a debilitating fall. But  . . .  stroke survivors can improve their balance by practicing the Chinese martial art of tai chi." – ScienceDaily
Every year, more than 795,000 people in the United States have a stroke and it is the third leading cause of death, killing around 140,000 Americans each year. A stroke results from an interruption of the blood supply to the brain, depriving it of needed oxygen and nutrients. This can result in the death of brain cells and depending on the extent of the damage produce profound loss of function. Even after recovery from stroke patients can experience residual symptoms. Problems with balance and falling are very common.
There are a number of risk factors for stroke that are unchangeable, such as family history, age, and genes. But there are a very large number of factors that are under our control including high blood pressure, smoking, high cholesterol, poor diet, sedentariness, and obesity. Given this list it is clear that basic physical fitness and exercise would be excellent for stroke prevention. Yoga practice is an exercise that can be adapted to the needs and limitations of stroke victims. The ancient mindful movement technique Tai Chi and Qigong are very safe forms of gentle exercise that appears to be beneficial for stroke victims including improving balance. It is difficult to get stroke survivors to engage in exercise. Perhaps the practice of Tai Chi , since it is adaptable, very gentle, and fun, might be acceptable and effective in the treatment of stroke survivors.
In today's Research News article "Effect of Tai Chi Exercise on Balance Function of Stroke Patients: A Meta-Analysis." (See summary below or view the full text of the study at: https://www.ncbi.nlm.nih.gov/pmc/articles/PMC6289026/ ), Wu and colleagues review summarize and perform a meta-analysis of the published research literature on the effectiveness of Tai Chi in improving balance and preventing falls in stroke survivors. They identified 6 randomized controlled trials for inclusion in the analysis.
They found that the published research reported that after Tai Chi practice the stroke victims demonstrated significantly better balance and walking ability and fewer falls than stroke victims who performed physical therapy or other exercises. Hence, the published research supports the conclusion that Tai Chi practice is a safe and effective exercise for stroke victims to improve balance and decrease the likelihood of falls.
Tai Chi is a gentle and safe exercise that is appropriate for all ages including the elderly and for individuals with illnesses that limit their activities or range of motion, such as stroke recovery. Also, Tai Chi is inexpensive to administer, can be performed in groups or alone, at home or in a facility, and can be quickly learned. In addition, it can be practiced in social groups. This can make it fun, improving the likelihood of long-term engagement in the practice. So, Tai Chi practice would appear to be an almost ideal gentle exercise to improve motor ability and balance and reduce falls in stroke victims.
So, improve balance in strike victims with tai chi practice.
"Stroke survivors are particularly at risk from falls, with evidence suggesting they suffer up to seven times as many falls per year than healthy adults. Tai Chi, an ancient Chinese martial art, could help prevent falls by improving people's balance, muscle strength and endurance as well as providing psychological benefits." – Ruth Taylor-Piliae
CMCS – Center for Mindfulness and Contemplative Studies
This and other Contemplative Studies posts are also available on Google+ https://plus.google.com/106784388191201299496/posts and on Twitter @MindfulResearch
Study Summary
Wu, S., Chen, J., Wang, S., Jiang, M., Wang, X., & Wen, Y. (2018). Effect of Tai Chi Exercise on Balance Function of Stroke Patients: A Meta-Analysis. Medical science monitor basic research, 24, 210-215. doi:10.12659/MSMBR.911951
Abstract
Background
Tai Chi is an ancient form of physical activity that has been shown to improve cardiovascular function, but to date there had been no comprehensive systematic review on the effect of Tai Chi exercise on balance function of patients with stroke. This study evaluated the effect of Tai Chi exercise on balance function in stroke patients.
Material/Methods
PubMed, Cochrane library, and China National Knowledge Information databases and the Wan Fang medical network were searched to collect the articles. The random-effects model was used to assess the effect of Tai Chi exercise on balance function of stroke patients.
Results
Six studies were chosen to perform the meta-analysis according to the inclusion and exclusion criteria. There were significant improvements of balance on Berg Balance Scale score (MD=4.823, 95% CI: 2.138–7.508), the standing balance with fall rates (RR=0.300, 95%CI: 0.120–0.770), functional reach test and dynamic gait index in Tai Chi intervention group compared to the control intervention group. However, the short physical performance battery for balance (SPBB) showed Tai Chi did not significantly improve the ability of balance for stroke patients (MD=0.293, 95%CI: −0.099~0.685).
Conclusions
Tai Chi exercise might have a significant impact in improving balance efficiency by increasing BBS score and reducing fall rate.
https://www.ncbi.nlm.nih.gov/pmc/articles/PMC6289026/