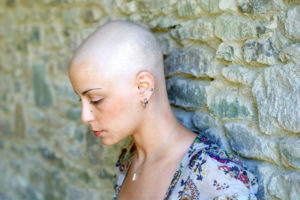 Improve Quality of Life in Cancer Patients with Mindfulness
By John M. de Castro, Ph.D.
"Results show promise for mindfulness-based interventions to treat common psychological problems such as anxiety, stress, and depression in cancer survivors and to improve overall quality of life." — Linda E. Carlson
Receiving a diagnosis of cancer has a huge impact on most people. Feelings of depression, anxiety, and fear are very common and are normal responses to this life-changing and potentially life-ending experience. But cancer diagnosis is not necessarily a death sentence. Over half of the people diagnosed with cancer are still alive 10 years later and this number is rapidly increasing. But, surviving cancer carries with it a number of problems. Insomnia is a common occurrence in the aftermath of surviving breast cancer.
Mindfulness training has been shown to help with cancer recovery and help to alleviate many of the residual physical and psychological symptoms, including stress,  sleep disturbance, and anxiety and depression. But, most research is with western populations and there are very few that study the effectiveness of mindfulness training with Asian populations.
In today's Research News article "Effects of a Mindfulness Meditation Program on Quality of Life in Cancer Outpatients: An Exploratory Study." (See summary below or view the full text of the study at: https://www.ncbi.nlm.nih.gov/pmc/articles/PMC6041936/ ), Chang and colleagues recruited Taiwanese outpatient cancer patients and separated them into a usual care group and a mindfulness meditation group. Mindfulness meditation was taught in once a month for 3 months 2.5-hour sessions focusing on sitting insight meditation. The participants were expected to practice at home daily. They were measured before and after training and 3 month later for quality of life, including subscales for physical health, psychological health, social relationships, and environment.
They found that the mindfulness meditation group had significant improvements in their quality of life including all 4 subscales while the usual care group did not. These improvements in quality of life were sustained 3 months later. These results are similar to previously reported improvements in quality of life in cancer patients produced by mindfulness training. But, these findings extend these to include oriental populations. Hence mindfulness training appears to be a safe and effective treatment to improve the well-being and relieve the suffering of patients from all over the world with various forms of cancer.
So, improve quality of life in cancer patients with Mindfulness.
"mindfulness-based meditation can help ease the stress, anxiety, fear, and depression that often come along with a breast cancer diagnosis and treatment." – BreastCancer,org
CMCS – Center for Mindfulness and Contemplative Studies
This and other Contemplative Studies posts are also available on Google+ https://plus.google.com/106784388191201299496/posts and on Twitter @MindfulResearch
Study Summary
Chang, Y.-Y., Wang, L.-Y., Liu, C.-Y., Chien, T.-J., Chen, I.-J., & Hsu, C.-H. (2018). The Effects of a Mindfulness Meditation Program on Quality of Life in Cancer Outpatients: An Exploratory Study. Integrative Cancer Therapies, 17(2), 363–370. http://doi.org/10.1177/1534735417693359
Abstract
Objective. Numerous studies have investigated the efficacy of mindfulness meditation (MM) in managing quality of life (QoL) in cancer populations, yet only a few have studied the Asian population. The aim of this exploratory study is to evaluate the effect of a MM program on the QoL outcomes in Taiwanese cancer outpatients. Methods. Patients with various cancer diagnoses were enrolled and assigned to the MM group and usual care (UC) group. The meditation intervention consisted of 3 sessions held monthly. The outcomes of the whole intervention were measured using the World Health Organization Quality of Life (WHOQOL-BREF) instrument. Results. A total of 35 participants in the MM group and 34 in the UC group completed the study. The results showed that the postintervention scores were significantly higher than the preintervention scores in the MM group. In the UC group, there was no significant difference between preintervention and postintervention scores, except for the lower environment domain scores. There was no significant difference between the follow-up scores and postintervention scores in the MM group, indicating that improvement can be maintained for 3 months after completing the MM course. Conclusions. The present study provides preliminary outcomes of the effects on the QoL in Taiwanese cancer patients. The results suggest that MM may serve as an effective mind–body intervention for cancer patients to improve their QoL, and the benefits can persist over a 3-month follow-up period. This occurred in a diverse cancer population with various cancer diagnoses, strengthening the possibility of general use.
https://www.ncbi.nlm.nih.gov/pmc/articles/PMC6041936/