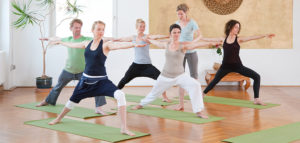 Improve Teacher Mental Well-Being with Yoga
By John M. de Castro, Ph.D.
"Yoga is a psychology—the whole practice helps us work with the nature of the mind, the nature of being a human, how emotions live in our bodies, how they affect our behavior and our minds," – Ashley Turner
Stress is epidemic in the western workplace with almost two thirds of workers reporting high levels of stress at work. In high stress occupations, like school teaching, burnout is all too prevalent. It frequently results from emotional exhaustion. Burnout is the fatigue, cynicism, emotional exhaustion, sleep disruption, and professional inefficacy that comes with work-related stress. This exhaustion produces a loss of enthusiasm, empathy, and compassion. Regardless of the reasons for burnout or its immediate presenting consequences, it is a threat to the effectiveness and mental health of teachers. Hence, preventing burnout in teachers is important.
Mindfulness techniques, including meditation, yoga, and Mindfulness-Based Cognitive Therapy (MBCT) are gaining increasing attention for the treatment of the symptoms of stress and burnout. They have been demonstrated to be helpful in reducing the psychological and physiological responses to stress and for treating and preventing burnout in a number of work environments. Yoga practice has the extra benefits of not only being mindfulness training but also as an exercise. Hence, it's important to study the effects of yoga practice on the mental health of teachers.
In today's Research News article "Increased Mental Well-Being and Reduced State Anxiety in Teachers After Participation in a Residential Yoga Program." (See summary below or view the full text of the study at: https://www.ncbi.nlm.nih.gov/pmc/articles/PMC6083945/ ), Telles and colleagues recruited primary school teachers and assigned them to matched groups either receiving a residential yoga practice program or no-treatment. The residential yoga program consisted of 2 2-hour yoga practice sessions per day for 15 days along with theory presentations and discussion. Yoga practice included physical postures, meditation, regulated breathing exercises, and guided relaxation training. The teachers were measured before and after training for anxiety and mental well-being.
They found that in comparison to baseline and to the no-treatment control group, the teachers who participated in the residential yoga program had significantly reduced anxiety levels and significantly improved mental well-being with moderate effect sizes. In this study there was not an active control condition, so conclusions must be tempered with the understanding that participant or experimenter bias might be responsible for the results. Nevertheless, the results are in line with previous findings from better controlled studies that yoga practice improves emotions and mental well-being. Hence, it would appear that yoga practice may be useful for lessening burnout in stressed teachers.
So, improve teacher mental well-being with yoga.
"providing educators with training in yoga- and mindfulness-based skills may have several beneficial effects for educators, including increases in calmness, mindfulness, well-being, and positive mood, improvements in classroom management, emotional reactivity, physical symptoms, blood pressure, and cortisol awakening response, and decreases in mind and body stress." – Bethany Butzer
CMCS – Center for Mindfulness and Contemplative Studies
This and other Contemplative Studies posts are also available on Google+ https://plus.google.com/106784388191201299496/posts and on Twitter @MindfulResearch
Study Summary
Telles, S., Gupta, R. K., Bhardwaj, A. K., Singh, N., Mishra, P., Pal, D. K., & Balkrishna, A. (2018). Increased Mental Well-Being and Reduced State Anxiety in Teachers After Participation in a Residential Yoga Program. Medical Science Monitor Basic Research, 24, 105–112. http://doi.org/10.12659/MSMBR.909200
Abstract
Background
Reducing stress in the workplace improves mental health. Teaching is of social importance, but it may receive inadequate recognition and rewards. The present study compared mental well-being and state anxiety in primary school teachers who practiced 15 days of yoga in a residential setting with those who continued their usual routine.
Material/Methods
We enrolled 236 primary school teachers to participate in the study. We assigned 118 primary school teachers (group mean ±S.D., age 41.5±6.0 years, 74 females) to the experimental group; they underwent 15 days of yoga training for 6 hours/day) in a residential yoga center. The non-yoga control group (group mean ±S.D., age 42.3±6.0 years, 79 females) consisted of 118 teachers who continued with their normal teaching routine.
Results
After 15 days in the residential yoga program, there was an increase in overall mental well-being (p<.001) and lower state anxiety (p<.01) (repeated-measures ANOVA, followed by post hoc multiple comparison tests). At baseline, the non-yoga control group had higher levels of state anxiety, presumably related to their remaining in the workplace.
Conclusions
The study was a 15-day, comparative, controlled trial. The results show that after 15 days of participation in the residential yoga program, primary school teachers increased all aspects of mental well-being and had reduced state anxiety.
https://www.ncbi.nlm.nih.gov/pmc/articles/PMC6083945/